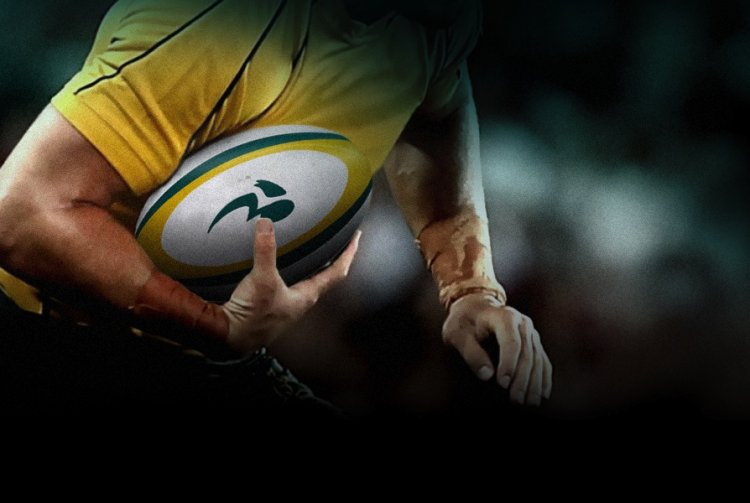 In trying to find the 'next Tim Horan', seventeen different men have worn the Wallaby Number Twelve jersey in a test match from 2000-2009.  They are:
Matt Giteau (29),Berrick Barnes (14),Nathan Grey (11), Elton Flatley (11), Stirling Mortlock (9),Daniel Herbert (9), Morgan Turinui (9), ), Adam Ashley-Cooper (5), Quade Cooper (5), Jason Little (4), Steve Kefu (4), Matt Rogers (4) Rod Kafer (2), Steve Larkham (2), Scott Staniforth (2), Timana Tahu (2), Tim Horan (1).
We lounge room experts from G&GR fought long and hard about this one, with a number of names considered. In the end, I am the one who ended up writing this piece, so I get final say.  So, the top three inside centres of the decade are:
Elton Flatley

Flats is an interesting footballer. Thrown into professional rugby straight from school in 1996, the man needed shoulders as broad as his chin to carry the weight of expectations.  One golden haired flyhalf from QLD had retired in Michael Lynagh and the Reds wanted Flats to fill his shoes. Perhaps it was the experience of meeting these expectations that prepared Flatley for his grandest moment.
The Rugby World Cup has a tendency to throw forward some big names who star at their tournament. 87 had John Kirwin, 91 had Campo, 95 had Lomu and 99 had Timmy Horan.  Now I am not suggested that Flats in 03 had the same impact as any of these players, but there is no denying his status grew through the tournament.
In the final Flatley went toe-to-toe with the games kicking Heavy Weight in Jonny Wilkinson, and he didn't flinch.  Rugby fans and non-fans alike could do nothing but admire his resilience and composure as he almost single handedly kept Australia in the game.
While he spent most of his Wallaby time as either and understudy, or apprentice, to the great Steve Larkham, Flatley's efforts in 2003 are a perfect example of seizing your moment whenever they arrive.
Jason Little

Little only played four games at inside centre for the Wallabies during the decade, all in his last season of rugby – 2000. With his old buddy Tim Horan injured in the first test of the season, the Wallabies originally tried the tugboat, Rod Kafer, in this key position keeping Jason Little on the bench.
However the combination wasn't clicking and Little was promoted to the starting team to partner Dan Herbert. What would follow would be four of the most memorable Wallaby test matches to played consecutively. It started with the "Game of the Century" in Sydney and culminated in the last minute win over the Springboks in Durban. In between would be wins over New Zealand in Wellington and South Africa in Sydney with Jason Little providing invaluable experience and resoluteness in each game.
The Durban game would be a real end of an era with Little retiring alongside fellow 1999 World Cup alum Richard Harry and David Wilson. And while Little retired as one of our greatest outside centres, there was no doubting his contribution as an inside centre in Australia's trophy winning spree late in 20000.
Nathan Grey

Grey had been there and there abouts for the Wallabies for a couple of years since his debut in 1998.  But being 'there' usually meant being on the bench and being a, highly effective, impact player. 2001 would be his watershed however.  Exceptional Waratah form finally saw him a first choice player and, with Dan Herbert, he formed one of the most physically intimidating centre combinations ever to pull on the green and gold of Australia.
Some argue his physical intimidation bordered on the illegal as evidenced by his elbow on Lions forward leader Richard Hill.  The incident is often considered a turning point of the series and Grey is held as a pariah in parts of the UK for it.  But to label him as such from a single incident is unfair. There is no doubting Grey's intensity on the playing field and it was a characteristic that set him apart from many players. But to focus solely on his physical presence is to underplay his skill set.  Whilst not a natural ball player like some, Grey had the skills to kick start his backline and a handy enough boot to match.
"But…but…but…where's Matt Giteau?" I hear you say. "Don't let his recent time at 10 dull your memories of his time at 12!" you insist. We haven't. We didn't.  Well I didn't. But decisions have to be made, and they can't please everyone all the time.  There were other able candidates too, none least being Berrick Barnes. Plus we tend to forget how ably Mortlock and Herbet filled in at 12 because of their domination of the 13 jersey.  And yes, I know you're out there too, the Scott Staniforth supporters.  I would have loved to see him in that jersey more for the Wallabies, but what can I do?
So let us have it. Who should have been there. Who shouldn't have. Why does Gits deserve to be there? And tell us why. Vote in the poll and then hit us up in the comments or the Blog to really get your argument going.  There's still time to convince us that we need to make changes to our Green & Gold Rugby Wallaby Team of the Decade!
[poll id="49″]