By Tom Soulsby
The Tuggeranong Vikings farewelled two of their brightest young stars on Saturday with an impressive 28-21 win over Royals in the John I Dent Cup grand final.
2013 Brumbies players Zack Holmes and Colby Faingaa bowed out of the local Canberra club scene victorious, after helping the Vikings win their third title in a row, overcoming a spirited Canberra Royals outfit at Viking Park.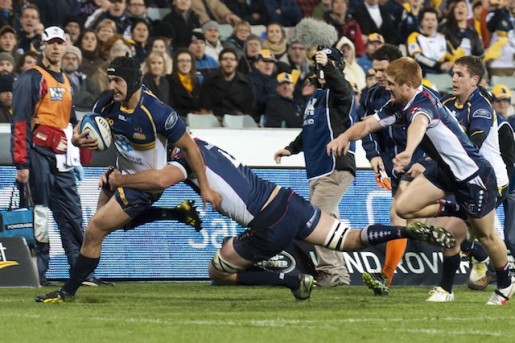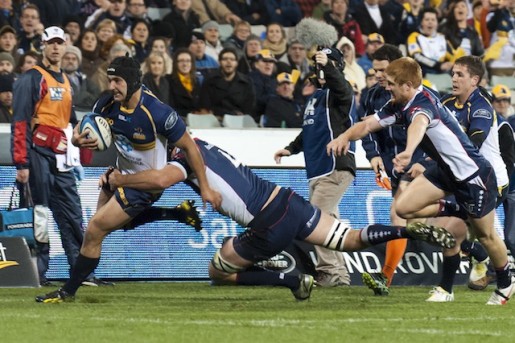 Both players will be leaving Canberra and the Brumbies in the off-season after signing with the Western Force and Melbourne Rebels respectively for the 2014 Super Rugby season.
For Holmes, the decision to leave the Brumbies and join the Force next year was a difficult one to make but says he will always be grateful for the support the Vikings have shown him this year.
" I have played most of the season here at Tuggeranong, so it has been really good playing with these boys and improving my game here as well," Holmes said.
" I think I have come forward in my game playing with these guys, so I can't be more thankful to the club."
Holmes played a standout role in his last appearance in a Vikings jumper, directing the side around the field and controlling territory with some pinpoint kicks into touch.
But while Holmes and the Vikings were crowned the winners, he did credit Royals for a gutsy performance which nearly sent the match into extra time.
" It was a really tough match, they definitely came out to play and threw everything at us," Holmes said.
" I thought there were times where we controlled the game and had momentum but every time we did, Royals came charging back.
" They are a very tough side and every game we have played them this year, they have always come out hard."
Queanbeyan born Faingaa has played for the Vikings since leaving St Edmunds College and will be sadly missed at Tuggeranong after signing with the Melbourne Rebels for the 2014 season.
Faingaa was instrumental for the Vikings on Saturday, dominating his opponents in the ruck and standing tall in defence, helping Tuggeranong secure the win.
" I was very nervous before the game, seeing as it was last my game for the Vikings and what was on the line," Faingaa said.
" It was a very tough game, very physical and I thought the Royal's pack was outstanding today.
" Some of their backs also showed some good class and it was good just to get a tough grind out win.
" Everyone really just stood up and I suppose that's what really got us over the line."