Greetings, G&GRs, and welcome to Friday's Rugby News aka the greatest thing since the Australians last won the Bledisloe Cup.
Well, firstly, a message of desperation. As you've seen, our craparazzi numbers have dropped by two, first with the loss of some NSW Tart lover, Goss or something, followed by the esteemed HappyMan yesterday. While the rest of us craparazzi love our ranting writing, if there are any takers for a day a week/fortnight, or even the odd column, then please reach out. We can only do so much, folks. I mean, shit, the 'Old Man Yelling at Clouds' is getting a regular run, so long as the dial up survives the Liberal government down there.
In today's news, the predictions for the Super Rugby New Zealand Pacific Grand Final with teams and referee news, the Wallaby RWC jersey has been unveiled, the Australian U20 side to face Fiji has been named and a predicted Wallaby squad for the Rugby Championship.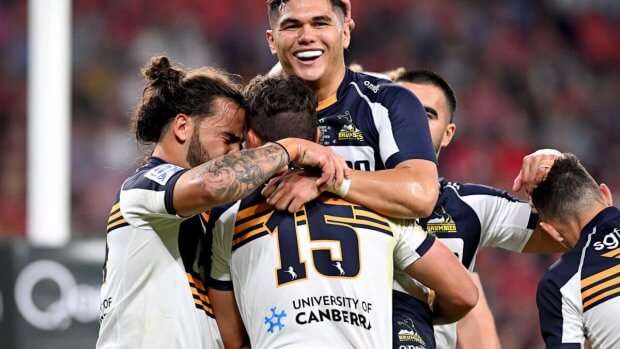 SUPER RUGBY GRAND FINAL 2023
Well, this is it for Super Rugby in 2023. The Grand Final will be played at 5:05pm AEST on Saturday afternoon between the all conquering Crusaders, aiming for their 8348732982nd title since the inception of Super Rugby, and the leftovers of the Auckland system in the Chiefs playing in Hamilton.
At present, the rugby gods seem to be smiling down on the Hamilton region for the first time in a while, with a forecasted temperature of around 14 degrees at kick-off and barely any rain sans the spit coming from the jumped-up bogans of the Waikato, their cow bells and chainsaws. The Chiefs will have to be at their absolute best, though they'll be hoping the Crusaders leave their red jerseys at home in the hopes they don't choke against, well, the 'red' team again! That being said, they're coming up against a team that, for all intents and purposes, might as well not bother showing up all season in the knowledge that, at the business end, they're nigh on unbeatable. Even with a home advantage, rabid home fans and a season of almost perfection (and the knowledge that I'm about 0 from eight this finals series), it'll be the Crusaders sending Razor off to blacker pastures with a win by 8.
Now, to look forward to watching any Wallaby outcasts perform in some sort of high-level competition to improve their skills, cohesion and all-round ability… oh… Fuq.
Saturday 24 June 5:05 pm AEST – Chiefs v Crusaders at FMG Stadium, ad-free, live and on demand on Stan Sport and the Nine Network
CHIEFS (1-15): Aidan Ross, Samisoni Taukei'aho, George Dyer, Brodie Retallick, Tupou Vaai, Pita Gus Sowakula, Sam Cane (co-c), Luke Jacobson, Brad Weber (co-c), Damian McKenzie, Etene Nanai-Seturo, Anton Lienert-Brown, Alex Nankivell, Emoni Narawa, Shaun Stevenson
RESERVES: Tyrone Thompson, Ollie Norris, John Ryan, Naitoa Ah Kuoi, Samipeni Finau, Cortez Ratima, Josh Ioane, Rameka Poihipi
CRUSADERS (1-15): Tamaiti Williams, Codie Taylor, Oliver Jager, Scott Barrett (c), Sam Whitelock, Sione Havili Talitui, Tom Christie, Christian Lio-Willie, Mitchell Drummond, Richie Mo'unga, Leicester Fainga'anuku, Jack Goodhue, Braydon Ennor, Dallas McLeod, Will Jordan
RESERVES: Brodie McAlister, Kershawl Sykes-Martin, Reuben O'Neill, Quinten Strange, Dominic Gardiner, Corey Kellow, Willi Heinz, Fergus Burke, Chay Fihaki
Referee: Ben O'Keeffe (NZ)
Assistant Referees: Nic Berry (RA), Angus Gardner (RA)
TMO: Brendan Pickerill (NZ)
WALLABIES UNVEIL BILL JERSEY
From Wathan Nilliamson, or something like that.
The Wallabies have unveiled the jersey set to be worn at the 2023 Rugby World Cup in France later this year. The design continues with the gold hue adopted in 2021, the first time it will be worn by the side at a Rugby World Cup since 1995. It also will have a permanent First Nations component design on its primary strip, with the playing numbers and inside collar to bear the design of Kamilaroi/Gamilaraay artist Dennis Golding.
"It's a privilege to wear. You just want to be in it a little more now," flanker Michael Hooper told reporters. "I grew up loving this jersey, seeing the prime ministers wearing it out the following morning after a Wallabies game. It means a lot to me and my family. It's awesome to wear it as always."
The Wallabies also released their alternative jersey, which is a unique white jersey featuring Golding's design.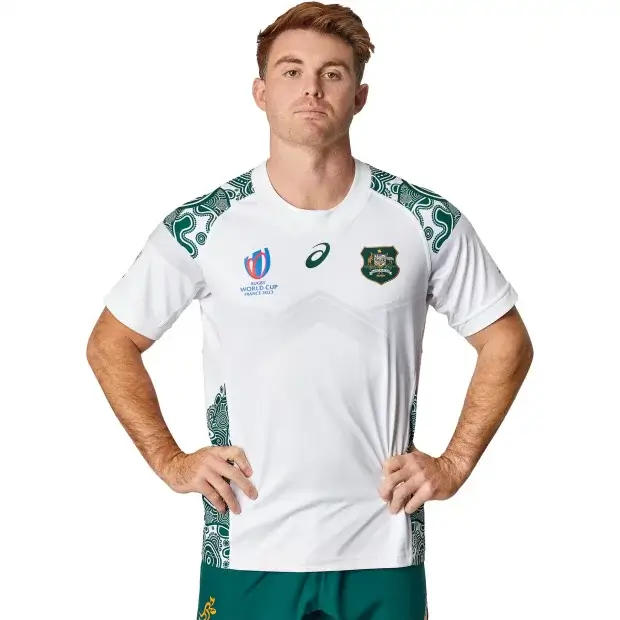 AUSTRALIAN U20s SIDE NAMED TO FACE FIJI
Junior Wallabies coach Nathan Grey (eugh) has confirmed his side to face Fiji to open Australia's campaign at the World Rugby U20 Championship. With three games in the space of 10 days, Grey has opted for a rotated lineup to the side that split the two game series with New Zealand, with Reds backrower Nick Baker leading the side. Regular captain Teddy Wilson will come off the bench alongside Easts and Waratahs teammate Jack Bowen.
"With five games in the next four weeks, and each game having a five-day turnaround, it's critical that all our players have the opportunity to get accustomed to the conditions and combinations."
Despite the changes, the side is still stacked with Super Rugby talent. Keep an eye on young Liam Bowron from Canberra. I had the fortune to coach Liam at U10 level, and the misfortune to run into his shoulder. I still remember the pain.
Good to see the Western Rebels getting value for Nick Stiles' buck, too.
Australian line-up:
1. Marley Pearce (Western Force, Joondalup Brothers)
2. Liam Bowron (ACT Brumbies, Canberra Royals)
3. Nick Bloomfield (QLD Reds, Easts Tigers)
4. Toby Macpherson (ACT Brumbies, Uni-Norths Owls)
5. Daniel Maiava (Melbourne Rebels, Wests Bulldogs)
6. Lachlan Hooper (ACT Brumbies, Vikings Rugby)
7. Nick Baker (c) (QLD Reds, GPS Rugby Club)
8. Leafi Talataina (Melbourne Rebels, Endeavour Hills)
9. Klayton Thorn (ACT Brumbies, Gungahlin Eagles)
10. Harry McLaughlin-Phillips (QLD Reds, Souths Magpies)
11. Darby Lancaster (Melbourne Rebels, Eastern Suburbs)
12. David Vaihu (Melbourne Rebels, Wests Bulldogs)
13. Taj Annan (QLD Reds, Souths Magpies)
14. Ronan Leahy (Western Force, Sydney University)
15. Mason Gordon (Melbourne Rebels, Wests Bulldogs)
16. Harrison Usher (QLD Reds, Bond University)
17. Max Craig (QLD Reds, Easts Tigers)
18. Trevor King (QLD Reds, Souths Magpies)
19. Ollie McCrea (NSW Waratahs, Eastern Suburbs)
20. Ned Slack-Smith (Western Force, Palmyra Rugby Union Club)
21. Teddy Wilson (NSW Waratahs, Eastern Suburbs)
22. Jack Bowen (NSW Waratahs, Eastern Suburbs)
23. Henry O'Donnell (NSW Waratahs, Northern Suburbs)
PREDICTED WALLABY SQUAD FOR TRC
So, here's where a bit of bravado meets a bit of bullshit in a throwback to when Hoss was writing Friday's Rugby News. Who do we think will be named in what will presumably be a TRC squad and, likely, the core component of the Bill squad? Now, I've gone more with head than with heart for these selections, in the knowledge nobody give two shits what I think. But I can guarantee that there'll be smokies selected!
Further, it'll be interesting to see how many foreign selections Eddie's allowed. I must admit to being a firm opponent to the Gateaux Giteau Law, especially in light of SANZAAR's decision to push on with the Super Rugby model until 2030. If you want a successful competition, then you must select the local, known heroes that fans are paying to see all season.
I've omitted some big names in the knowledge that some players are missing due to long-term injuries and, from reports, are unlikely to be selected, or at least, unfit until later in the tournament.
Props: 7As, Slipper, Gibbon, Talakai, Pone
Hookers: L Lonergan, D Porecki, A Mafi
Locks: Frost, Neville, Rodda, Richie Arnold, Skelton (*sigh*)
Loosies: M Hooper (eugh), Holloway, T Hooper, Valetini, Samu, McReight, Gleeson (pending injury)
Pains in the arse: White, Lonergan, McDermott
Fly Halves: Quade, Spanners (FML), Gordon
Centres: Kerevi, Ikitau, Foketi,
Wingers: Mark, Petaia, Marika, Suli (FML x 2)
Fullbacks: Wright, Kellaway
Good blokes to run water: Hodge, JOC 2.0, Wilkin
Get through unscathed and these blokes will likely be the core of the RWC squad. That said, with Eddie in charge, any player seen considering resting on laurels will be fuqed off pronto. Reports are coming in from Coogee that Nela is looking as fit and as enthusiastic as ever. I must say, it's amazing what a year off due to injury does for a player's maturity and motivation.
Have a rip snorter of a day, folks. Don't forget to tune into the home of rugby in Australia, Stan Sport, over the weekend to watch some of the fine talent in the U20s.