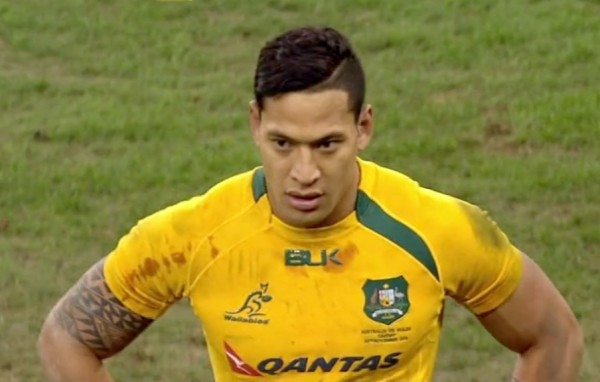 3. Foley artist
Any time a team wins a game despite losing the try-scoring tally, you know the kicker has played a vital role. For the Wallabies it was their flyhalf Bernard Foley whose boot got them across the line. His miss-free three conversions, three penalty goals and a crucial drop goal gave him a personal tally of 18 points for the match, but more importantly kept the pressure on Wales as the match ebbed and flowed.
We are becoming used to Foley's kicking composure under pressure this season with the Super Rugby winning kick the obvious stand out. Others have come, and now with a well taken droppy added to his portfolio, his kicking is a handy tool for the Australian team.
But what about the rest of his game? The selection of Quade Cooper in the Wallaby squad, despite his omission from this test team, has restarted the questions around Foley's broader game. This test match will provide some definitive answers to this question, unfortunately for both sides of the border, sorry I mean both sides of the argument.
What Foley did well was set the pace of the game early. His combination with Nick Phipps is without doubt benefiting both of their games. Phipps is in career best form and is without doubt the best option for Australia at scrumhalf at the moment. Foley's skills suit the Phipps game as it stands now. Quick service from the ruck allows the nippy Foley to feed his backs quickly or take on the line himself, as he did in this test plenty of times. Cooper, however, likes to set his play and dictate when he gets the ball to allow his superior playing making abilities to be released at just the right time.
Foley and Phipps both went through a period just after half time that could be best described as a little ropey. As a result the Aussies lost their shape and the game struggled the match the first half highs. My concern that Foley would again fail to close out a close game would not prove entirely accurate. His composure returned, as evidenced by his 72nd minute drop goal and Australia would hang on for their tenth win in a row against Wales.
Although I'm not convinced his aimless mid-field kick with minutes to go was the best option, the Welsh commentators thought his performance with the boot was enough to award him their Player of the Match award.