So, how are we travelling for a Wallabies World Cup squad? When it comes to selections I always ask myself  – could this player develop to get us to where we need to go, to play in a winning World Cup team? If the answer is no, then I'm not inclined to choose them, but rather someone who, with the right support, could. This thinking has served me well over the years – Horan and Little, Kearns, Daley, Eales, Gregan and moving Richard Harry from flanker to prop.
In some positions – notably prop and second row – there are some people who if they played to their potential I don't believe could play in a winning World Cup team. You might say look, if we're down to that selection then that might tide us over, but under normal circumstances I wouldn't go with them. It may cause some controversy.
Below I've picked a practice squad of 45 (three teams where no one thinks they're past the post, but rather paying attention so they can get to their potential) that I believe we should get together prior to the Rugby Championship.
The number you can take to the World Cup seems to keep changing, The general thought is it might move to 32, so I've also picked a 32 man squad as if I had to go to England now
(noted with *).
---
MY WALLABIES WORLD CUP SQUAD
Hooker
Moore*, Polota-Nau*, Hanson*, Faingaa and Latu.
I think Latu has real potential. Hanson and Faingaa are both good players, but I'm not sure Latu might not turn out to be better. If he improves as much in this current season as he did last, he just might go past.
---
Props
Slipper*, Sio*, Kepu*, Alo-Emile*, Faulkner* and Holmes. 
I haven't seen it happen but I hear Faulkner can play both sides, and I know Kepu can. I don't understand why, but I think Holmes is really underrated. Some people might say Alo-Emile had a hard time against Slipper this weekend, but I'd be talking to Slipper about that to see what went on because the penalties went both ways. Alo-Emile has real work rate – he carries and tackles well.
Alexander and Robinson I would leave out entirely. They spend either too much time on the ground at scrum time or don't do enough grunt work around the park. In this Super Rugby season Alexander is scrumming better, but I'm not prepared to be penalised out of a game as has happened in the past. New Zealand have left Wyatt Crockett (a very good player) out of a world cup squad before for the same reason.
We really need to bring our back-up props on. Faulkner's had one tour as has Sio. I want someone I can send out to keep the tight head side up and off the ground. Anything else on top of that is a bonus.
---
Lock
Douglas*, Jones*, Skelton*, Carter, Simmons, Neville and Coleman.
I'm so concerned about lock, I might pick some six/locks to give options – notably Fardy and Timani. Simmons is reputedly the brains trust behind the line-out calling but if we've got Douglas, Hooper and Pocock around I don't see the trouble. I think Neville is better than we give him credit for and Coleman is a player for the future. Horwill is nowhere near the player he was, perhaps through injury.
---
Back Row
Fardy (lock)*, Timani (lock)*, McMahon*, Hooper*, Gill*, Pocock*, McCalman*, Palu*
In amongst my back row thinking is – depending on how people brush up at camp and what we do in the Rugby Championship – I may even be inclined to use Fardy or Timani as a lock. My concern about our current locks is that they make no impact in ball carry or defence. A 4 out of 10 impact with an 8 out of 10 work rate is no good. I'd rather have it 8 and 6 or 7. If I add it all together I've got enough work rate in total. This is why I like Jones, Neville and Skelton.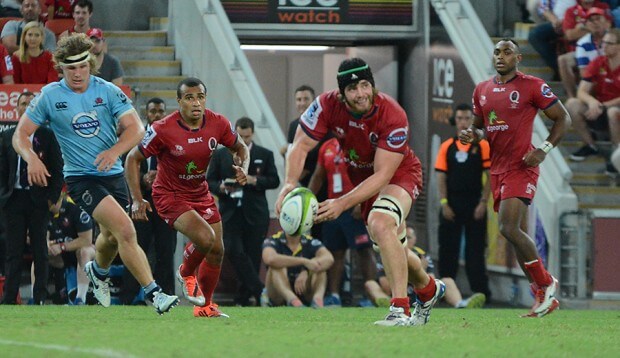 McMahon can play six or seven, maybe eight. I'm very interested to try Pocock at eight because he's too good a player even though he hasn't hit his old form yet. He's strong, can make hard yards and has been clearly working on his attacking skill set. He's won the occasional line out as can McMahon and Hooper.
I don't think Hooper is up to where he was which raises the pressure brought by Gill (who was superb this week) and Pocock. A back row of Pocock, Fardy, Hooper and Luke Jones could be the greatest Aussie ball-robbing combo of all time, over every tackle.
McCalman has played better in the last couple of years than I though he could. People decry Palu's work rate but have a good look at him in last year's Super Rugby final you'll see how much he adds.
---
Half-Back
Phipps*, Genia(*), White(*),
I don't think Genia is playing well at all, and I think while White can play well, at times he's all over the place. His focus can go astray – some games he thinks it's a debate, or wants to fight Will Skelton for example. The only likely damage to Will would have been water on the knee. I'm finding it hard to choose between these two for Phipps' replacement  as starter.
---
Fly-Half
Foley*, Toomua* (12), Giteau* (9 and 12)
Cooper and Lealiifano have missed out because I just can't find a spot. I've had huge wraps on Quade's ability but he can't put two games together at the moment. He also needs lots of work to play the game we'll want to (as does Genia). I can't see who we can leave out from the above.
Giteau was the European player of the year in 2014 (and there are plenty of good players up there). He's been massively successful outside of Wilkinson and massively successful when Jonny couldn't play. He's also got plenty of background at scrum half.
---
Centres
Ashley-Cooper*, Kuridrani*(12 or 13), Horne*(12,13 wing), Godwin, Inman
Godwin's not playing super well this year but he's got ability and I'd pick him for experience in the future. In the 99 squad we picked David Giffin  and were criticized that he wasn't ready but he went on to play for four or more years.
I think Inman can play a role, not just as a basher. We want people who have good positional play who can pass when they need to, or not when the situation prevents it. Horan for example wasn't a huge passer of the ball. It's not hard to pass the ball from 12 and we don't need some amazing distributor.
---
Wingers
Speight*, Cummins*, O'Connor* (10 and 15), Tomane, English
O'Connor I've seen as a world class player in the past and out of a struggling team I believe he can get back to his best. He can also play centre or full-back. Speight and Cummins give us strength.
---
Fullback
Folau*, Beale* (wing), Coleman.
I'd also like to know more about Naiyaravoro  – I'm not sure if he can qualify for the Wallabies but he's useful. I don't want to play Beale any closer in than wing or full-back but he offers great versatility.
---
Goal kicking wise – Foley, Giteau, O'Connor, Beale, White (if he makes it).
All in all it's a pretty good squad. Except for prop, you wouldn't be too concerned about what combinations you play. If I were Michael Cheika I'd be very happy to be the coach of it.
What about you?