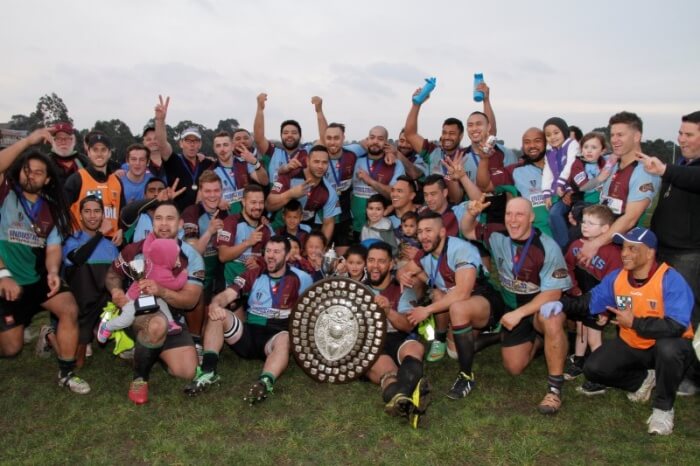 Harlequin
The Harlequin Rugby Club comes to the start of the 2015 Dewar Shield after back to back  1st Grade premierships. Thry have a strong base of players and supporters and one of the best infrastructure of any Victorian club. Despite yet another change in the Head Coach position role, the introduction of two well known names in the Victorian rugby scene as player/assistant coaches will guarantee the continuity.
Founded in 1928, Harlequin grew slowly and won its first premiership in 1955. It has established itself as one of the major forces in Victoria in the past years, having 1st, 2nd, 3rd Grade and Colts' teams in the Grand Final in 2014 losing only the 2nd Grade..
With some new players coming to Ashwood and the return from injury of a young prospect, Harlequin is looking at finishing yet again on top of the Dewar Shield.

G&GR interviewed the Harlequin Chair of Rugby Brock Parker ahead of the 2015 Dewar Shield season, which opens for his club with an home game against Melbourne University.
Parker spoke about the ambition to stay on top and conquest the third premiership in a row, although clearly stated that is team will not take anything for granted:
"Last year is last year"
The preparation:
"We have had some changes at the club, most important of which is the position of Head Coach, with Craig McGrath moving to the Melbourne Rebels and former forward coach Cliff Viliamu appointed to the position. He will be assisted by player-coaches Lloyd Johansson (former Wallaby and Super Rugby player) and Pom Simona (who has played also in the NRC for the rising). But we have a core group of guys which know the system and are very close. We are very happy", continued Parker, "to welcome Scottish clubs international team captain  Murray McDouglas, who has chosen our team as his home in Melbourne."

The strengths:
Parker is very adamant that the depth of the club is the most important success factor: "Our depth is incredible it always provides us with quality players." Talking about the game plan, he mentions the outside backs: "we have very good outsides backs and we want to attack more on the wing."
The area for improvement:
"We will have an all new front row due to movements or retirements", mentions Parker, "and a new coach, this may require some adaptation, although we are confident, as per last year, to move on quickly. Cliff is not new to the club, and he will do good".
"We will have some colts coming through the system, 3 or 4 will play in the first grade" added Parker.
Expectations for 2015:
"I have to admit that we have our eyes on the premiership" says Parker. "We come into the season as premiers and we have to honour that, making the finals is just not good enough.:
Players to watch:
"Surely Billy Valetini", Parker is quick to answer. "Unfortunately he has been out for 18 months due to an ACL, but he made his debut in 2013 as a 17 years old he played six 1st Grade games scoring 11 tries. He is a gigantic winger!" Adds with a bit of excitement in his voice. "His father has played at the club and Billy has spent all his playing career with us."
"We expect also a lot from Murray Douglas a lock / back rower with a lot of class".
Impact of Rebels/Rising collaboration on your club:
The Harlequin Rugby Club has been the home of the Melbourne Rising team during the NRC season: "having them training at our home ground has been fantastic, we learned a lot from having them here all the time".
"From players point of view, as premiers we will have been allocated three players: again Scott Higginbotham, we will not see him playing, but he has been a fantastic ambassador for the club. And Jed Gillespie and Steve Cummins, they'll hopefully join us on the field as well".