It is often said that a draw is like kissing your sister and given their sides' results on the weekend, BBC and Churchie supporters both have good reason to be swilling the mouthwash. Conversely, Toowoomba Grammar and Gregory Terrace supporters each have reasons to smile.
Brisbane Boys' College v. Anglican Church Grammar School (Churchie)
Having already endured a disappointing start to the season, Churchie entered round three with grim determination. Meanwhile BBC had reason for confidence, with a strong opening round performance against Nudgee College followed up with a dessert of Brisbane State High last weekend.
The sides traded penalties early as each worked their way into the game; it seemed there was no great inclination to throw the ball around.
Gradually play opened up as the sides began to explore the full width of the field, with each testing the other's defence with some solid but unremarkable play. After a patient build-up, Churchie were first to bag a try, getting over the line in the 15th after some sustained pressure on the BBC line. 8-6 to Churchie.
Play picked up where it left off, with both teams playing expansively and putting boot to ball with some regularity. For each it seemed as much about territory as it did pressuring the opposition into error – many kicks remained well inside the field of play.
From one lineout deep in Churchie territory, BBC were able to set up a well-structured rolling maul and rumbled to the line. Churchie did their best to lawfully disrupt its progress, but in spite of these efforts BBC were twice able to reform the maul. Then, in one of the more significant moments of the match, Churchie hooker Joe Warriner took out the legs of BBC 8. Bronson Tauakipulu just as he detached from the back of the maul to score the try.
Deeming Warriner to have made the tackle before Tauakipulu had detached from the back of the maul, referee Rodd Brockett awarded the Churchie hooker a yellow card and BBC a penalty try under the posts. Though it seemed that Tauakipulu had been able to ground the ball for the try, Warriner's offence was committed in the act of scoring the try and thus warranted the yellow card and the penalty try. The try was converted from right in front and with no further scoring movements, the half-time score read 16-13 to BBC.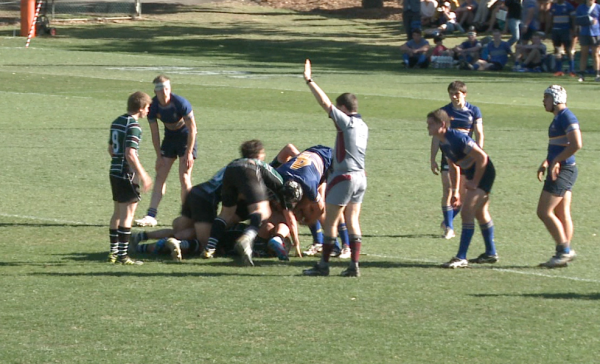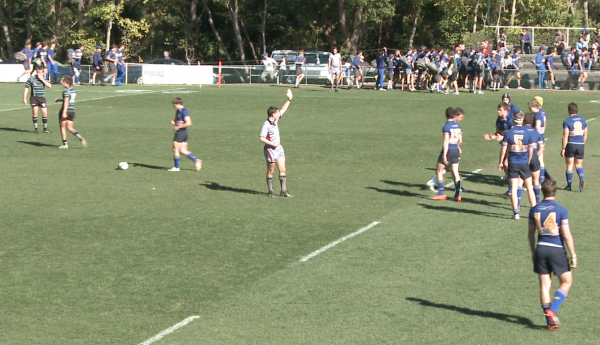 It was anybody's match. Continuing their stellar form this season, the BBC pack worked hard as a unit, allowing good ball retention and also placing a degree of pressure on Churchie's ball. That said, Churchie's pack were similarly well drilled in attack and also offered a quality platform for their backs. They were however less effective in defence – despite being undoubtedly busy at BBC's breakdowns, the Churchie forwards competed a little too high and arrived a little too late to have any great effect.
In addition to the quality platform being laid down by their forwards, BBC had the added advantage of great service from 9. Mikey Dyring. Whereas the speed of his service had in previous matches put his backs under unnecessary pressure, Dyring had been offering quick ball from the base of the ruck. Exhibiting great vision, he was also playing a polished game with ball in hand, in so doing outplaying Churchie's vaunted 9. Vinnie Quigley.
The second half got underway and despite both teams' continued willingness to use the ball, no points were scored until the 50th minute (35 minute halves), when BBC extended their lead to six points with a penalty from in front.
Five minutes later BBC scored again, this time after 9. Dyring found himself on the receiving end of a well-worked lineout move, darting down the touchline to score in the corner. His task had been made a little easier – Churchie 15. James Watson was down in back play and deeming that the lineout could be set without him, referee Brockett called for play to continue. No doubt settling into their normal defensive pattern, Churchie did not account for his absence and BBC capitalised. 24-13 to BBC.
From the restart, Churchie quickly found their way down the end of the field, and for the next eight minutes placed serious pressure on the BBC line. With the clock winding down, they declined three separate penalty shots on goal, instead seeking a try for their efforts. Finally they were able to get over the line in the 29th minute. 24-18 to BBC.
Again, Churchie fought their way into BBC's red zone, with 6. Michael Gunn showing great strength to rip the ball in contact from BBC 4. Luke Peterson. With Churchie recycling quickly, BBC were pinged for illegally slowing the ball down right in front. 24-21 to BBC.
In a moment of respite for BBC supporters' fingernails, play stayed in Churchie's half for the two minutes immediately following the restart, but slowly, Churchie's forwards again worked the ball forward and within a handful of phases, had an attacking lineout on the BBC 22. Despite wasting the opportunity, they were able to quickly get the ball back and soon Churchie 10. Darcy Eason set himself up in the pocket. His field goal snuck home, just scraping the right upright. 24-24.
The finish became frenetic. After his fullback made a mess of a kick receipt, BBC 11. Gareth Kalell booted the loose ball across field away from the rushing Churchie forwards. Having not retreated fully, BBC 15. Josh Bowyer collected the ball and was penalised for his efforts in front of the posts. Churchie 10. Eason stepped up and nailed the kick. 27-24 to Churchie and seemingly with no time left.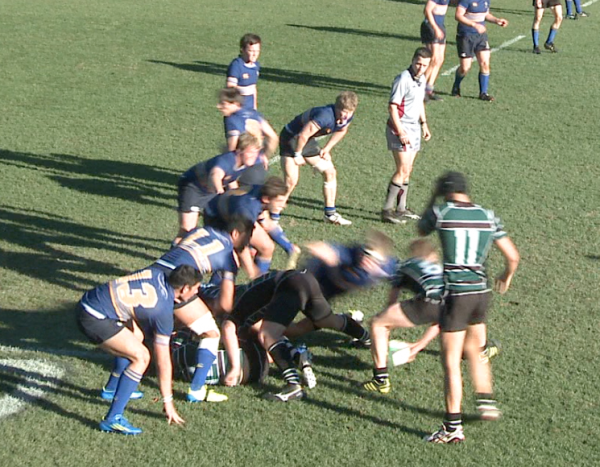 It wasn't over. Collecting the kickoff, Churchie patiently worked their way upfield and away from their own posts. With less than a minute on the clock, the Churchie reserve lock lost the ball in contact, allowing BBC one last go. With ball in hand, the BBC backs took play into Churchie's half. On the 10m line and seven metres in from touch, a penalty advantage was called. Churchie 5. Luke Shepherd was deemed to have entered the ruck from the side, spoiling BBC 9. Dyring's delivery.
The call was borderline at best – to the naked eye it seemed that Shepherd had come from an onside position alongside the ruck as soon as Dyring had his hands on the ball, without ever entering the ruck itself. Nonetheless, any protests became academic. The penalty was blown and the shot was called.
Having given away the penalty that allowed Churchie to pull ahead, BBC 15. Bowyer had a shot at redemption. The kick was to be long and from near the touchline, but it was struck sweetly.
27-27.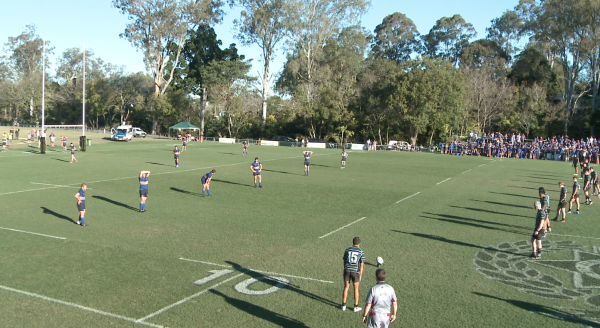 Toowoomba Grammar School v. Gregory Terrace
Gregory Terrace journeyed up the range seeking their first win of the season after a close loss at home the previous weekend, while Toowoomba hoped to regain some of the form that saw them unseat Churchie in round one.
Things started poorly for Terrace, who spilled kickoff into waiting TGS hands. With quick ball, TGS were over within thirty seconds with a classic winger's finish. 7-0.
By the tenth minute, Toowoomba had crossed a second time through a quick turnover pick and drive and were looking dangerous, dominating the tackle contest and generally out-muscling the visitors.
It took Terrace until the 25th minute to get on the board through their hooker. Running onto a very flat pass, he was able to elude a number of tacklers to not only cross the chalk, but work his way close to the posts. 12-7 to Toowoomba.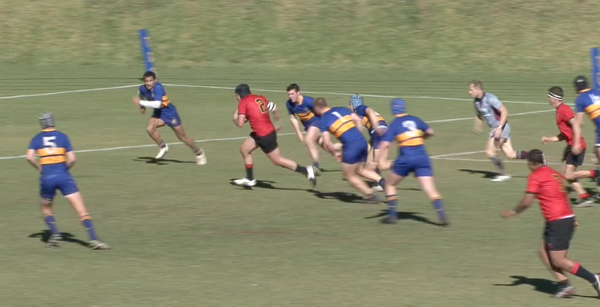 After another penalty to Toowoomba, Terrace soon hit back again. Having struggled to compete up front with the tough bushies of Toowoomba, this was the first time that the Terrace forwards had really been able to garner any sort of momentum. Having built phase upon phase, the Toowoomba defence had bunched up and seeing the opportunity, Terrace 10. James Dalgleish sent the ball wide for a try in the corner. 15-14 to Toowoomba at the break with two tries apiece.
The match had been well contested by both sides, and both forward packs worked hard. It certainly seemed that Toowoomba were winning the battle at ruck time, having consistently secured fast ball, though this conclusion is an easy one to jump to when a team's runners are winning the contact in almost every instance. Gregory Terrace were struggling to handle the onslaught.
It seemed like the scores might soon open up. Behind his dominant pack, Toowoomba's 9. Adam Deck was playing confidently, and each of Toowoomba's 13, 14 and 15 looked both dangerous and industrious.
On a brighter note for Gregory Terrace, their backline had looked polished when they had good ball… but good ball had been a rare commodity. Dalgleish was clearly not only talented with ball in hand but also a good organiser. He nonetheless struggled behind his back-peddling forwards.
It seemed some stinging words had been said at half time, as Terrace came out hungry and firing, playing their best rugby of the afternoon. They were however unable to get over the line, with their handful of opportunities spoiled either by errors borne of loose play, or by a Toowoomba indiscretion. With two penalties to start the half, Terrace led 20-15 in the 46th minute.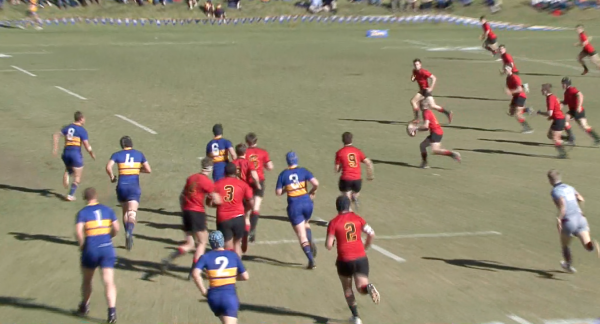 Minutes later and having looked dangerous all match, Toowoomba 15. Jonah Placid scored a great try, collecting a perfectly weighted grubber from his #14 before touching down around near the posts. 20-20 with 25 minutes to play.
Terrace were next to score with another penalty, though Toowoomba again took the ball forward and after a patient buildup were able to get over the line. The try came off a strong run from their #13, with a bullet offload as he was bundled into touch. 25-23 to Toowoomba.
With both teams still in it, the play went end to end without any scoring developments. The match was ground out in the forwards, with Toowoomba eeking out a penalty in the last moment. 28-23 in a tight match.
Terrace played well, but were simply out-gunned by a strong and well-oiled Toowoomba machine. Toowoomba only need an ounce more creativity in the halves and a capable place-kicker to have a potentially table-topping unit. Their match-ups with Nudgee College and The Southport School are shaping up to be great contests.
Other Fixtures
In other fixtures, The Southport School pulled off a magnificent victory over the fancied Nudgee College at Nudgee 31-19 (review here), while Ipswich Grammar continued Brisbane State High's misery, running out 37-6 victors