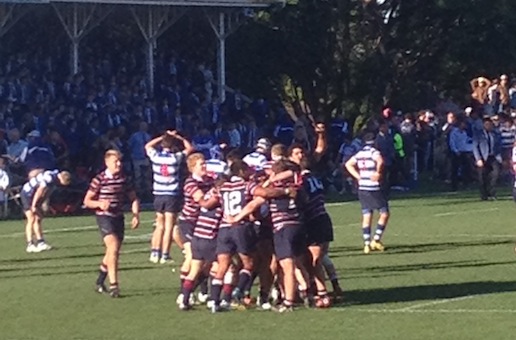 Nudgee College have stumbled without Australia A captain Jack Tuttle as they fell at the hands of The Southport School in front of their home crowd yesterday.
Tuttle was sighted in his uniform before the game and a feel of reservation had swept across Ross Oval before the game had even begun. From the outset it was clear that Nudgee were a different side, looking hesitant at times whilst Southport were grabbing every opportunity that they could. TSS won an early penalty after many of the Nudgee forwards blatantly poured into the side of a few rucks and No. 10 Mitch Third gladly stepped up to take an easy 3 points.
TSS were defending any Nudgee raids extremely well and made it clear from the beginning that they were not going to commit to rucks, simply spreading the defensive line and waiting for any mistakes. The centres combination of Nili Fielea and Vincent Cooney in particular were making a number of crunching tackles which ceased any threat that Nudgee posed.
Against the run of play, Nudgee fly-half Paddy James took the ball blindside in what looked like a 2 on 5 situation before placing a fantastic chip in behind for winger Tyrone Hussey to steal from the grasp of TSS No. 11 Isaac Nathan and dive over for his first try, putting Nudgee ahead 5-3.
TSS retained the ball from the kick-off and after a number of threatening phases, Nathan swerved and stepped his way through 4 or 5 Nudgee defenders to score a fantastic try in front of the TSS supporters to put the boys from Southport back in the lead, 8-5.
TSS again immediately entered the Nudgee red-zone after an isolated run by one of the Nudgee forwards and put together a number of well structured phases before some nice passing from Third put Nathan in for his second try in the exact same spot, putting TSS up 13-5.
Third, Cooney and Fielea were showing that they were a class above at this stage, setting up others around them across the field as well as cutting down any Nudgee half-chances. These three were really proving the difference, especially with the noted absence of Jack Tuttle for Nudgee.
Half time rolled around and Nudgee were trailing a hungry Southport side 13-5. Ben Tarr, Sam Clifton, Mitch Third, Nili Fielea and Vincent Cooney leading the charge whilst Henry Fitzgerald and Paddy James were holding the fort for Nudgee.
The second half began with an immediate penalty to TSS directly in front of the posts for not releasing the ball, Southport's back row really starting to take control of the game. Third took advantage of the opportunity and the lead increased to 16-5.
TSS were again awarded a penalty following the kick-off and elected to kick for goal from roughly 40 metres out, Third elected to kick for goal but could not make the distance, resulting in a 22 restart. Two phases later, Nudgee were again penalised for hands in the ruck, their ill-discipline really costing them. Following the line-out, an overlap was created for TSS No. 14 Brock Andersen and he set off from 40 metres out, stepping off his right foot three times to score a fantastic try. TSS lead 23-5.
Nudgee seemed to temporarily lift at this point, with the forwards finding extra drive to finally get some momentum over the gain line and provide some room for the outside backs. This paid off when Charles Tenakanai beat a pair of TSS defenders, passed to James who provided a clever offload to put Hussey in for his second try of the game. The crowd began to lift as the blue and white now only trailed by 23-12.
Ill-discipline again proved costly as TSS were again awarded a penalty for Nudgee entering the ruck from the side, Third slotting the kick to take the lead back out to 26-12. Again Nudgee hit back through the hard work of their forwards, consistently punching at the Southport line despite some outstanding heart being shown by the TSS boys.
After being held up over the line Nudgee were awarded a scrum, James swiftly dummied and stepped Third, wiggling his way through for a Nudgee try. Drawing it back to a converted try margin at 26-19.
The story of the game was really told with Nudgee's last chance to tie the game up. Following a break off the kick-off, three Nudgee players were facing a single TSS player as they flew down the sideline, only for the pass to go to ground and into touch. This proved to be Nudgee's last real chance as some smart play by Southport's forwards put No. 7 Luke Papworth over for the game sealing try, leaving the final score at TSS 31 – NC 19.
Stand-outs from The Southport School: 1. Ben Tarr, 3. Sam Clifton, 6. Cato Perrin, 7. Luke Papworth, 10. Mitch Third, 12. Nili Fielea, 13. Vincent Cooney.
Stand-outs from Nudgee College: 1. Francois Postale, 6. Maclean Jones, 10. Paddy James, 14. Tyrone Hussey.