Another NRC game that had the potential to impacted by rain as the Wests Rugby Union club hosted the Andy Purcell Cup battle between Brisbane City and QLD Country.
First Half:
Brisbane City had all the territory and possession early thanks to repeat penalties. When they opted for a scrum and Quade Cooper wrapped around Tautalatasi Tasi there was space outside for Jaye Thompson to basically fall over the try line but he dropped it cold.
The early scrum battle was monumental early on as Queensland Country stepped it up a gear from previous weeks as they'd struggled at the set piece against previous opponents.  Clean scrums were few an far between in the first quarter as both teams fought for the upper hand.
Karmichael Hunt was a standout in defence for Brisbane City in the early stages as he made numerous big hits in the front line.  However it was Queensland Country who got the first points as Filipo Daugunu found space down a wide blind outside of Scott Gale before linking with Hamish Stewart who finished well to score under the posts. 7-0 QLD Country
It didn't take long for the slickers to bounce back though, and it was Stewart's opposite number in Quade Cooper that sparked it. First he ignited a counter attack from the back that gave the territory and then, while playing with advantage, he took on the line and off-loaded delightfully to Hunt who passed to skipper Adam Korczyk to dive over for the try. 7-5 QLD Country.
Brisbane City were definitely playing with an extra layer of aggression and intensity as some of their older heads looked to get the upper hand on their younger opponents.
That intensity meant the defence was difficult to breach and it ultimately led to Country going back to basics and relying on their rolling maul from a lineout after a series of penalties.  Brisbane City actually defused the threats effectively until hooker Effi Ma'afu found the line threw a clutch of tackles. 12-5 QLD Country.
It opened up though soon after as Duncan Paia'aua found space out wide before kicking ahead for Jock Campbell to collect and push the line.  Matt Gicquel made the try saver and soon they were up the other end attacking with Con Foley making good ground.  Hamish Stewart was yellow carded for diving over the ball and City were able to take advantage of the numerical advantage with Foley deservedly collecting a try through a shear weight of numbers. 12-All
The tightness of the encounter saw City opt for a penalty shot at goal with five minutes to go.  The shot was true and City grabbed the lead for the first time of the match. 15-12 Brisbane City.
With Paia'aua putting the kick-off out on the full, Brisbane ramped up the pressure on the scrum and looked to have gained the penalty. Instead Cooper wanted it quick and let go a delightful backhand offload to Tasi who drew the passed to Foley to drop the pass with the line open.  They refused to drop their heads though as they retained possession and swept the ball across the other side of the field where Hunt looked to have forced his way over, only to be taken down early. But Matt Gordon would not be denied and Brisbane scored a crucial try in the shadows of half time and to further punish Stewart's ill-discipline. 22-12 Brisbane City.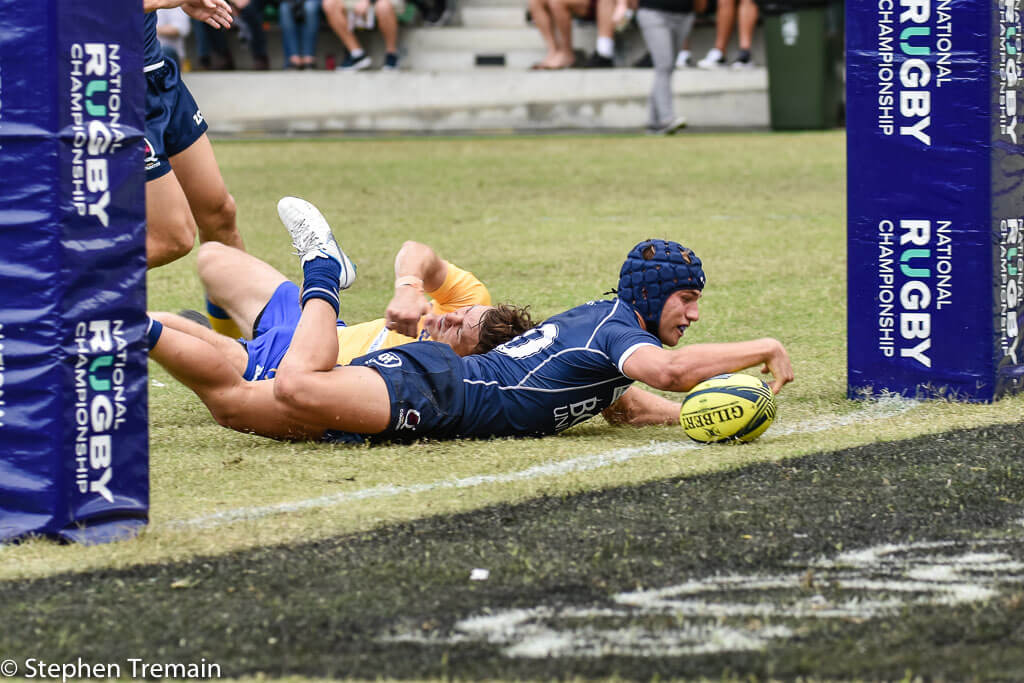 Second Half:
QLD Country scored a crucial try at the start of the 2nd half to give them some hope of a comeback. Tom Lucas, fresh on the field as a half time replacement, was the recipient amongst a cluster of bodies. QLD Country 22-17
However Brisbane were sparked by a sniping run by Scott Gale and some more flair by Cooper to work their way back down the field and again put the pressure on Country.  With Daungunu pulling down Thompson when he looked like he was away, lock forward Nathan Den Hoedt picked and drove to snag the five points. 29-17 Brisbane City.
Stewart showed a little of his own class in backing up a Jordan Petaia half break and off-load before the Country flyhalf passed smartly back inside to Tate McDermott to score and edge the gap a little closer. 29-24 Brisbane City.
Jaye Thompson looked to have scored an incredible try off the pack of a couple of soft Ruan Smith and Fraser McReight passes. Thompson flew threw the air to dive for the corner however was ruled to have gone out in touch. It deserved more such was the skill involved but was not to be.
It was proving tough for QLD Country to get out of their own half such was the dominance of the City outfit. Unfortunately their discipline was also letting them down and any ground they made seemed quickly eradicated by a penalty or two. Quade then kicked his second of the match to take the lead out to more than a converted try from one such penalty.  32-24 Brisbane City.
The match looked sealed for Brisbane City when replacement hooker Sean Farrell drove over the line from the standard 'penalty – lineout – maul' three card trick.  Cooper nailed it from outwide and it was all Brisbane City.  39-24 Brisbane City.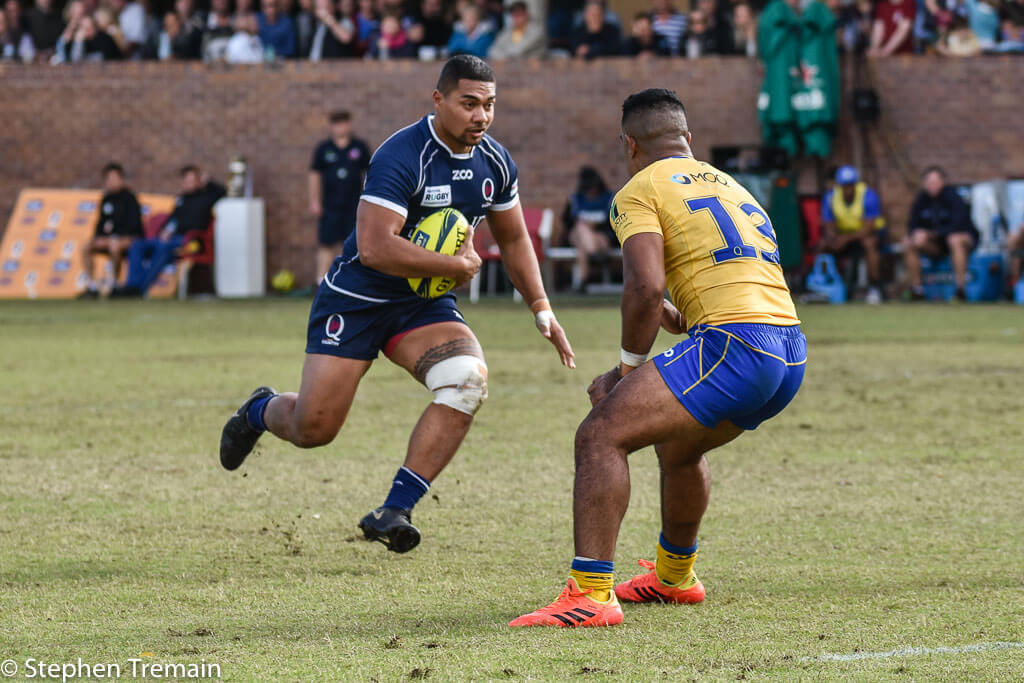 Wash up:
It was the experienced men of Brisbane City who saw them home today. Quade and KArmichael in the backs, with support of Matt Gordon and Con Foley, and the muscle of the Smith twins up front was all the difference. Hamish Stewart and Tate McDermott were good for Country but they needed more from their centres Paia'aua and Chris Feauai-Sautia. Losing James Slipper in the first half did not help either. The win sees Brisbane retain the Andy Purcell Cup and jump into the top four (at least for the time being) for the first time this season.  Brisbane next travel to Camden to take on NSW Country Eagles while QLD Country head back home to Bond Uni to host Sydney Rays.
[one_third last="no"]
The Game Changer
The Hamish Stewart yellow card swung all momentum Brisbane City's way and led to a 17 point run by Brisbane City.
[/one_third]
[one_third last="no"]
The GAGR MOTM
Karmichael Hunt's defense was sensational this game, particuarly early on, but it was Quade Cooper's game management that was the key today. Superb skills, for sure, but the cool head through out was game making.
[/one_third]
[one_third last="yes"]
Rising Star Watch
The experienced Matt Gordon is yet to really get a decent Super Rugby run yet showed his ruggedness today. Young flanker Matt Gicquel was very busy while centre Tautalatasi Tasi had his moments as well.
[/one_third]
The Details
[one_half last="no"]
Brisbane City 39
Tries: Adam Korczyk, Matt Gordon, Con Foley, Nathan Den Hoedt, Sean Farrell
Cons: Quade Cooper 4
PG: Quade Cooper 2
Cards: Nil
[/one_half]
[one_half last="yes"]
QLD Country 24
Tries: Hamish Stewart, Effi Ma'afu, Tom Lucas, Tate McDermott.
Cons: Hamish Stewart 2
PG: Nil
Cards: Hamish Stewart ('32)
[/one_half]
Match Highlights: