With no form guide on the Fijian Drua and Brisbane City with a lot to prove after their last season, this could be anyone's match.   With a good crowd at Ballymore to watch this first home match of the season, this was tipped to be a cracker in the Saturday afternoon sun.
The Match
The big units of the Drua looked like a solid machine as they worked their initial set pieces well, but it wasn't enough to stop a mass of Brisbane City bodies crossing the line with Ready at the bottom to open the scoring for Brisbane City.
Lukhan Tui in his return from knee surgery was making his presence felt for City with some strong runs and hits alongside Kane Douglas who also dominated his hits.
The Drua followed with a try to their fullback Peceli Nacebe in the 11th minute.  A poor pass from Lachlan Maranta to Moses Sorovi (still in fine form following his mastery in QPR for UQ) after he made a lovely break was intercepted resulting in the try.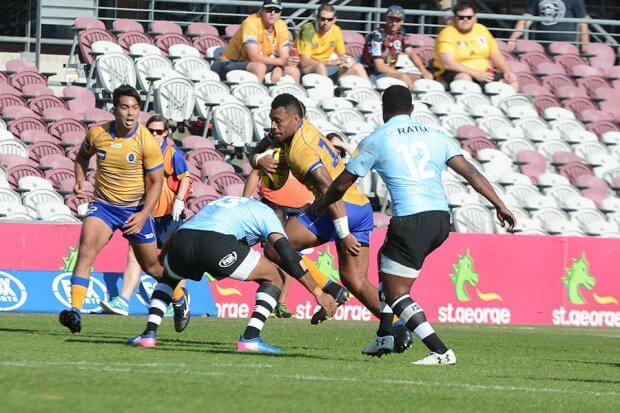 Not to be outdone, Brisbane City's Ed Fidow hit back with the first of his three tries to cross after being set up beautifully by Jayden Ngamanu.  Quade Cooper kicked the conversion and City were in the lead again.
Nacebe crossed again for the Drua after a dodgy tackle by Quade Cooper and it was successfully converted by flyhalf Kini Douglas.
QC's match had its ups and downs, but overall he put in a solid performance.  A couple of wobbles yes, but his kicking was on point and generally he executed the tackles he made.  That may all seem a bit basic, but City and the Reds (and possibly the Wallabies unless Foley can pull a rabbit out) need a Cooper that is firing on all cylinders.
Brisbane City built phases well, the backline was clicking very well and it resulted in a try for Tui from almost 10 phases across the field and back.  Fidow's speed then came to the fore as not 10 minutes later he crossed for his second and City's 3rd.
Brisbane City went to the break at halftime leading 33-12 after Michael Gunn, returning from what seems like never-ending injury cross from a rolling maul.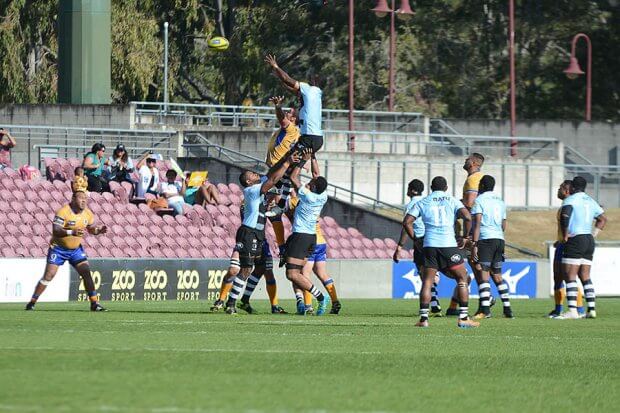 The second half started back with sustained pressure from both sides that didn't result in anything.  Kerevi may have had a quieter first half but came into his own in the second half when he jagged a lovely intercept to cross in the 61st minute, converted by Quade Cooper.
The Drua capitalised not much later on a mistimed chipkick from Quade Cooper as it rebound off a Fijian player.  QC was flattened and could only watch on in crankiness as Mosese Voka raced away for a try.
Brisbane City had an enviable lead and Mick Heenan started to use his bench.  There was lots to be positive about in the Brisbane City play, but they will need to have a look at their lineouts and the loose, long passes to no one.  They weren't punished frequently, but often that was only luck – Fiji grabbing an intercept but then fumbling themselves.  This team has to tighten up and be ruthless to restore the Glory, Glory days of 2014 and 2015.
Fidow's final try came off a lovely pass from Samu Kerevi who should be pleased with his hit out following his less excellent than expected Wallabies showing against the All Blacks last month.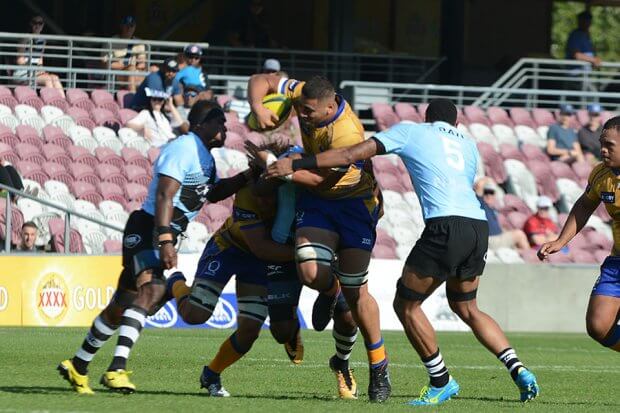 The Fijian Drua will be a formidable force for any team that takes their foot off the gas or tires as they scored 3 tries in the last 10 minutes of the game – pushing their chances always.  Their bench made a big difference with tries to Eroni Sau, Seru Cavuilati and Cyril Reece.
Their last try to Reece was scored after the buzzer from a ballsy play along the sideline because they had nothing to lose.
The introduction of Fiji to this competition is excellent, and I am really looking forward to their matches, particularly their home matches which I expect to go off like a frog in a sock.
---
[one_third last="no"]
Key Moment
Fiji's bench pulled back a large deficit and some of them should perhaps start next week. Their heart was excellent and it was matched by their skill.[/one_third][one_third last="no"]
The G&GR MOTM
Ed Fidow with a hat-trick in his NRC debut looked the goods, following on his good Queensland Premier Rugby form for Wests.  He threatened with several more runs down the sideline and will be one to watch.[/one_third][one_third last="yes"]
Oz BaaBaa Watch
With the competition now being a breeding ground for Super Rugby and so many players capped for the nations with Sevens and U20s, I can't think of anyone who fit this bill today.  If I have missed someone, hit me up.[/one_third]
---
The Details
Score & Scorers
[one_half last="no"]BRISBANE CITY: 45
Tries: Ready, Fidow 3, Tui, Gunn, Kerevi
Cons: Cooper 4, Alatimu
[/one_half]
[one_half last="yes"]FIJIAN DRUA: 36
Tries: Nacebe 2, Voka, Sau, Cavuilati, Reece
Cons: Douglas 2, Nacebe
[/one_half]
Cards & citings
Yellow: Mudu, Tawake