A couple of weeks ago we ran an article about the Rebel Army's campaign to get Wallabies Test matches shown live on free-to-air television in traditionally non-rugby markets. Now, in a surprising and pleasing breakthrough, the Nine Network has rolled over like an eager-to-please puppy and will be showing this Saturday's first Bledisloe Cup Test match right across the country.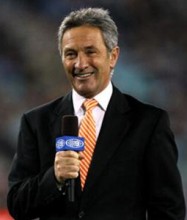 That's right: rugby fans in all cities and regional areas will be able to watch the Wallabies play live — from 5:30PM in the eastern states, 5:00PM in South Oz and Darwin, and 3:30PM in the west. As far as we can tell, the only area that's going to miss out is the regional Northern Territory. [UPDATE: See stinger's comment below.] Some areas will take the broadcast on Nine's flagship Channel 9, others on GEM (HD channel 90), and some regional zones on WIN Channel 8.
Check the Freeview TV guide to find your local Wallabies channel. For Victorians, the Army has posted handy 'How to get GEM' instructions.
All that remains is to say 'well done' to Gav and the Army — and for that matter, 'good on yers' to the Nine Network. We didn't think you had it in you.