Can you feel it? That fizzing energy in the pit of your stomach?
It's there because this is the real deal. In the winning of this one match, the Wallabies can make it possible, if not probable, to take the Bledisloe Cup and Tri Nations titles into the 2011 Rugby World Cup tournament. These would go in the bag together with the Super Rugby title and Mandela Plate.
I find it hard to even speculate what the ramifications for the New Zealand sporting psyche would be.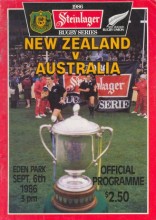 But before we get carried away, let's chuck on the bucket of cold water. To take this opportunity, the Wallabies must beat the most experienced All Black team in the history of the game. No New Zealand team has been older (averaging 29 years per man) and no test team of any country has ever had more caps per man — averaging 51.
Add to that the history. Australia hasn't won at Eden Park since 1986 and they've only actually beaten New Zealand once in the last 11 attempts, and that was on neutral soil. In fact, the Wallabies even managed to break the wrong sort of record just two weeks ago, losing to Samoa for the first time ever! The bookies have New Zealand at 1.28 and the Wallabies at 3.75 to win.
However, as I write this there are almost 50 scoreline predictions in our competition, and less than 10 of those have the bookies' favourites winning.
So why are we so balls-out optimistic?
With none of the indicators going our way, it can be only one thing — 'the vibe'. And the vibe, which New Zealand assistant coach Steve Hansen couldn't help but blurt out, is that this Wallabies outfit just doesn't fuggen rispuct its opponent (for 'rispuct' read 'go about meekly in awe of').
And why not? The look of awe that used to be written all over the Wallaby boy wonders' faces is gone. These are no longer 18-year-olds looking at their idols, but men arguably the world's best in their positions, who beat the All Blacks in their last encounter.
You couldn't feel it through the TV screen, but live at the Super Rugby final, the core of New Zealand — the Crusaders — palpably exuded the air of men who didn't know what else to do. They'd done their damnedest, and got beat by key members of the Wallabies guiding Queensland home. And this wasn't the first time, but the third in a row (or the fifth, if you include trial matches).
Graham Henry seems one for stark decisions. Last RWC it was resting players. This Cup, it's about experience — a principle perhaps modelled on the successes of a mature Springbok squad in 2007, and an ancient English one in 2003.
But is that the All Black weakness? The X-factor that runs through the Australian backline, or that stood even the Crusaders so well through most of the Super season, just isn't there in this All Black side. Good players all, great players some, but many of those key rainmakers have lost their glimmer.
Muliaina was shown up last year for pace… now, another year on? Thorn is still a workhorse — but with the same impact? McCaw — better player, but not the best 7 for Canterbury… and even Dan Carter has had the kicking yips.
So what does this all mean for Saturday?
Austin's cranked out a great tactical video preview, but at a macro level there are two rugby cliches this match will come down to. The first is 'winning the battle of the breakdown', or as per the 2011 argot 'dominating the collision zone'. You don't need three international coaches to point out that a flashy backline doesn't go far with shit ball. Expect the kitchen sink, and let's hope Nuci's responsibility for it sees further improvement.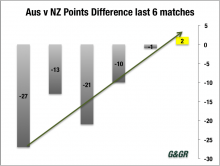 The second is 'playing the 80'. How often when under the pump have the All Blacks simply battened down the hatches and waited for that 20-minute Wallaby mental switch-off to arrive? Have the leaders in the team 'been there and done that' enough to know what to do when the time comes?
For me? Well, despite the emotional risk that comes part and parcel (how many kicks in the guts have we taken?), I'm doing a Denuto and going with the vibe.
Gagger says: Wallabies by 11 (see unquestionable statistical chart inset)
Wallabies team: 15. Kurtley Beale, 14. James O'Connor, 13. Adam Ashley-Cooper, 12. Pat McCabe, 11. Digby Ioane, 10. Quade Cooper, 9. Will Genia, 8. Ben McCalman, 7. David Pocock, 6. Rocky Elsom (c), 5. James Horwill, 4. Rob Simmons, 3. Ben Alexander, 2. Stephen Moore, 1. Sekope Kepu. Reserves: 16. Saia Faingaa, 17. Pekahou Cowan, 18. Dan Vickerman, 19. Scott Higginbotham, 20. Luke Burgess, 21. Anthony Faingaa, 22. Lachie Turner.
Oldest All Blacks starting XV, v Australia at Auckland, August 6, 2011
Mils Muliaina (31), Sitiveni Sivivatu (29), Conrad Smith (29), Ma'a Nonu (29), Hosea Gear (27), Dan Carter (29), Piri Weepu (27), Kieran Read (25), Richie McCaw (30), Jerome Kaino (28), Ali Williams (30), Brad Thorn (36), Owen Franks (23), Keven Mealamu (32), Wyatt Crockett (28).
UPDATE: My interview with BBC Radio 5 live just before the game below!