So here we are at the tail end of the season. On a very hot afternoon in Ipswich. QLD Country playing for the minor premiership. Perth Spirit playing for bucket loads of pride and a place in the finals.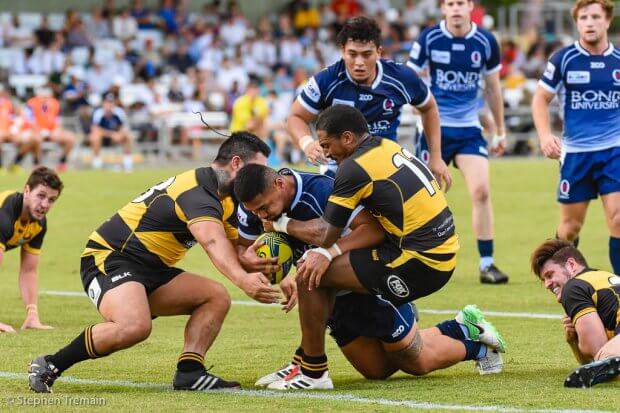 First Half
For the first nine & a half minutes seemed like each side was just testing what the other had to offer. But eventually QLD Country settled the play and after a nice little wrap around play by the loosehead prop (Slipper) and the hooker (Ma'afu), Jock Campbell went over to open the scoring. Tuttle converted to make the score 7 – 0 inside ten minutes.
Not long after Tuttle was again involved when he was on the end of a turnover, and sprinted from halfway to score their second try in the corner. He duly converted taking the score to 14 – 0. This was looking to be a long afternoon for the Spirit.
QLD Country was clearly playing a territory game, taking every opportunity to kick in behind the Spirit defence. And it didn't seem to take long to break Perth's spirit. Chris Feauai-Sautia crossed the line in the 20th minute and Tuttle converted to take the score out to 21-0.
The Spirit kept battering away though, and eventually, Richie Arnold lay down from about 6 meters* out a planted to the ball to open their score. And when Peter Grant scored maybe all was not lost.
Didn't take long for QLD Country to hit back however. After a mistake from a 22 drop out by the Spirit, Teti Tela made a beautiful break and put Patrick James over in the corner to put Country up 26-7.
Slipper departed just before half time. Hopefully, it is not serious.
* Maybe an exaggeration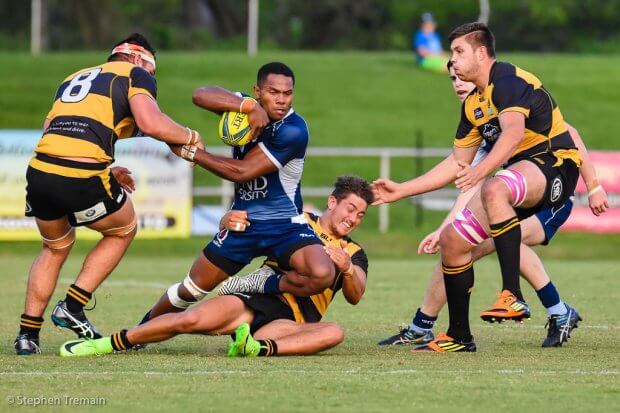 Second Half
Spirit seemed to take their angry pills at half time. Or maybe the coach just passed his around. They kept pressing the Country defence and eventually Tevin Ferris barrelled his way over. After the conversion was successfully by Grant the score came back to 26 -14.
Despite QLD Country threatening the line from one of the best turnovers I have seen this season by Angus Scott-Young, the Spirit were the next to cross through a try to Nick Jooste taking the score to 26 – 19. My lord didn't this game turn around…..
The second half was turning out to be the polar opposite of the first. The Spirit had got it together & QLD country was making all the mistakes. In the 64th minute, Perth equalled to scores up with a try to replacement hooker Sama Malolo which was converted by Grant. With the storm clouds gathering this was going to close.
With less than one minute to go QLD Country scrum failed…. Grant kicked the resulting penalty as the fulltime hooter sounded to take the win and the Horan Little Shield for the Perth Spirit. What. A. Game.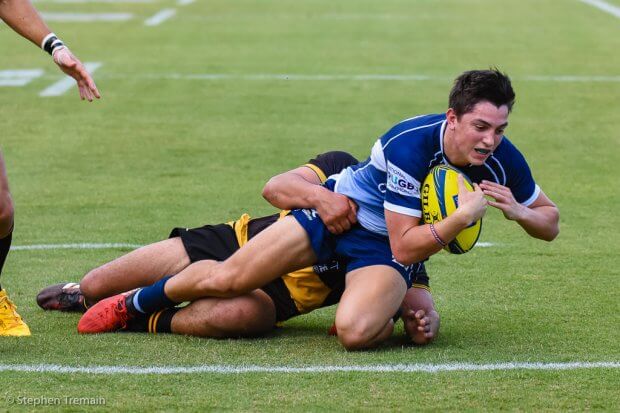 ---
[one_third last="no"]
The Game Changer
Well. It was a game of two halves. No really. Two bloody halves. Half time was the game changer. That and whatever the Spirit Coach said to his team.[/one_third][one_third last="no"]
The G&GR MOTM
This is going to sound strange but best on ground has to be James Verity-Amm. He started on the bench for the Spirit and come on early, around the 23 minute mark. When he did he straightened the Spirit attack & was a real handful for the QLD Country defence. Best for QLD Country was James Tuttle. He is just non-stop all game and was responsible for bringing down many of the big men in defence. [/one_third][one_third last="yes"]
Oz Baabaa Watch
Other than Verity-amm and Tuttle… watch out for Sama Malolo, the Perth replacement hooker. After he came on he made some big hits and busting runs. Angus Scott-Young is also showing his breeding and turning into an excellent number 8.[/one_third]
---
The Details
[one_half last="no"]
QLD Country:
Tries: Campbell, Tuttle, Feauai-Sautia, James
Conversions: Tuttle (3/4)
Penalties:
[/one_half] [one_half last="yes"]
Perth Spirit:
Tries: Arnold, Ferris, Jooste, Malolo
Conversions: Grant (3/4)
Penalties: Grant (1/1) (Bastard….)
[/one_half]