Like most people I was pretty shocked when I heard Jarryd Hayne's decision to leave the 49ers for a crack at the Fijian Sevens team.
Here are some quick thoughts on the issue:
Will he even make the team?
This is the biggest question for mine. The Fijian Sevens team are the best in the world (even if they did get edged out by Samoa in the Cup final in Paris), and the second best team in the world is probably the Fijian second VII. Hayne has never played top level rugby, let alone sevens.
He's spent the last 18 months training for a sport that is all about short, explosive bursts of speed and strength, and now he's trying to jump to a game that's the polar opposite. Can he pick up the required fitness in just two months? He's a determined guy no doubt, but I can't see him getting there.
We've seen just how hard it is for 15s players to make the jump over to sevens, with pretty much every potential 'convert' falling short of expectations. So how in God's name can an NFL player make it, on the best side with only two months preparation time? It seems like a near impossible task.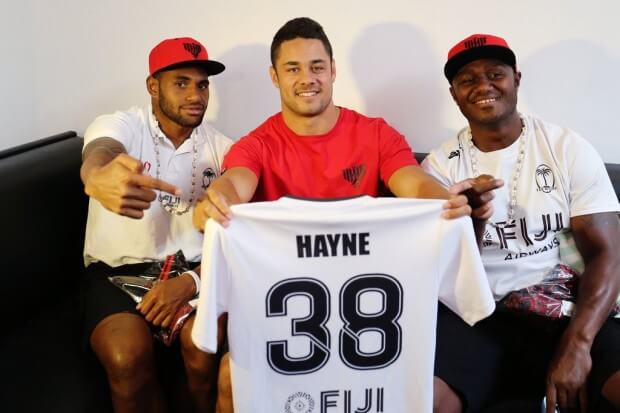 Can he offer something different?
The Fijian coach, Ben Ryan, is no mug though, and can obviously see what Hayne could offer the side. They are chocked full of talent, but Hayne would bring a completely different style and skill-set to their squad. He is a top level athlete, and anyone who's seen him in person knows how big and athletic he is.
The word is that Hayne will accompany the team to Rio regardless of if he is playing or not, so it seems the possibility of him not being good enough has been well canvassed behind closed doors. He's not the smartest bloke, Jarryd, but surely he has seen how slim his chances may be.
To his credit he has faced similar challenges before and overcome them, so I would never be so dumb as to rule him out here. I hope he gets a good crack in London, he could well be sensational. I've actually got no idea how he will play, which is what makes this story so appealing. All of a sudden the London Sevens will be the most watched event of the weekend!
One more thing though…
The eligibility issue
This is the other burning issue at play here. If Jarryd Hayne steps onto the field in a Fijian jersey, either in London or in Rio, he is at that point deemed ineligible for the Wallabies. Which, in turn, would make it almost impossible to see him playing Super Rugby here, as without ARU backing our teams would likely not be able to afford his services.
So don't hold your breath if you're hoping this will lead to an extended stint in rugby. It may well, but almost certainly it will be in the Northern Hemisphere somewhere where the money is big and the days are long and lazy.
It's a shame, as I have no doubt he would be a really good rugby player.
My prediction: Hayne gets a run in London but ultimately can't get the fitness and skill required to play Olympic sevens in such a short time. He is taken to Rio as a 'coaching advisor', before returning for the Roosters in the NRL, which he will say was his 'real dream all along'.
So what do you think… can he make the cut?