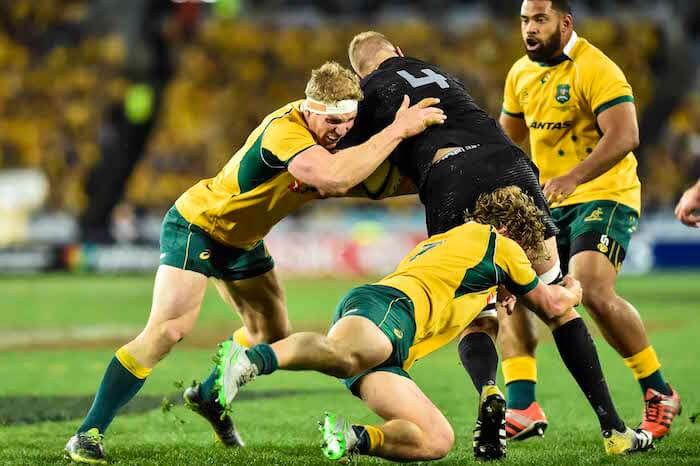 For whatever reason, Australia produces more quality opensides than any other nation – FACT. Witness that our retired flanker – George Smith – can still waltz in and pick up Player of the Season in England while cruising on a Contiki Tour. This is because he is the best 7 the world has ever seen – another FACT.
So unsurprisingly there's more competition than a series finale of Masterchef when it comes to selecting this sought after Wallabies openside jersey. Let's see if the stats (from the first 11 rounds) can help us make this impossible choice. For shits 'n giggles, our stats compiler John Randerson has also thrown in the top of the Kiwi class to see how they're getting along with Richie's slot of Chief Cheat up for grabs.
The Breakdown
For the traditional amongst us, this is still the measure of a an openside flanker – their ability to boss the breakdown. To get a proper grip on this, we've computationalised for you the net turnover score for each of our candidates (orange dashed line) so you can get a feel for what they add to the team overall (conceded penalties aren't counted here, they come later).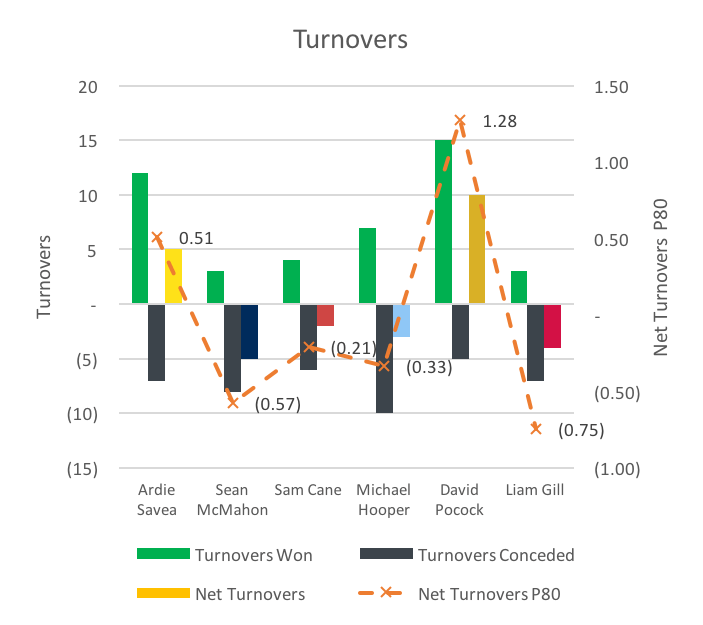 As you can see, David Pocock hands everyone other arse when it comes to winning turnovers. But even when you subtract from that the number of turnovers he concedes, he's still handing the field their arses to them, save for Ardie Savea. Surprising to me is how negative the numbers are for Liam Gill (if you disagree with them talk to Foxsports where they come from).
With menace at the breakdown comes the liability to give away penalties.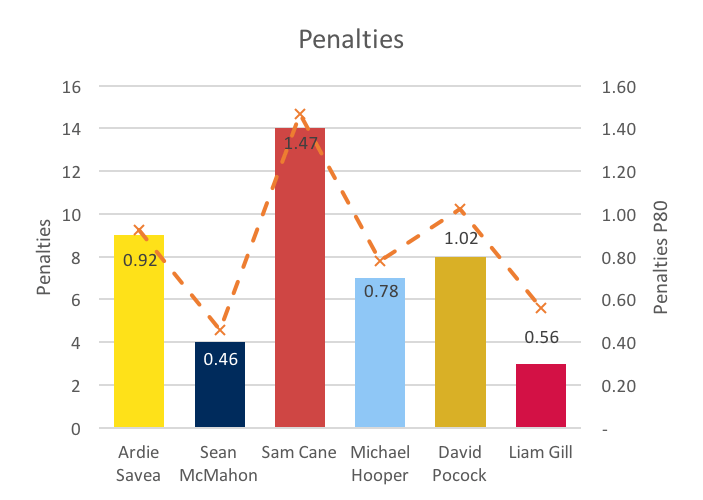 David Pocock pays the price for his on the ball skills, giving back a penalty per 80 mins. Sean McMahon is the cleanest, but by the same token offers much less at the breakdown. Across all candidates Sam Cane has taken up Sir Richie's mantle for being willing to give away a penalty to stop the opposition's attack as many times as it takes.
As for the amount of work it takes to get those turnovers, Pocock is the Goldilocks sitting between Gill's dedication to the breakdown and Hooper's avoidance of it.
Defence
Next on the traditional 7 roles is tackles. THE overall competition leader in this regard is Matt Hodgson, with 15.6 tackles per match. You might therefore think it harsh for Hodgo not to make our charts, but the four Aussies on it are clearly ahead of the Force captain when it comes to Wallaby selection in the eyes of Michael Cheika.
Across our candidates, here's how they line up –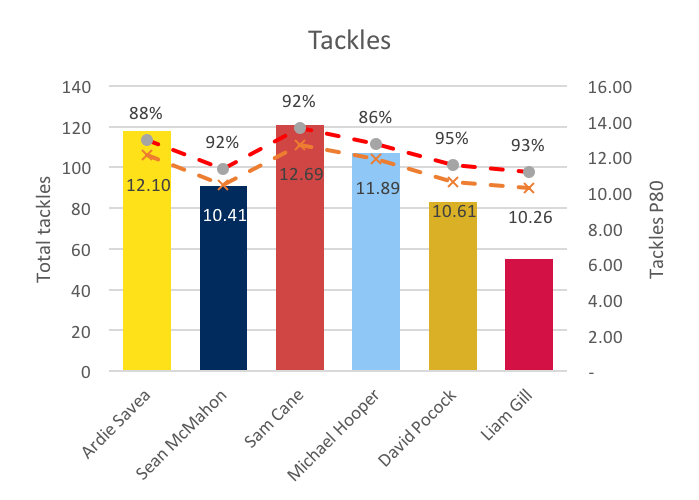 It's the orange dashed line you need to pay attention to for this and here the Kiwis take the chocolates, but not far behind them is Michael Hooper who's a clear step ahead of the rest of the Aussie field, albeit with the dodgiest success rate of all. This could in part be due to the nature of the up and out of the line pressure Hooper looks to exert – these tackles inherently have more risk to them.
Attack
Dinosaurs turn away now, but the rugby world has come to expect top flight 7s to bring the positive ability to create over and above the skills to disrupt.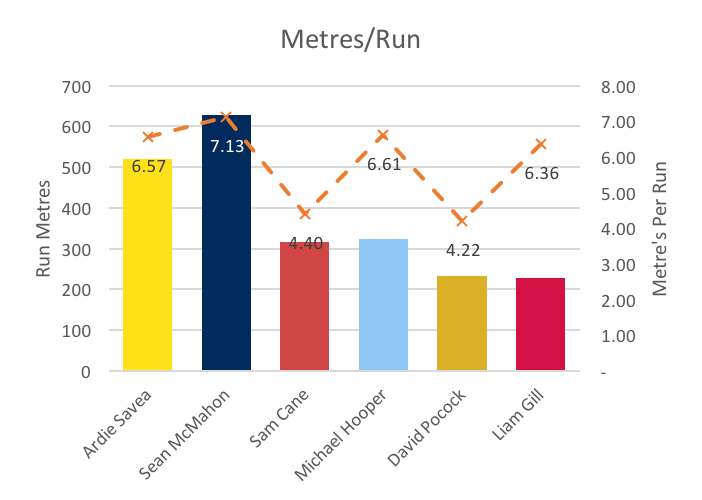 When it comes to running metres, Sean McMahon is a clear leader with his crash ball mentalness. Unsurprisingly, Hooper and Savea aren't far behind with similar dynamism and Liam Gill's nose for a great running line puts him on the right end of the spectrum. While it's improved, this still isn't the strongest part of Pock's game.
Tackle busts help reinforce the picture – McMahon is a contact headcase.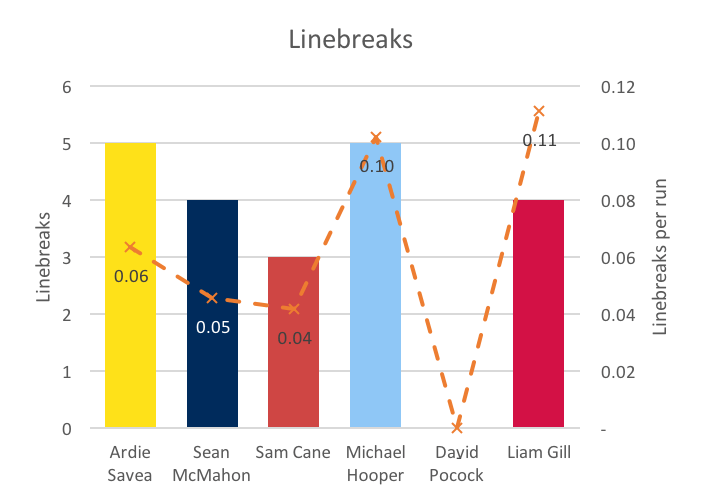 Whereas Gill's metres tend to come with line-breaks. Hooper generates both.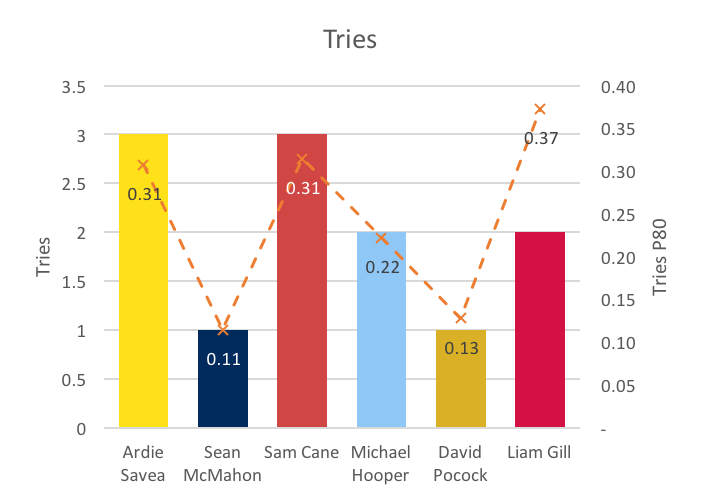 Interestingly, Gill is the try scoring leader across our field. Not a bad feat from within a struggling team. Note that David Pocock struggles on pretty much every one of these attacking stats.
The Verdict
With  'do what your enemies want the least' as a guide, David Pocock has to be on the field for the Wallabies. Reflecting on their Rugby Championship spanking by the Wallabies last year, Steve Hansen is on the record as saying their key priority was to nullify David Pocock going into the World Cup Final. There is no one else like him for bossing the breakdown.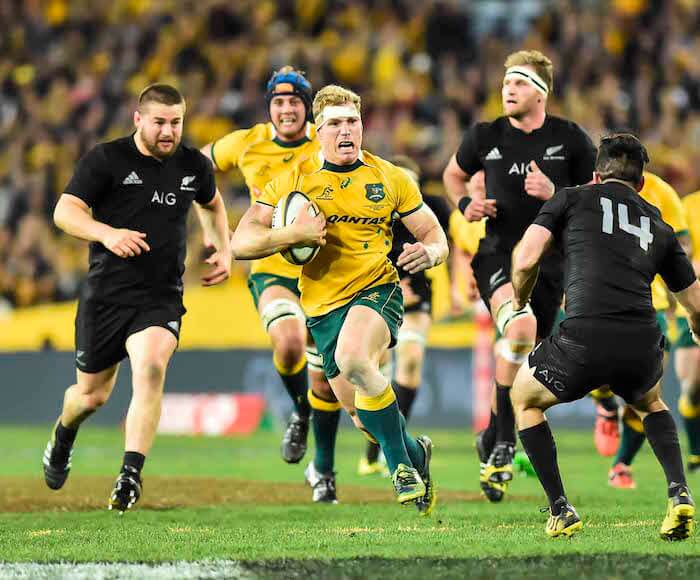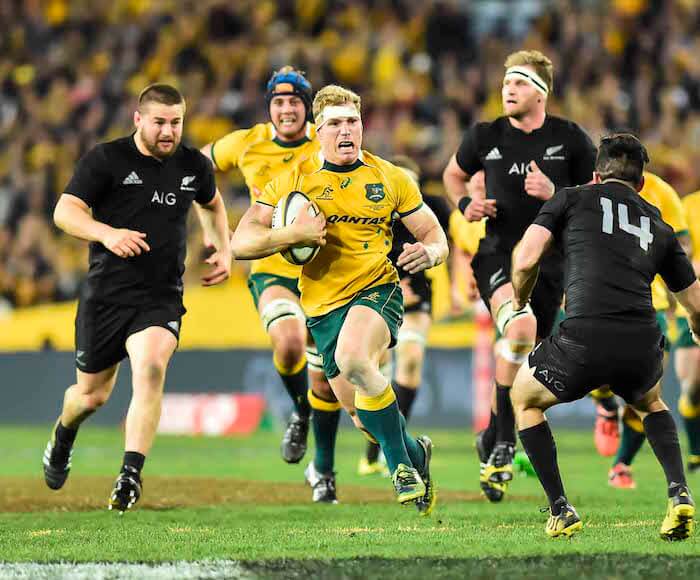 A back row works in balance though, and disregarding line-out options, the Pooper brings that – with Hooper adding his ball running, aggressive defence and pressure on the tackle area from another angle.
If Jed Holloway can hold his form through injury though, he makes life very interesting – bringing almost 10 metres per run and his range of other attacking stats on steroids, PLUS a line-out option. What does the 7 pecking order look like then?