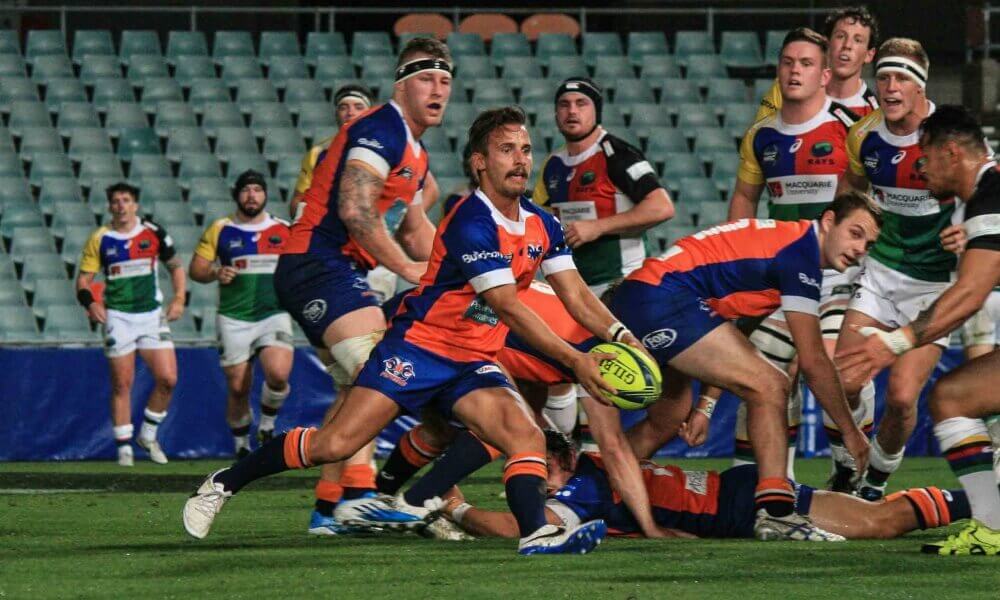 Western Sydney Rams 2016 NRC season preview
Will it be another year of could've should've for the Horned Army or will the opposition "Get Rammed" in the coming weeks?
LAST SEASON
The Rams had a disappointing campaign last year, finishing in last place with only one win from a possible eight. However, there were positives to be taken from the season and with three of those losses by less than a converted try (two by a single point) the Horned Army could have seen their team finish higher on the table if it hadn't been for costly missed kicks. The strong performances of Jed Holloway were particularly pleasing culminating in him getting his chance with the Waratahs. Arguably these positives were outweighed by some heavy defeats at the tail end of the regular season.
COACHING STAFF
The Rams have opted for a fresh start this season and have appointed a new coaching group. Headed by John Muggleton, the former Wallaby assistant who has coached at the Rebels, Scarlets, Gloucester and most recently as defense coach for the Parramatta Two Blues, as well as at a World Cup with Georgia.
He will be assisted by two ex-Brumbies in Jeremy Paul and Joel Wilson. Last season saw Paul coaching Penrith Emus with Wilson looking after Newington College.
Muggleton is quoted as saying he wants the Rams to be "hard to beat", with the side being dominant at set-pieces, playing a hard and fast brand of rugby with a solid defence that won't leak cheap points.
SQUAD
The Rams have opted to promote from within the family, generally selecting players from Southern Districts, West Harbour, Parramatta and Penrith. They have also selected players from interstate and Fiji.
Paul Asquith will captain the side with the former Rebels utility rumored to play at 10 in a backline that could potentially be filled with some of the most exciting talent on show in this years NRC. Asquith is joined by Samoan international Albert Nikoro, Former Australian U20's player Apo Latunipulu, Fijian league international Fabian Goodall and Olympic 7's winner Vatemo Ravouvou.
The forwards will feature hooker Hugh Roach and lock Senio Toleafoa both of whom will be looking to prove they are ready to become regular starters for the Waratahs next year. They will be supported by some big bodies like Jordan Tuapou, who recently finished third in the Ken Catchpole medal, Tyronne Viiga, Filimore Tufui and Tupou Sopoaga who has been playing league for Penrith in the NRL and is the brother of All Black Lima Sopoaga.
Many of these players have agreed to play with the option of joining the Rams family and getting a shot at a super rugby contract in the future.
FORWARDS
Tom Alexander (Eastwood)
Rhys Allen (Eastwood)
Aaron Blacklock (Parramatta)
Mesake Doge (Fiji)
Matt Gibbon (Southern Districts)
Ngaruhe Jones (Parramatta)
Brad Kappa (West Harbour)
Taunoala Kei (Penrith)
David Lolohea (Parramatta)
Brandon Paenga-Amosa (Southern Districts)
Jack Payne (Eastern Suburbs)
Hugh Roach (Eastwood)
Tupou Sapoaga (Rugby League)
Senio Toleafoa (Parramatta)
Jordan Tuapou (West Harbour)
Andrew Tuala (Newcastle)
Albert Tuisue (Fiji)
Filimore Tufui (Southern Districts)
Tyrone Viiga (Parramatta)
BACKS
Paul Asquith (Melbourne Rebels)
Rob Buaserau (Tuggeranong Vikings)
Scott Gale (Queensland Reds)
Harrison Goddard (Randwick)
Denny Godinet (Southern Districts)
Fabian Goodall (Rugby League)
Selesitino Kanoulivane (Fiji)
Apo Latunipulu (Southern Districts)
David Minute (West Harbour)
Albert Nikoro (Western Force)
Vatemo Ravouvou (Fiji)
Cyril Reece (Fiji)
Luke Smart (Southern Districts)
Mitch Walton (Southern Districts)
Waldo Wessels (Southern Districts)
Potential XV:
15 Albert Nikoro, 14 Denny Godinet, 13 Apo Latunipulu, 12 David Minute, 11 Fabian Goodall, 10 Paul Asquith, 9 Scott Gale, 8 Tyrone Viiga, 7 Jordan Tuapou, 6 Tupou Sapoaga, 5 Senio Toleafoa, 4 Filimore Tufui, 3 Jack Payne, 2 Hugh Roach, 1 Matt Gibbon.
THE DRAW
The 2016 draw has not been kind to the Rams with only three home games this year. The first two games are both on the road, firstly at North Sydney Oval where many of the opposition have just lifted the Shute Shield with Northern Suburbs and then the unenviable task of playing Brisbane City at Ballymore for the Horan Little Shield.
All three home games are being played at Concord Oval, beginning with Perth Spirit on the 10th September followed by QLD Country and fellow NSW side the Country Eagles.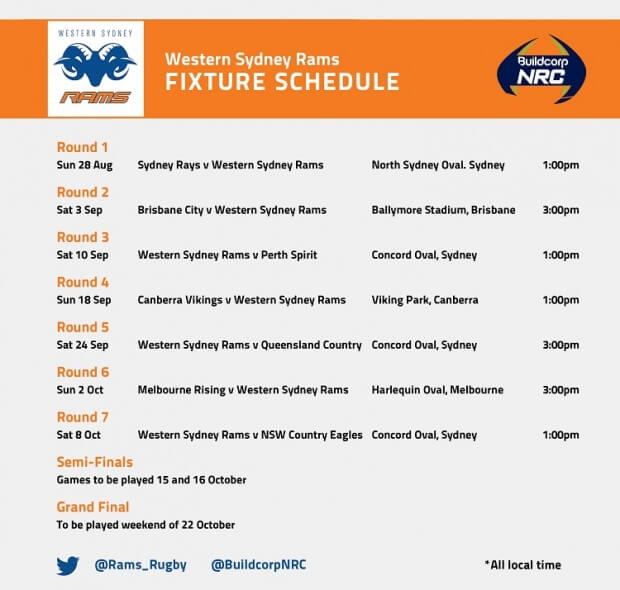 EXPECTATIONS AND PREDICTIONS
The Rams may well have different wants and desires from the rest of this year's NRC. Yes, they want to put a competitive team out on the paddock and would love more wins than losses this year, but the long-term aim is to promote home grown talent and to help local clubs. Retaining and regaining the talent that Western Sydney has produced is a real aspiration within the Rams organisation, this will inturn strengthen the member clubs and help create some much needed infrastructure in Sydney's West.
What the season holds for the Rams is, like some of their squad, a mystery but with a squad packed full of potential the Horned Army can hopefully look forward to better times. If they can hit the ground running this weekend then anything is possible, whatever happens one thing is certain – they wont finish 9th again this year.