You probably feel like we have been here before. Certainly in the time I've been writing for Green and Gold Rugby I've looked at the Wallabies kicking from hand on a number of occasions and yet we always seem to come back around to the same place.
Much like Charlie Brown and the Football gag, despite knowing what's going to happen, Australia never seem to learn their lesson and once again are left lying in the dirt, questioning why they fell for it again.
Appalling metaphors aside, for whatever reason the Australian coaching team seem unable to address some fundamental flaws in the current teams play despite seemingly becoming permanent fixtures in the Australian skill set.
As always I'll emphasise stats don't tell us everything but if we dive into the most basic of stats, like possession or territory, whilst they favour New Zealand they are workable. England beat Australia with only 36% possession and 34% territory, but when we delve a little deeper we can see exactly where the damage is being done.
The most interesting stats for me are these:
                                      Australia                        New Zealand
Metres Run:                307                                  839
Line Breaks:                02                                     22
Defenders Beaten:    13                                     40
Kicks:                           22                                     27
Turnovers:                  22                                     20
Obviously the top three show a startling disparity, the metres run, line breaks and missed tackles tell quite a story, but kicks and turnovers play a massive part on the impact of the two above it and it's really where the rot begins.
Australia conceded 22 turnovers to New Zealand's 20 on face value that's not too bad is it?
But if we also pluck out of the 22 kicks the kicks where Australia surrendered possesion directly to an All Black player then that jumps up to a whopping great 31 turnovers.
From those 31 turnovers new Zealand scored 5 tries. It gets worse though, five tries from turnover ball, three of those opportunities came from Australian kicks but a slightly more damning figure is that if you also factor in Rettalick and Daggs disallowed tries New Zealand actually created 5 scoring opportunities pretty much directly from Australian kicks.
Meaning 22% of Australia's kicks resulted in New Zealand obtaining try scoring opportunities.
It's a pretty damning picture that's being painted and with such high turnover stats we get a better idea of why the metres run, missed tackles and men beaten figures are so high.
New Zealand crave broken field attacking situations. As we outlined in our Chief's analysis from earlier in the year the less shape to the game the better, because they will move the ball to space and exploit it. By kicking to New Zealand with no obvious kick chase you're giving them the chance to attack an unset defence – which is exactly what they want.
None of this should be a surprise to anyone who follows Super Rugby because all of the New Zealand teams in this years competition have excelled at counter attacking from kicks and turnovers and after a 7 month campaign not should any of this be a surprise to Australian teams and coaches.
That current lack of attention to detail is probably the biggest failing right now. To illustrate lets look at three key points in Foley's kicking technique that as an opposition coach I'd be looking to exploit (see if you can spot them in the following gifs):
Foley is a very one sided kicker favouring the right touch line even from the other side of the pitch, and if you target Foley's outside shoulder, on the left to right, you force him to make mistakes or drive him back into the cover defenders.
He kicks very close to the gain line and on the run, meaning he brings the ball to the defenders making those low raking kicks even harder.
He kicks with a low trajectory
To illustrate  how New Zealand look to manipulate the opposition kicker let's look at the first kick of the game, Australia get the Free kick at the scrum and tap and go, Foley puts in a raking cross field kick, but just as the ball leaves his boot watch how close Barrett comes to charging him down, and how low the kick is: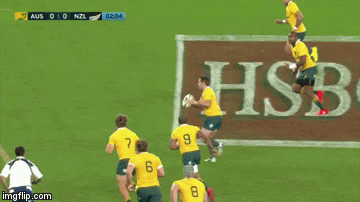 Sure the bounce is good for Australia but now let's look at the Kaino try. While it's easy to dismiss this as a lucky charge down, but it's far from that. We can see by Kainos set up he's targeting Foley's outside shoulder and from the minute the ball leaves Genia's hands he never deviates his line.
It's clear that he knows kicking back to the left sideline, over the maul, is just not Foley's style and that if he kicks open it will be a low raking kick into that same vast expanse of space Foley kicked into in the first minute. The difference being one was off a free kick with a rapidly retreating defensive line one was off a maul with a static and set defensive line.
If that seems a little far fetched bear in mind we again saw, in the second half, a simple exit kick becomes a horrible scuffed hoof. It's a great set up, D Haylett-Petty carries, and the recycle is perfect for Foley to play long and deep off his favoured right side yet it ends up putting Australia back under pressure.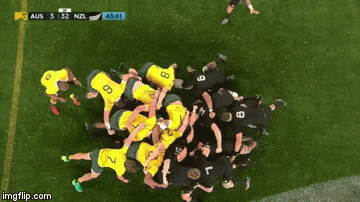 Going back to Kainos try, off course, NZ don't know that Kaino will charge it down they are going for pressure. But they do know that by applying that pressure on the outside they will force Foley into a poor kick option. It's intelligent analytical play from the All Blacks manipulating the team in possession into doing exactly what they want and opening up options for their back three and in this case number 6.
Targeting the 10 is nothing original but Australia had opportunities to protect Foley, and we're not talking about a kicking option at 12. 15 seconds before that fateful kick to Kaino everything was in Australia's favour to execute a perfect box kick.
Australia get a good catch and set, a drive that had the AB's walking backwards. It's perfect ball to pressurise the Kiwis, the presentation to Genia is perfect for a box kick and it's his best side as a right footed kicker. Additionally if you look how Ashley-Cooper is in position for the chase on the box kick (you can see him edging forwards waiting for the kick) you have a perfect kick chase set up…. But you also have no blind side winger covering the space in behind charge down and no Fullback because he's in the line chasing.
The box kick is the simple, and obvious option, just turn the All Blacks, send your chasers forward apply pressure. That first word, "simple" is the most important part of this whole article, Australia's inability to execute simple skills and strategies was their most fundamental undoing.
And that to me is further illustration of poor kicking strategy, or at the very least a poor understanding of what the strategy is.
Yet in the second half, once the game was out of site, the Wallabies twice got it right. Executing good kick chase options and twice getting good results from them. On both occasions the kick chaser was Hooper, but both pieces of play were simple. The first below was a straight forward, right down the middle, 4 second bomb, Barrett offloads under pressure and Dagg puts the ball down. 40m gained and possession regained from one kick.
Absolutely perfect.
In this day and age of video and statistical analysis any team's inability to learn from and adjust such fundamental mistakes is quite shocking. Yet Australia are continually making these same errors both at provincial and International level, and it's mind boggling that no one seems set to address them or that if they do the communication is so poor that players are left without a proper understanding.
That responsibility has to be shouldered by two teams the coaches and the players leadership group.
As injury cover New Zealand have drafted in three counter attack experts – Damien Mckenzie, Akira Ioane and Seta Tamanivula. While it's unlikely they'll get a start it shows that New Zealand are confident of some more of the same.
It will be interesting to see if Australia have learnt their lesson and if they can improve their kicking strategies in less than a week. If previous form is our benchmark I think it's unlikely they will, but either way it simply has to be time for the coaches and the analysts to step up.