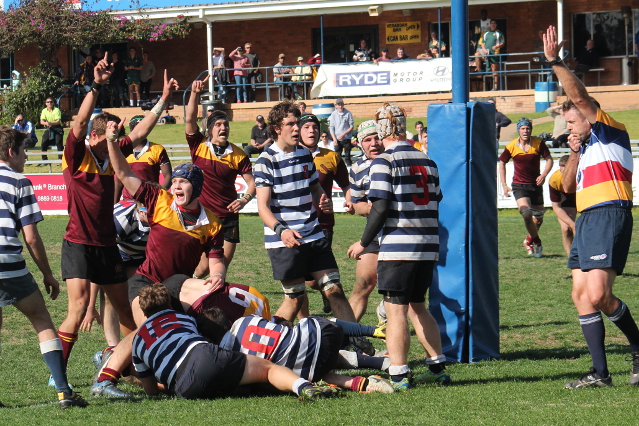 There was a thriller at TG Millner between St. Stanislaus and Oakhill, which was won after the siren.
Oakhill were there in force with 300 rowdy but well-behaved girls and boys cheering on their team and the St Stanislaus' (Stannies) boys replied with equal vigour.
Oakhill v. St. Stanislaus
First half
The game started with Stannies of Bathhurst, all over Oakhill College of Castle Hill.
Stannies was ten points up at twelve minutes after an overlap try to 14 John Monk and a conversion and penalty goal kicked by 12 David Donato.
Oakhill couldn't get out of their own half because St. Stanislaus hogged the ball with meat and potato forward drives, until the Oak's dynamic duo struck at the end of the first quarter of the match.
7 Lachlan Anderson got the ball about 55 metres out and ran down the side of the field at pace. He drew all the defenders before dishing out to wunderkind 9 Harrison Goddard, who rounded under the posts to score.  He converted his try for a score of 10-7 to Stannies.
But the boys from Bathhurst were playing some good, direct rugby and when Oakhill rushed out of their line it enabled the excellent Donato to score. He converted from wide out and with eight minutes to go in the half Stannies were ahead 17-7.
An Oakhill parent yelled "Wake up Oakhill".  It was good advice.
And they did: from the restart they recovered the ball and eventually forced a scrappy clearance. From the lineout they swarmed and winger Ryan Papenhuyzen streaked over the goal line and got handy to the posts before grounding the ball for the Oaks.
St. Stanislaus led 17-14 at oranges.
Oakhill would be the first to admit that the scoreline flattered them, but they had two good chances in the first half and took them, whereas St. Stanislaus missed some of theirs.
Second half
Goddard made a telling snipe up the blindside for Oakhill before dishing to 11 Connor Overton. Close now, the ball was spun wide after the breakdown and 13 Lachlan Burland broke through and rounded under the posts before scoring, to give the lead to the Oaks for the first time in the match. Goddard made the score 21-17 to Oakhill after the extras.
Stannies attacked in their opponent's 22 but were forced into touch. When Oakhill lost the lineout there was a series of pick and goes. Goddard appeared to strip the ball from 15 Brae Roebuck but a try was awarded to the Bathurst team nevertheless. Never mind: after Donato kicked a cracking wide conversion the score was 24-21 to Stannies 15 minutes into second half.
This was an arm wrestle now: Oakhill had beaten St, Stanislaus by two points in the ISA competition and this looked like it was heading towards last man standing in this game also. But in this "return bout" the Oakhill forwards were looking the more tired—they had racked up more tackles, after all.
With nine minutes left Oakhill turned over the ball and that led to a St. Stanislaus' penalty goal which increased their lead to 27-21.
The Oaks were trying hard—too hard under scoreboard pressure—and didn't look likely to win.  They resorted to kicking the ball ahead with two minutes remaining—crazy stuff, and they could not regather.
Stannies put the ball into the last scrum of the day, but they turned the ball over before they could clear. Big moment—huge.
Six points down, Oakhill got into the St. Stanislaus' 22 looking for meat. They launched several attacks with big THP Alex Serrano and 7 Will Brush handling several times.
It was like the last round of a title fight and both teams were just about out on their feet. Stannies infringed repeatedly, probably just to have a rest, and received a yellow card for their trouble.
With tired bodies Oakhill retained the ball with excellent control after the siren and it was from the unlikely frame of flyhalf James Day that the try was scored three minutes into overtime, and near the sticks.
The conversion still had to be slotted and Goddard did that, which made his schoolmates in the stand go crazy.
Final score: Oakhill 28 – St. Stanislaus 27
What a game !!
The teams
St Stanislaus played to their strengths with simple rugby and were distraught that they lost the game after the bell, as they had the upper hand for a majority of the match. You had to feel for them but in hindsight they should have racked up a few more points when they had opportunities to do so.
Oakhill may have been fortunate but they won because they had more strike weapons to take advantage of their fewer chances, and because of their impressive effort in retaining the ball to score at the end of the match.
The players
St Stanislaus
3. David Donato (12) – was one of the more penetrative runners for Stannies and it was a pity that his conversion from touch was not rewarded in the result.
2. James Donato (7) – the twin brother was scarcely less impressive with his non-stop play.
1. Jonah Taylor (4) – worked his guts out the whole game.
Oakhill
3. Lachlan Anderson (7) – was their go-to man whenever they needed some spark. A natural on-field leader.
2. Lachlan Burland (13) – the hard straight runner bothered tacklers every time he got going and should have been fed more ball.
1. Harrison Goddard (9) – the Australian Schools' scrummie (who is Under 16 qualified) had some telling episodes and played beyond his years—again.
The wrap up
Stannies will be wondering what might have been after two squeaky losses to the ISA champions this season, but they needed more game-breakers to put Oakhill away.
Oakhill did enough, just; but they will know that the will have to play better than that if they want to win the final.
Scoring
Oakhill 28 ( R. Papenhuyzen, L. Burland, J. Day tries; H. Goddard try, 4 cons) def. St. Stanislaus 27 (J. Monk, B. Roebuck tries; D. Donato try, 3 cons, 2 pens)
See next page for report on St. Augustines v. Hills semi-final
.