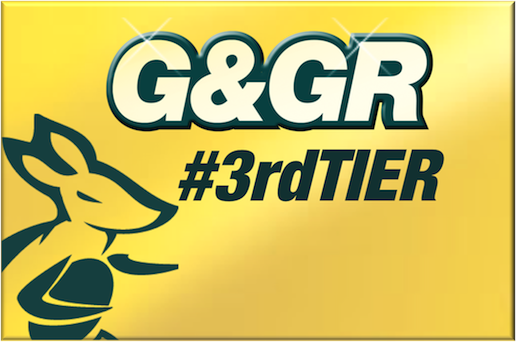 Tuggeranong Vikings v Eastern Suburbs at Viking Park
The Tuggeranong Vikings have continued their unbeaten season against a highly committed Eastern Suburbs side in a scrappy 39-12 win at Viking Park in round seven of the John I Dent Cup.
There is no need to recall how dominant the Vikings have been, and as the only unbeaten side in the competition, were always going to be overwhelming favourites heading into the clash.
Eastern Suburbs were very flat in attack last week against the second placed Canberra Royals, but had showed much more potential this season than previous ones having already had two wins.
But it was always going to take something magical to disarm this almighty Vikings side boasting the competition's greatest power, strength, speed and agility across the paddock.
And despite having some men in the injury ward, including inspirational skipper Paula Kaho, the structures the Vikings have around their club always allow for victory.
"The programs we run here are pretty intensive," said Vikings coach Brad Harris.
The Vikings are fortunate enough to have access to some of the best rugby training and fitness facilities in all of Australian club rugby, with specialist staff on board assisting Harris in maintaining his player's fitness and skills.
Harris said the key of his club's Premier Division success was a combination of all of this.
"The boys that work hard are rewarded," he said.
"Things are working for us at the moment, but certainly we know it's a long season ahead."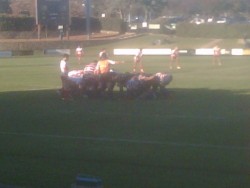 Harris was unhappy with the scrappy nature of his men's win, but was pleased with their start and finish to the game given some injury concerns.
He praised Easts for putting pressure on his men.
"Full credit to Easts. They came out and played some good footy," he said.
"We allowed them a little foot hole in the game which was disappointing, but overall, a win's a win."
Easts coach Jeremy Osbourne was proud of his men's ability to compete through the middle of the game and reel the margin back to 12-7, but lamented another incomplete performance.
"We had a massive change to our side this week in personnel, and just getting those combinations going is a bit of a working process," he said.
With a mounting injury ward, Osbourne is hopeful that next week's bye will help his troops regroup and work on consistency.
There's little doubt that what has worked for Easts this year is the form of fullback and University of Canberra Brumbies winger Stephan Van Der Walt, who was again sensational on Saturday.
"He's just a freak of a runner of the football, and when he gets it in his hands he's hard to stop," said Osbourne.
"He always beats a couple of defenders…he's a genuine talent, and probably one of the best runners in Canberra."
After the first 20 minutes it appeared as though an upset may have been half on the cards, with Easts restricting the home team to just five points.
Their defence was solid, and they pushed across and manned-up well.
The only thing they lacked was field position, and the Vikings took advantage, soon finding themselves up by 19 points thanks to two tries from close range including one to University of Canberra Brumbies star Christian Lealiifano's younger brother Eneliko.
But the Vikings became scrappy, and turnovers allowed Easts to challenge the half time score, reducing the margin to 12 thanks to huge forward Mitch Lewis bursting through a hole from a scrum play on the Vikings' line.
Easts continued their aggression in the second half, and almost scored in the corner with winger Fabian Tago losing the ball in a tackle.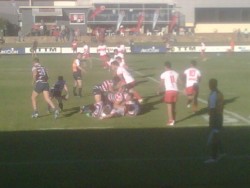 The second half then became the James Proctor show, and after kicking a penalty goal from half way, threw a dummy and burst through a hole to score a try which gave his men a comfortable lead for the first time in the match.
Again though Easts refused to give in, and a try to  huge UC Brumby Ettienne Oosthuizen made things a little more uncomfortable for the Vikings at 27-12.
Fullback Stephan Van Der Walt stepped up and made line-breaks, but Easts failed to take advantage of these opportunities.
Ultimately this and turn-overs cost them the game, as Vikings centre Rodney Iona's try practically sealed a scrappy win.
Tuggeranong Vikings 39 (Unkown 2, Henry, Lealiifano, Proctor, Iona tries; Proctor 4 cons; pen) bt Eastern Suburbs 12 (Lewis, Oosthuizen tries; Bowden con) at Viking Park
Gungahlin Eagles v Canberra Royals at Nicholls Oval
The Canberra Royals have officially made themselves the challengers of the Tuggeranong Vikings by securing second spot on the ladder with an intense 19-12 win over the Gungahlin Eagles at Nicholls Oval.
Both sides entered the clash off the back of three straight wins, and the Eagle would have been full of confidence after downing Queanbeyan 12-10 in one of the tightest affairs so far this season.
The Royals had also beaten Queanbeyan in recent weeks, but were flattered by  poor Eastern Suburbs performance last week which saw them win an error-riddled contest.
But not for the first time this season, they came from behind to snatch a crucial victory.
The Royals found themselves down 7-0 at half time, but some good attack after the break saw them soon level the scores.
But the Eagles responded well, and eventually clawed back the lead in an arm wrestle of a second half to go up by five points.
Star scrum-half Pedro Rolando then stole the show, and assisted the two late tries which proved the gold for the Royals.
Coach Russell Ingram was very happy with his men's effort, and payed full dividends to Rolando.
"He was outstanding in attack but also defensively. He saved about three cover tackle tries," said Ingram.
Again the Royals were ill-disciplined in the first half, with two sin-binnings, which disappointed Ingram, but his men were able to refocus in the second half.
"At the end of the day we just had that will to win," said Ingram.
"We were probably in our own half for more of the game than the other, so when we got out opportunities, we knew we'd only get a couple of them, and we had to finish them off, and the boys did that."
Canberra Royals 19 bt Gungahlin Eagles 12 at Nicholls Oval.
Queanbeyan Whites v Uni-Norths Owls at David Campese Oval
The Queanbeyan Whites re-joined the winners board with a 37-20 win over a much improved Uni-Norths Owls outfit at David Campese Oval.
The win puts the Whites in equal third position, and would have come at relief after the side lost two in a row.
But according to Owls coach Joe Hedger, there was a lot of positives for his men to take from the game, and he was very proud with their effort.
"The execution in the first half was spot on, and that obviously resulted in a scoreboard which reflected that for us," he said.
He was disappointed that his troops were not able to continue that in the second half.
"While the boys really dug deep, and the effort was still in the second half, it just wasn't matched with the right type of execution which would have sealed the game for us," he said.
He credited scrum-half Eden Campbell-O'Brien with having an outstanding game, and said he put a lot of pressure on the Whites' defensive line.
In the end, Queanbeyan's lifted second half effort made it hard for the Owls to leave their own half of the field, and some turnovers disallowed them the field position and points needed for their first victory of the season.
Queanbeyan Whites 37 bt Uni-Norths Owls 20 at David Campese Oval