Tuesday's Rugby News has a confused Samu Kerevi, Matt Toomua wink wink nudge nudge warning against rotation, the debut of the indigenous jersey and a typhoon that could affect the RWC.
---
[one_half last="no"]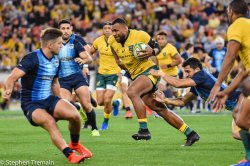 Konfused Kerevi
Samu Kerevi is concerned "the way rugby is going", according to the SMH, and no he's not just talking about people combing through games to find collisions that might be worthy of a yellow card.
No – he's talking about ball carrying. In the mixed zone after the game, Kerevi joked he might as well go play NRL next year if he can't ball carry.
"I think I was just saying that [defecting to the NRL] as a little joke [but] I'm being serious at the same time," Kerevi said.
"I just don't want our sport to be soft. I understand it's all about safety, I understand that, but it's a collision sport.
"It shocked me. I was like man, it's the first time I'm getting looked at for running the ball.
"Funnily I was talking to Nella [teammate Taniela Tupou]. I was telling him he might not be allowed to run straight any more the way he runs.
"If you watch rugby league there are some collisions that are just nice. You enjoy that stuff, that's why we play.
"You've got to understand it from a player's point of view. The way the referee explained it to me, in those milliseconds I've got to move my arm from just running to tucking it down. What do I do if I don't have my arms up? Is his shoulder going to go into my head? How am I to keep myself safe? I'm literally just holding onto the ball and just running."
Cheika, who has now twice suffered from World Rugby's random penalty generator (that wasn't turned on for the All Blacks – Boks, Ireland – Scotland or France – Argentina games) was understandably upset too.
"Honestly, I don't know the rules any more," Cheika said. "As a former rugby player, I am embarrassed."
[/one_half][one_half last="yes"]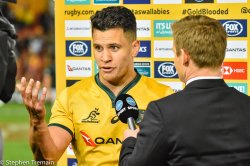 Toomucha
The man that almost won it for the Wallabies on the weekend is not so keen on any talk of rotation for the upcoming Uruguay game.
Already this World Cup, Fiji have been beaten by Uruguay, Ireland by Japan, and Wales by Fiji  and Toomua warns against rotation for rotation's sake.
"Everyone wants to start [and I bloody should have] but, in saying that, I got 35-odd minutes today off the bench [and almost won the bloody thing] and I'm glad that's getting more and more and more," Toomua said, according to the SMH.
"I'll keep doing what I can to push for a starting job [including winning or almost winning the game after being subbed on 3 games in a row], but if it means impact off the bench, then I'll do the best I can there as well."
Against Japan, the one-dimensional Ireland rested 1 of their 2 blokes who can do something other than kick it and subsequently lost. Those two blokes are Murray and Sexton, they rested Sexton.
"I don't want to have a go at other teams, but you've seen what happens when you do chop and change too much," Toomua said. "It's a World Cup. They [Uruguay] are going to be at us in terms of their enthusiasm and excitement.
"We don't have a plan that we're aware of [regarding selection] so we'll see what happens. We do have essentially two fifteens, don't we, so we back both to do the job.
"In saying that, teams need to be wary because the World Cup's already shown there's a few surprises around the corner."
[/one_half][one_half last="no"]
Jersey Debut
The Wallabies spanking green indigenous jersey is going to makes its spanking debut against Uruguay's spanking by the Wallabies.
The jersey, which is similar to the previous jersey just with the green and yellow swapped, was brought out due to popular demand of the first one that came out last year.
Kurtley Beale, the Wallabies only current indigenous player, is understandably very excited to play it. If he doesn't get rested.
"It's a great opportunity to wear the Indigenous jersey on the world stage," he told rugby.com.au.
"It's showing us representing all Australians, but importantly, the First Nations people.
"It's a great acknowledgement and it's a great show of respect of what this can do for our country, for our society as a whole.
"It's a great symbol that will hopefully unite Australians to get behind and support and encourage all the way to the end.
"That's how powerful it can be and hopefully that's what it will do."
Despite Uruguay wearing blue, the Wallabies wanted to really wear this strip due to its special nature. According to rugby.com.au, they've also requested to wear the jersey in a potential semi-final – pending a clash with the green of Ireland and South Africa, and rub of the green with French referees and Kiwi TMOs.
[/one_half][one_half last="yes"]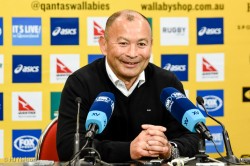 Typhoon England
World Rugby and the World Cup organisers have prepared contingency options in case Typhoon Mitag interferes with France v United States in Fukuoka on Wednesday.
A typhoon, the term for cyclones in East Asia, is predicted to bring high winds and loads of rain to the island of Kyushu. Many typhoons hit Japan during typhoon season (it is currently peak season!) – in the 3 weeks I was in Japan, 3 typhoons hit.
"The latest information indicates that the typhoon is moving further away from Japan's coastline than originally predicted and the impact risk is reducing," World Rugby said in a statement on Sunday (via ESPN).
"However, in the best interests of the teams and the integrity of the tournament, we have informed France and the USA of the contingency plans in the event that adverse weather means that it is not possible to play the match in Fukuoka on the scheduled date."
If the game can't go ahead, both teams will be awarded a two points – the same as if it was a draw. There is no time allotted to re-scheduling games.
If the game was called off, it would only help England's chances of finishing top of Pool C – and facing the wrath of Samu Kerevi in the quarter final.
England are top after getting away chopping the heads off the Americans and Tongans, while France earlier beat Argentina.
[/one_half]
---
RUGBY WORLD CUP FIXTURES TOMORROW:
Group C – France vs USA (vs Typhoon)
545pm East Coast Elite / 515pm SA / 345pm WA
Group B – NZ vs Canada
815pm East Coast Elite / 745pm SA / 615pm WA