Tuesdays Rugby News sees Emma Tonegato's sevens return, Matt Philip re-signs, English Spies and the Sydney Sevens matches announced.
---
TONEGATO RETURNS FOR THE SYDNEY SEVENS
Australian Sevens star Emma Tonegato is confident her shoulder will hold up ahead of her return to World Series Sevens in Sydney this weekend, after being named a part of the womens squad.

A shoulder injury in last season at the world cup back in July, forced the 23 year old to undergo surgery and length stay in the rehab group. This was the second time she injured that shoulder but is not worried about it going into her first tournament of the season.

"It's always in the back of your head, I'm not genetically blessed with my shoulders but I've been seeing a psychologist and I'm feeling really confident," she said.

"I've had lots of time with the girls and full team training so yeah, I'm ready."

It was a blessing for Tonegato that the team opted to have trial matches, instead of playing in the New Zealand Fast Four tournament, as the trials gather her an extra confidence boost that she is up to the task.

"I definitely was one who was pushing for those games so I could have some game time before we take on the best in the world," she said.

"I felt really confident after those games and it gave me that little confidence boost that I needed.

"I think we have such competitive girls in the team that everyone was going their hardest and it was such a good selection tool for Johnny (Women's coach John Manenti) so there was no hesitation, everyone was out there to put their name forward for the team."

"At the start, she knew it was a big road," Manenti said, as he throws his full confidence that Tonegato is up to the challenge and ready to play.

"She's worked hard and deserved her opportunity and fully confident in the fact that she's ready to play."

Emma Toneato's return is a timely one with many of the stars of the Womens team still out injured, with co-captain Shannon Perry suffering a recent set back on her injured ankle. Charlotte Caslick is still out with hand injury and Emilee Cherry haha been ruled out due to pregnancy.
MATT PHILIP SIGNS ON
Melbourne Rebels hard-man Matt Philip has signed a contract extension that will keep him in Melbourne for the 2020/21 season.
The 24 year old second rower was a staple of the Rebels forward pack in 2018, making 16 appearance for the club after coming across from the Western Force.
Phillip's motivations for signing on we clear as he is determined to add to his three Wallaby caps and win a Super Rugby Title.
"There's a great vibe around our program at the moment and that's built on a lot of hard work and a buy in from our entire group around who we want to be and how we want to play," said Philip.
"I'm a driven guy and I love competing all the time. I think that's a dimension I add to the group and in return, I really feel like this environment gives me the best chance to evolve as a player and a person."
"Living in Melbourne is something that I honestly had a few worries about initially, but it's not hard to fall in love with this city. It's been a great place to live and to play and I want to repay my enjoyment of living here with performances on the park that make Melbourne proud of me and the Rebels."
Rebels Coach Dave Wessels praised the efforts of Matt Phillip, claiming his attitude and output have a positive impact on the team. Having Phillip extend his contract was a priority for Wessels and the Club.
"We're really excited that Matt has recommitted to the club. I've had the chance to work with Matt for a few seasons now and his hunger to constantly compete and be better in all aspects of his development is something that I admire," Wessels said.
"Matt's a guy who isn't afraid of hard work. Melbourne can be proud to be represented by a guy as competitive as Matty."
"I know he has a sense of unfinished business down here, so now it's our job to harness that motivation ahead of what is an important season."
SYDNEY SEVENS ANNOUNCEMENTS
With this year being an Olympic qualifying year for the sevens teams every point earned is vital for securing a spot at the Tokyo games.
After finishing seventh in Hamilton, a strong start will be needed by the Aussie men if they want to defend their title in Sydney and score enough points to automatically qualify for the Olympics.
Australia drew Argentina, Tonga and South Africa on their opening day of the tournament, with their match against Argentina being the opening game. the Men will want to finish top of their pool to reduce the chance of a potential quarter final match up against current number 1 Fiji, who are in top form coming off their victory at the Hamilton Sevens.
The South Africans have had a strong start to the season, finishing sixth in Dubai, claiming the bronze in Cape Town and finished fourth in Hamilton last weekend.
Australia were able to beat Argentina last weekend during the pool stage. Tonga are the 16th invitational team, after they secured a victory in the Oceania Qualifying match.
Coach Tim Walsh will be sweating the injury cloud over key player Ben O'Donnell, who injured his knee in New Zealand last weekend.
"Not sure – we will have to assess him in the morning," Walsh told RUGBY.com.au.
"It is the same niggle as before, from Cape Town. We will see how he pulls up in the morning and obviously a a player like him, we will give him every chance to see where he is at."
A ROSE DRESSED AS A CLOVER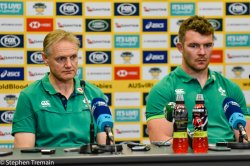 English spies in the Irish camp sounds like the latest drama on Netflix, but according to Irish Rugby coach Joe Schmidt it's something his team have become aware of.
Spying in sport has become a hot topic recently with Leeds United manger Marcelo Bielsa admitting that he has spied on rival teams training sessions.
Schmidt and England Coach Eddie Jones were having a laugh about this issue at the Six Nations launch in London last Wednesday, with Jones even joking he was off to buy binoculars to spy on the Irish camp. Ireland and England have been in camp in Portugal not far from each other.
Schmidt now claims that his team have been spied on and that he was "kind of disappointed" when he found out.
"I would have to say that I'm not a believer in it," the Irish coach claimed. "I don't think that it's necessary. I would still like to think there is a sense of fair play. I love some of the amateur values that still exist in rugby. But I know it happens. I know it's happened to us."
Schmidt wouldn't go into too much detail but said he "stumbled onto it (the espionage)", and would not name those involved.
Many teams including Ireland has stopped taking part in traditional captains run training sessions at opposition stadiums for fear of being spied.
"It's happened a couple of times," he said. "I think when it filters back you are disappointed but you kind of acknowledge, 'OK, it's their process. It's their way of collecting information.' You just shrug your shoulders.
"But I don't think you can get distracted by it. And if you became paranoid about it you'd never train properly. You'd always be worried by somebody looking. We always say, 'If they spy on us but we do it well enough, maybe, we'll still be able to get a result'."
Former Australia coach Jones claims he use to use the tactic of spying but no longer feels the need too as the game has changed.
"Fifteen years ago, we used to send people out in costumes to watch training – it used to be part of the pre-match brief. I can remember sending a coach, who is now in a senior position, dressed like a swagman to watch one team train and he got chased out of there.
"You do not need to do it now because you see everything in a game. I have been coaching for 20 years and it has always been going on but I can say with a hand on my heart, we don't do it any more. We don't see the value of it because we can glean most of the stuff from games now."