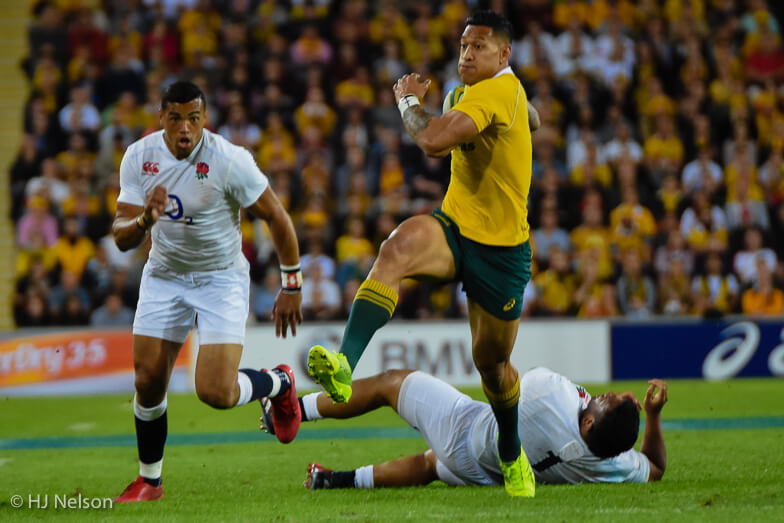 In the early 1990s, there was a brief period between the amateur and professional eras called the "shamateur" era. Players still couldn't be paid above board, but the standard of play was increasing and players were becoming fitter and more skilled. To keep players putting in the hard work necessary to remain competitive in the shamateur era, often players at big clubs would find wads of cash in their boots after the game ("boot money").
These days, though Rugby Australia might find it difficult to cram thousands of bills into Israel Folau's boots every game, many legacies of the shamateur era still linger. The rest of the world has finally entered the professional era and the Wallabies have been left behind. This is a result of Australian rugby's high level of success in the late 1990s – while other countries were racing to modernise their game, Australia sat pretty on a pile of trophies and squeezed their collective eyes shut to the future.
Rugby Australia talks a big game about their high performance unit and other fairly recent developments, but changes have yet to be made at the most crucial level – on the field.
When you watch the All Blacks, you see fifteen players with minds of their own. Sure, they have teamwork, but individually most of those players know more about the game than anyone outside of the Wallabies playmakers. Any tiny opportunity presented to them is immediately seized with both hands because regardless of which player the opportunity is presented to, they all have the skills and experience to recognise and take advantage of it. Front-rowers like Dane Coles and Owen Franks each have more rugby intelligence and better strategic vision than the entire Wallabies tight five.
Pretty unfair though, isn't it? To compare a prime All Blacks team to a struggling Wallabies outfit?
Except that it's not only the All Blacks. Rugby intelligence is coached at every level of New Zealand rugby. Players who have been exposed to the Mitre 10 Cup as their highest level of rugby are still making the right decisions in both big and small moments. Even provincial Kiwi forwards are contributing to their teams' success outside of their traditional skillsets. Some of these Mitre 10 and club veterans look like veritable gods next to their higher-paid Wallabies counterparts simply because they have mastered not only how but when to draw and pass. Certainly, my intake of breath is sharper when it looks like Adam Coleman is going to do anything with the ball other than take it to ground as compared to any unknown up-and-coming Kiwi reserve second-rower.
A lot of young Aussie players I speak to tell me that they are being coached to follow increasingly rigid on-field procedures. This is a virus that has infected every level of Australian rugby. Michael Cheika himself is a huge proponent of set plays, the vast majority of which are so bleedingly obvious to a punter like myself that genuine rugby brains like Steve Hansen and Joe Schmidt could probably dissect them blindfolded. This is a key distinction between nations and coaches that excelled in the shamateur era and the period immediately following it, and those that have done the hard yards and modernised their game.
Watch any Wallabies set piece and you will see every player in green and gold shuffling to a pre-determined position for at least two and sometimes four or five phases afterwards. Against Tier 1 nations this almost never bears any fruit, and often skilled opponents can predict these plays and put the Wallabies' ball under immense pressure.
Now watch any All Blacks' phase in open play. Their playmakers are lingering, waiting for their opportunity like sharks circling a sinking ship. Most of all, they are watching. The Wallabies sometimes don't notice overlaps or mismatches because their eyes are fixed on the next position they have been told to run to, but the All Blacks convert almost every minor mismatch into points. Yes, there is something to be said for superior All Blacks' execution, but the fact is that most Australians are coached via rote learning where to run to after every phase while the All Blacks are coached to understand the game and make independent decisions.
One other significant benefit of this school of thought is that it is much more adaptable than simply running the same set-plays against different teams. In the first Bledisloe game of 2017, the All Blacks identified Samu Kerevi's defensive weakness and exploited it to run in 7 tries in 40 minutes. If Samu Kerevi had been wearing black that night, the Wallabies probably wouldn't have noticed the weakness, and if they had they wouldn't have known how to score tries off it.
It doesn't help that anyone who shows the ability to think for themselves seems to be relegated to the bench in favour of Cheika's tried and trusted on-field box-tickers, such as how the unthinking workhorses of Nick Phipps and Dane Haylett-Petty are consistently selected over players with initiative like Jake Gordon and Tom Banks. It's a further indictment of the Australian development system that Jake Gordon was not developed through Australia's representative pathway, but played almost solely amateur rugby before forcing his way onto the Waratahs. Our professional clubs tell players they're not good enough for a contract, but after a few years' exodus in New Zealand they become shoe-ins for the Wallabies simply because the Australian system is inadequate for the task of developing a competitive modern rugby player (Pete Samu).
Australian rugby has a lot of problems, but perhaps the most devastating is the lack of rugby IQ being taught to our young players. Our development system needs to shy away from set plays and assist junior players in learning how to identify opportunities. In many ways this will require simple game time moreso than structured training. Training should instead focus on perfecting the skillset necessary to exploit these opportunities. Once these initial steps have been taken, Rugby Australia can finally begin the process of taking the money out of the boot and moulding the Wallabies into a professional world-class team.