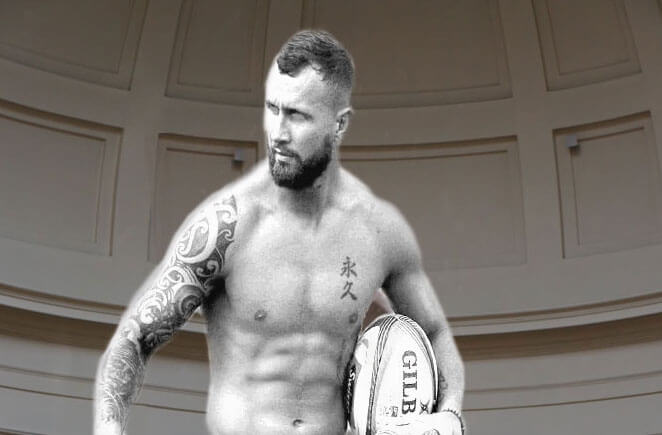 Tuesday's Rugby News checks in on the Rebels' first day back, an update on Gareth Thomas' assault, more coaches talking guff and part 3 of our look at the teams in the repechage. 
---
Human Headline at it Again
No, not the thrice convicted criminal senator; instead this time it's the Auckland-born, professional-boxing, Super Rugby winning Quade Cooper that's been stealing the show.

First up, he's taken to Instagram to post a cheesy 'first day of school' photo as he starts training with his new Super Rugby club, The Rebels.
Now, an Instagram post in and of itself is rarely news-worthy, but given the year-long narrative out of Ballymore about Reds Coach Brad Thorn building culture the picture is seemingly yet another reminder that Cooper lives and breathes the game and whatever club he's playing for.  But it's not my place to say anything…..

Following on from that, he's been talking about his time off from the highest level of the sport.  The break giving him time to recoup, both bodily, and –

"Mentally it has probably been the best thing for me, being out of the system,

"Sometimes being out of (in?) the system can overcrowd your thinking".

But wait, there's more.

This time it's Rebels coach, Dave Wessels, weighing in on his start recruit,

"The biggest thing we got out of last year is a really clear understanding of what we look like at our best and how we play when we are at our best as a team," he said.

"As a result of that we have been able to be really pointed with a number of things, our athletic development as well as our recruitment, and for us, Quade is the type of player who suits that play".

Suffice to say, there'll be plenty more about Quade in time to come.
Gareth Thomas' Attacker Faces Justice*
Gareth Thomas was the victim of an assault over the weekend.

The Police treated the assault as a hate-crime, linking it to Thomas' homosexuality.

The first Welshman to play 100 tests came out as gay in 2009 and has been vocal on the topic of homophobia in sport since then.

The news was initially broken on Thomas' twitter and since that time the local plod have tracked down their suspect who has subsequently admitted to the attack.

Now, in case rugby didn't already pride itself on classy conduct, Thomas decided to pursue "restorative justice" against his assailant.

The Bill (does this apply in Wales too?) released a statement on the matter,

"We can confirm a local 16-year-old boy was dealt with by way of restorative justice following the incident at around 9pm.

"Restorative justice was at the request of Mr Thomas and accepted by the teenager who admitted assault and was apologetic for his actions."

The rugby community, home of the Bingham Cup and Nigel Owens, have rallied around Thomas.  (check out the replies to his post)
— Gareth Thomas (@gareththomas14) 18 November 2018
Chewsday Chat
It wouldn't be a Tuesday leading up to another weekend of tests without me being able to report on some ridiculous, nay, preposterous comments from players and coaches.

Why is that?  I don't know, but let's enjoy the latest.

This time, it's former Australian coach Eddie Jones being suspiciously nice.  (remember his threatening tone last week?)

"Cheiks, he's my old mate, he's always at his best when they are under pressure," he said rather un-threatenly.

"He loves that, he's a street-fighter, so it does make them dangerous but at the same time we've had a tough year too and we don't mind a scrap either, so it should be a good scrap."

It hardly needs to be said, but both coaches are under the pump on the back of horrid years although they both did manage to steer their teams to vastly different wins last weekend over much lower ranked opponents.

Australia quashed Italy whereas England had to recover from a half-time deficit to overcome Japan.  (can you mention Japan playing an Eddie Jones coached side without alluding to their famous win over the Springboks when Jones was in charge?  I'm not going to chance it, that's for sure)

Jones touched on their lead-ups as he continued, "All I know is they had a good win (last weekend) and they'll be ready for the battle.

"I think they understand where we're strong and we understand where they're strong."

All the action will be beamed into lounge-rooms around Australia in the wee hours of Sunday morning.  SBS and Fox  have got you covered.
RWC Repechage Profile: Hong Kong
It's part 3 of our 4 part look at the teams running around in France during the repechage tournament, this week we turn to our nearest neighbour of the foursome, Hong Kong.

Hong Kong qualified for the tournament in a rather more winning way than the other teams.

Canada's there by virtue of losing the Americas spot to the USA, Kenya were runners-up in Africa Gold and Germany pulled a Steven Bradbury through the Euro qualifiers, losing six of their 8 matches in the process.

The Dragons, on the other hand, steamrolled the local competition en route to winning the 2018 Asia Rugby Championship.

The title saw them face the Cook Islands in a two-leg playoff to qualify for the current tournament where they were barely troubled, running 77-3 winners over the two games.

Hong Kong had come in with high hopes, their world ranking of 21 was higher than any of the other teams and their coach described them as being "fitter, stronger and better prepared than we've ever been".

Despite their winning ways in the lead-up, they were stunned in the first round by a resurgent (and re-stocked) Germany who took the match 26-9 but their tournament got back on track after the weekend with a strong 42-17 win over Kenya.

The win sets up a winner-take-all clash with Canada next weekend, although if my calculations are correct, Hong Kong need to win the match AND have a winning margin of 58 points or more (***EDIT, it would need to be a win by more than 29, thanks IIPA for picking up my error) AND deny Canada a bonus point AND score a bonus point of their own.  Got it?

Tune in next week for a look at the final standings.