Tuesday's Rugby News has all the Cheika's daily updates on the Wallabies progress, a jump in rankings, new Wallabies to debut, yet another debate about the format of Super Rugby and Dane Haylett-Petty wants to become better.
---
WBs Not Golden Yet
While Michael Cheika is very happy with the win over the Springboks in Brisbane on Saturday, he's also very wary of the fact that the performance in that game wasn't golden.
Chatting to the SMH he said: "I think it's only a fair comment that the quality of our football wasn't at top level on the weekend and we just got by, with improvement, but not top level. Just because we won last week doesn't mean the issues are gone away either, you want to keep improving every week."
"I'm keen for us to play a bit better," Cheika added, before referring to parts of the game where the Wallabies were a bit rusty – like, say, passes thrown that were caught by the opposition hooker and turned into intercept tries.
Because of that win on Saturday, the Wallabies have risen in the world rankings (for what it's worth), swapping 4th for 3rd with the Springboks.
Cheika then hinted that there's a good possibility one of or both Lopeti Timani and Tom Robertson could make their debuts this weekend…
New Wallabies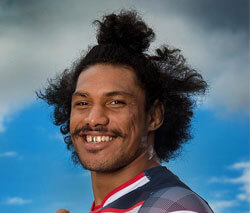 As mentioned yesterday, this weekend's game may new the dawn of two Wallabies careers, with Lopeti Timani and Tom Robertson in the running to get their first Wallabies caps.
Cheika, talking to the SMH, said: "Tom Robertson's been in the squad, uncapped, there's an opportunity for him. Lopeti Timani was in the wider match squad last week so very unlucky to miss out. He's been outstanding in training and he's played a bit of NRC in the gaps as well so they're both vying for positions no doubt about it."
Robertson was knocking about Tahs HQ when Cheika was there, and the Wallabies coach – who didn't really look to get Jed Holloway, Andrew Kellaway or Jack Dempsey into the team when coach – was quick to pretend he knew of Robertson's potential.
"He has definitely has been [one of the finds of the year]," Cheika said. "I saw him in the under 20s at the Waratahs when I was coaching there so I didn't think he'd be through as quick. He's just managed coming into better company and managing the growth. I really think he's got a bright future."
As a side note, as Cheika mentions, if Timani and Robertson become Wallabies on Saturday that'd make it 9 debutants since the end of the Rugby World Cup and a turnover of a third of the players in the squad since then.
Super System Symposium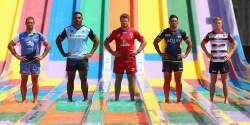 There's more chatter being had in Sydney this week, as chief executives from Super Rugby will flock together to chirp about fixing a problem that they really should have never created.
Jim Tucker, writing for News Ltd., says the main reason for the get together is to discuss a fairer finals system and how the competition can generally make its format better understood.
In particular, it seems the Kiwis are getting ever more greedy. They want to discuss taking away the designated Australian and New Zealand home finals and just generally giving them to the two best "Australasian" teams – which will 9 times out of 10 be the Kiwi sides.
This is a bit of a raw point with the New Zealanders, as earlier this year the Brumbies got a home final despite having less points than four of the Kiwi sides. It doesn't really matter that they were beaten by the Highlanders, though.
"The issue is the integrity of the competition when a team with significantly less points earns the right to host a quarter-final," Hamish Raich, Crusaders chief executive, said.
"Canberra and Cape Town hosted for their clubs this year when more successful teams did not. It may be a hard one with broadcasters wanting a final in each time zone but a straight top eight would go a long way to solving the integrity issue."
In other news, discussions about trimming Super fat from 18 inches down to 16 will be "informally" discussed, which probably means the CEOs will be playing a very passive-aggressive game of pictionary with the Kings and Force CEOs.
DHP Winging It
Dane Haylett-Petty has been talking himself up, telling the media that he's determined to become a world-class winger. Which, actually, is not such a bad thing to aim for given that Marika Koroibete is coming into the Wallabies set up in spring, and the talent coming through in the NRC.
DHP, who usually plays at fullback for the Western Force, has found himself shunted out to the wing for all his Wallabies games so far.
"I think I'm probably more confident as a fullback, that's where I've played most of my rugby," he told the SMH, Australian, et al. "At the moment, just happy to play wherever I can and like I said, just try and get better every week on the wing. Playing on the wing at the moment is in the long run going to make me a better fullback and a more complete rugby player, which is always the goal."
In what may be a surprise to some, DHP pinpointed the new defensive mindset and skillset he's had to adopt as perhaps his biggest area of growth:  "the defensive pictures that you see there are totally different, so probably the defensive side of the game that I'm working on will eventually help me as a fullback."
DHP got his first win as a Wallaby against his nation of birth, South Africa, and will on the weekend play his first international game in his home town. Perth is increasingly given more to rugby union in Australia, and as the first Western Australian to represent his country in decades DHP is at the forefront of that. Unfortunately, the Australian media didn't ask him anything about that.
---
 Gagr craft beer discount
Enjoy smashing a tasty craft beer from time to time? What am I saying, of course you do!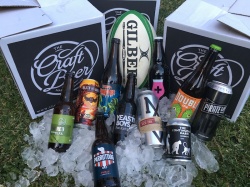 Well GAGR has organised for you to get a $20 discount when you order any of the 'Tight Five', 'The Forwards' or 'The Backline' Bledisloe special mixed cases from The Craft Beer Market. Each case has competing line ups of fine Aussie and Kiwi craft beers.
Make up for our super rugby showing – YOU decide who wins in this battle!
Just enter GAGR20 as a code on checkout to get a sweet lobster off as many of these three mixed cases as you order. Delivery is free anywhere in Straya!