As 2016's Queensland GPS First XV Rugby season draws to a close, we fondly remember the season that was.
Brisbane State High School were triumphant in 2016, tasting Premiership success for the first time since 2010 with a win over The Southport School in Round Nine.
Similarly, Gregory Terrace threw off the shackles of a major hoodoo with a first victory over heated rivals Nudgee College since their 2004 Premiership, securing second place in 2016.
Ipswich Grammar School avenged 2015's Round Nine loss to Brisbane Boys' College with a win, while Toowoomba Grammar School ended a tumultuous season on a high note with a win over Brisbane Grammar School.
2016's First XV competition was thought to be the closest ever in the 100+ years of Rugby history in South East Queensland Schools, and it lived up to the hype with ease.
But we'll get to that later.
We look forward to publishing our season review and team of the season articles in the coming days, as well as an exciting new proposal for Schoolboy Rugby in Queensland going forward.
For our Team of the Season, Green and Gold Rugby are again giving spectators a chance to help decide which players win the coveted selection.
Vote for your 2016 GPS First XV Team of the Season Here!
Again, thank you to all the photographers and writers who have contributed in 2016.
To BBC beat writer 'ChekMate' and TSS reporter 'Unpaid Intern', as well as 'WBR', we have covered a great many games of 2016's competition and the memories of these matches will live on in the internet for years to come because of your time and dedication.
To photographers HJ Nelson, Holly Hope, Carter Douglas, Billy Harsant, MaroonDam and SharpAs, thank you for providing your excellent craftsmanship behind the lens to Green and Gold Rugby free of charge, out of your love for the game. These photos too will be there for players and spectators to reflect on for the rest of their lives.
To videographers Hugh Bray, DoubleTake Live, Kristian Mako and Film BNE, as well as The Waterboy, thank you also for playing your part in GPS Rugby 2016.
Without further ado, the final table for the GPS First XV competition 2016.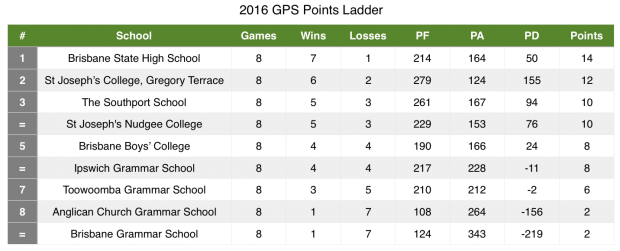 Game of the Round: BSHS 29 defeated TSS 24
Unpaid Intern
Brisbane State High School wrapped up the GPS 1st XV premiership with a last-minute 29-24 win over The Southport School at Carina. Even a loss would have been sufficient for BSHS to take a share of the premiership in a 3-way split with TSS and the winner of Nudgee v Gregory Terrace, but the State High team showed they were not content to put their feet up and take it easy, fighting back to score a late try to deny the others a share of the spoils.
1st Half
In the first of many surprises of the day, Southport's tall lock, Angus Blyth, made a unannounced return from injury to start in jersey number 5.
Under very threatening skies, but only light rain falling, TSS were the first on the board with an early penalty goal to Campbell Parata (#10). Shortly after Koen Dovey (#11) made a good break for TSS, but was had the ball jolted loose in a strong tackle by BSHS fullback Murray Taulagi. This was followed, shortly after, by another error close to TSS own line which resulted in a pick and go try to BSHS #8 Patrick Tafa.  TSS responded with another penalty to Parata. With about 15 minutes gone, BSHS lost their fly-half, Isaac Crone, to a knee injury suffered in a ruck cleanout.
A backline shuffle, did not overly hamper BSHS's attacking options as they were soon over for another try, this time scored by the half-back Neal McNamara, after good lead up work from Tafa &  Fenner (#6). Full-back Taulagi joining the line to create the overlap for McNamara to score, after the replacement winger (#22) was pulled down inches short of the line. Score 12-6
Consecutive penalties to TSS after the restart, resulted in a team warning to BSHS and another 3 points to Parata. McNamara was in the action again with a 50-metre break following a ruck turn-over. Only a great cover tackle from TSS Fullback Dowd prevented the try. The game then took a surprising twist with  BSHS losing two players in quick succession to yellow cards. First,  Tafa for not using arms in a tackle and then, after another team warning, #6 Fenner for a deliberate knock-down. With only a few minutes to half-time, TSS were unable to capitalize, knocking-on after taking the quick tap. Half-time score 12-9
2nd Half
For half-time entertainment we were treated to a lightning storm and torrential rain. This resulted in a delay to the restart, as World Rugby guidelines say play should not restart until 30 minutes after the last lightning strike. When play finally got under way, the sun was shining, but the field was heavy, particularly in the centre square.
With a penalty early in the second half, TSS elected to take the 3 points on offer, due to the slippery conditions, rather than go for a try with the numbers advantage. Scores were then tied 12-all.
Momentum then changed swiftly, with winger Jordan Petaia pouncing on a grubber kick and flying towards the try-line, but was pulled down on the 22-metre line by another try-saver from Dowd. BSHS won the penalty for not rolling away, and took the quick tap. Tafa went close to scoring, before Lloyd Gorman (#1) barged over. BSHS 17 – TSS 12
Shortly after quick hands from the BSHS backline saw the replacement winger (#22) score in the corner. Conversion unsuccessful . BSHS 22 – TSS 12
Trailing by 10 points, TSS needed to be the next to score, and they did. After a good run down the sideline by winger Dan Burns (#11), centre Kapea was tackled just short of the line, but quickly placed the ball, got up and went again to reach out and score the try. Parata converted. BSHS 22 – TSS 19
BSHS had the next opportunity when winger Chambers (#11) made a break, and kicked ahead. he was able to toe the ball through once more, but Mavoa got back to clean up. From a ruck on half-way, TSS replacement front-rower Sam Dobb (#17) got the TSS crowd cheering when he got on the outside of his winger and powered into the 22. BSHS gave up a penalty for not releasing and from the ensuing line-out Mavoa was over at the back of a rolling maul. Conversion was successful, and TSS were in front 24 – 22 with only 5 minutes to go.
BSHS seemed to have blown their chances when the pass to the winger sailed over his head, but full-back Taulagi was able to regather the ball before it went into touch and from the ruck, TSS gave up a penalty. This time BSHS kept their composure, and rolled up field, winning 2 penalty advantages, but they didn't need them, with Tafa crashing over for his second try. Time was up after the successful conversion and BSHS had won a nail-biter.
Full-time score: BSHS 29 – TSS 24
BSHS 29 (Tries: Tafa x2, McNamara, Gorman, Winger #22; Conv: Crone 1, Mahina 1) defeated TSS  24 (Tries: Kapea, Mavoa; Conv: Parata 1; Pens: Parata 4)
The Players
TSS – Tipene Mavoa's workrate was rewarded with another try, as was Tautau Kapea, but TSS's best was full-back Max Dowd for his try-saving defence as much as his attacking runs.
BSHS – The back three (Chambers, Petaia & Taulagi) looked dangerous every time they had the ball, Half-back McNamara showed great speed and vision. But best on field was Patrick Tafa with 2 tries.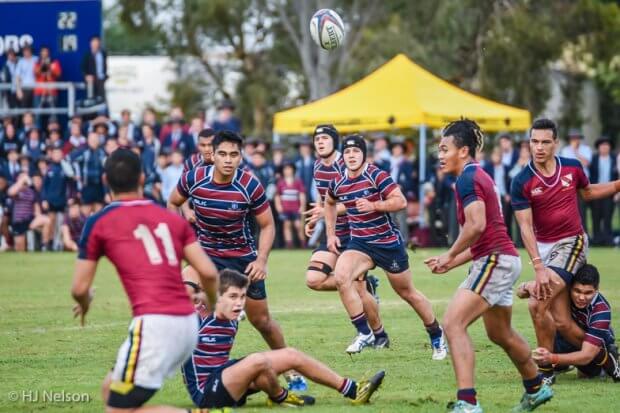 St. Joseph's College, Gregory Terrace 19 defeated St. Joseph's Nudgee College 15
Nic Darveniza
St. Joseph's College, Gregory Terrace have wiped away a 12-year dry spell against arch-rivals Nudgee College with a 19-15 win in the pouring rain, in front of 10,000 spectators.
Both sides took the field with a chance to share in a joint-Premiership and a worst-case scenario finish of outright second.
Gregory Terrace were able to showcase why they hold GPS Rugby's best defensive record, while smart game management from halves pairing Sam Kirk and Isaac Lucas provided the final push to get their side home.
Nudgee created plenty of opportunities but failed to fire on many throughout the match, missing all five shots on goal and conceding numerous red-zone turnovers to Terrace's hungry back row.
The visiting team showed that they would not be cowed by the miserable conditions by stamping their mark on the match early.
A classic Nudgee set-piece move from a lineout sent blindside flanker Ethan Bullemor barrelling through weak defence down the 5m channel to score inside two minutes.
Captain Augustus Rangihuna couldn't convert, but it was a promising start given some pundits pre-match predictions of a low-scoring affair.
Gregory Terrace were officially cautioned by referee Rohan Hoffman for discipline but continued to steal away possession.
Nudgee's Rangihuna lined up a penalty goal but couldn't convert what should have been a simple kick.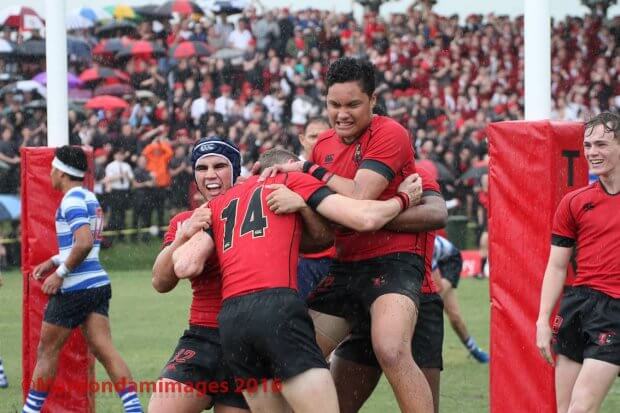 Another turnover in the 15th minute caught Nudgee out of position in backfield.
Halfback Sam Kirk put up a deft box-kick for Australian Schoolboys winger Will Eadie to chase down and score in front of hundreds of Old Boys on Internationals Oval.
Both sides showed determination to run the ball which could be considered misplaced, with the benefit of hindsight.
Possession was exchanged frequently through a seemingly never-ending series of knock-ons.
Nudgee were finally able to capitalise on their field position and dominant scrummaging with a wide attack finished by lock Tom Jeffries, punching the ball over the try line in support to score Nudgee's second in the 20th minute.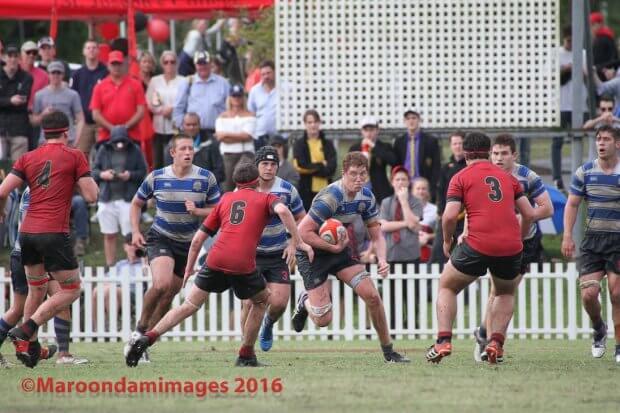 Nudgee entered the break with a slight 10-7 lead but neither team could claim to hold the upper hand after an even first half.
Nudgee emerged from the sheds with a renewed emphasis on kicking from hand, electing to back their defence to pile pressure on Gregory Terrace as they had been victim to in the first half.
The timing couldn't have been worse as the clouds cleared and sunshine beamed down for the first time of the match.
Lock Harry Wilson scored a remarkable try soon after, charging down a kick with his face before grubbering ahead twice and re-collecting over the tryline.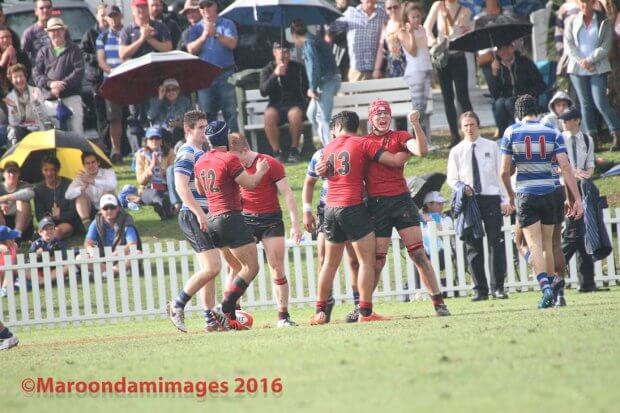 Halfback Sam Kirk's luck was better than his opposite from the tee, bouncing off the upright and over for the goal.
Nudgee turned back to low-risk football, muscling up through the forwards and scoring through lock Tom Jeffries on a 48th minute pick-and-drive.
Another missed conversion from Nudgee kept scores at 15-14 to Nudgee, with 22 minutes to play.
Low-risk football isn't really a term in Gregory Terrace's vocabulary in 2016.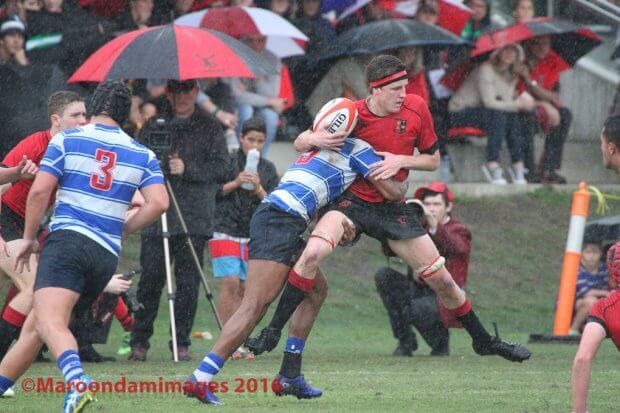 Terrace swung wide in attack for focal point Harry Wilson, stepping off the right and offloading like Sonny-Bill Williams behind the back of his defender for hooker Harry Birgan.
Birgan hit the gas and flew past the retreating defence, taking on the tackle of fullback Willie Malala and fighting through to the line to score what would be the match winning try with 15 minutes to play.
Nudgee fought tooth and nail to earn opportunities to score but wherever they went, the Terrace back row was close behind, eventually forcing a turnover to end the match and deny Nudgee a 13th straight win over their St. Joseph's College rivals.
Gregory Terrace's Harry Webster was our man of the match with multiple turnovers, lineout steals and impressive defence.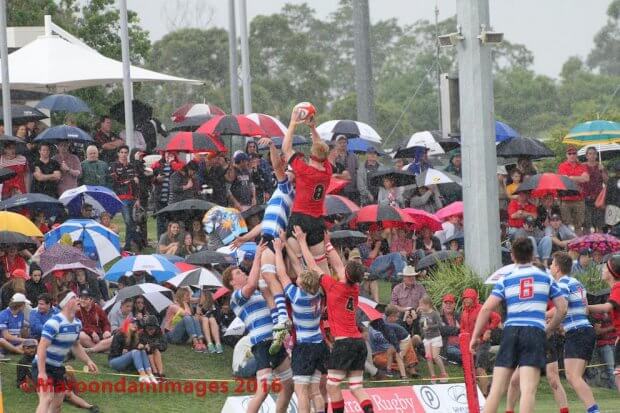 Terrace's Harry Wilson and Nudgee's Ethan Bullemor were the focal point of their respective side's attack and both scored tries.
St. Joseph's College, Gregory Terrace 19
Tries: Will Eadie, Harry Wilson, Harry Bigan
Conversions:   Sam Kirk  (2/3)
St. Joseph's Nudgee College 15
Tries: Ethan Bullemor, Tom Jeffries (2)
Conversions:   Augustus Rangihuna (0/3)
Penalties:   Augustus Rangihuna (0/2)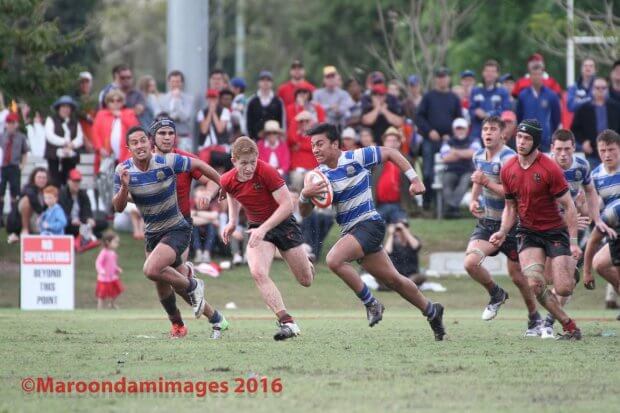 Ipswich Grammar School 19 defeated Brisbane Boys' College 10
ChekMate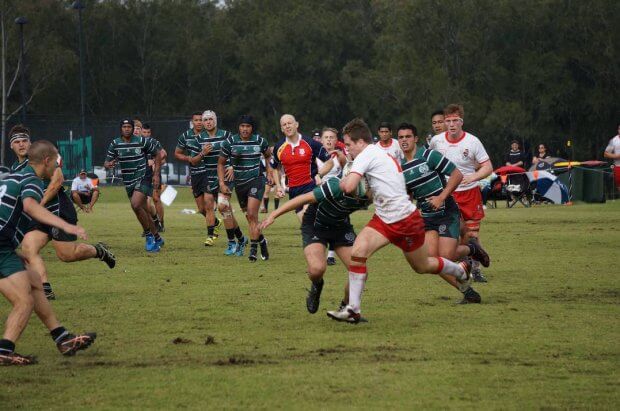 The weather Gods let loose for twenty minutes leading up to kick off for the final round between Ipswich Grammar School  in a sort of meteorological ceremony announcing to all and sundry that this fantastic 2016 GPS season was about to come to an end.
Late changes to the program saw more injury replacements to BBS with the loss of captain and flyhalf Isaac Henry, bringing about another re-shuffle of the backline and in turn more headaches for the coaching staff responsible for them.
BBC kicked off and demonstrated far more commitment at the breakdown than in games past.
Both teams attempted to play open and expansive rugby in spite of miserable conditions but found out the hard way that wide play suffers in the wet as mistakes abounded.
Field position is paramount and this is further exemplified with IGS grabbing the first try in the 18th minute through mistakes midfield in the center BBC defence and IGS made them pay.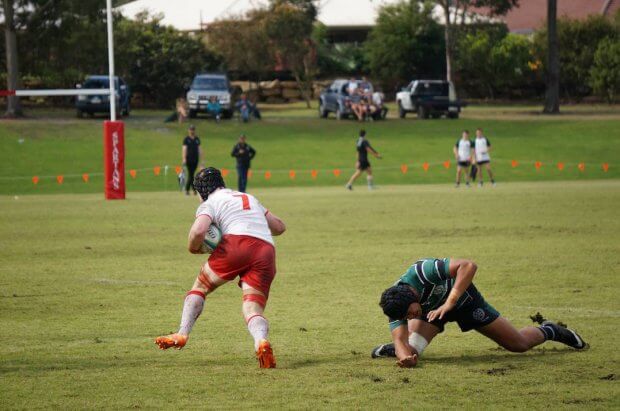 Again, like a fire had been lit, BBC respond immediately in the 20th minute and score through the BBC 6 via a poor IGS exit strategy.
The rest of the half was not played to the denigrating conditions and as soon as someone twigged to play it tighter and from quality field position, they were a good shot at winning.
BBC found this again as for some reason IGS played their 15 up in their defensive line; from a defensive ruck penalty, BBC 3 Rhys Ven Nek took the quick tap to score.
The second half saw the slow and nasty death of BBC as they just did not seem interested.
Not even the scheduled replacements that have worked in the past, provided anything of value.
IGS simply changed their game plan to suit the conditions, and rigorously and effectively took the game away from a BBC team that lacked direction and leadership.
IGS scored twice in the second half through their 4 in Joseph Faulalo and later through their hooker in Kolio Peterson – Timu.
BBC simply didn't score a single point nor looked like wanting to and the game rolled lethargically into a well earnt win for the Ipswich Grammar School.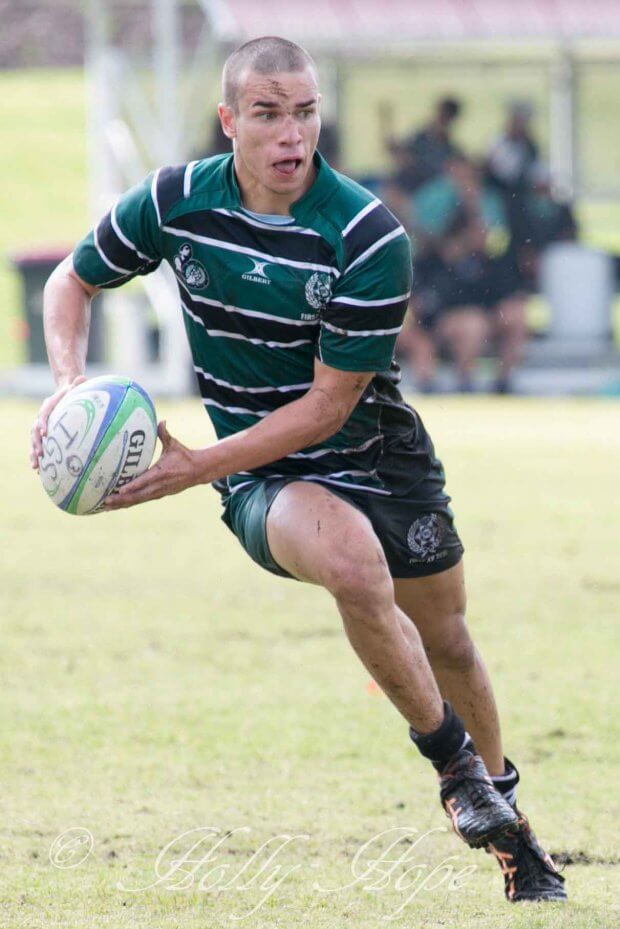 Ipswich Grammar School 19
Tries: Kempston, Faulalo, Petrson – Timu
Conversions:   Whiteside  2/3
Brisbane Boys College 10
Tries: Tietie, Van Nek
Conversions:   Reid  0/2