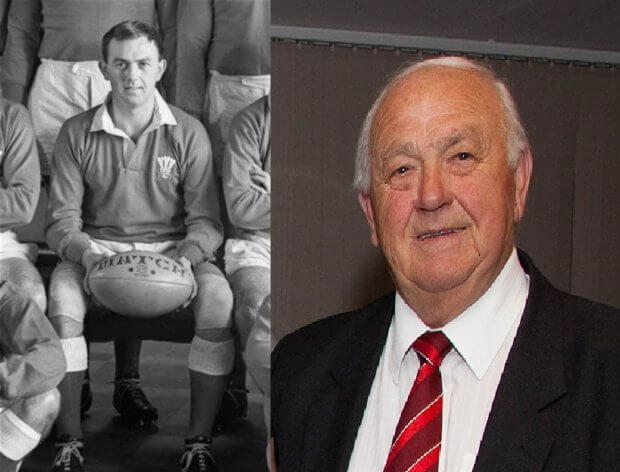 Welsh rugby legend Clive Rowlands, OBE has died at the age of 85 on Saturday 29 July. He played 14 tests for Wales in the 1960s, all as captain (earning the nickname "Top Cat") and was manager of Wales during the first Rugby World Cup in 1987 and for the BIL on their 1989 tour of Australia.
The British and Irish Lions and Wales Rugby Union have heartfelt obituaries for a towering figure in Welsh and British rugby.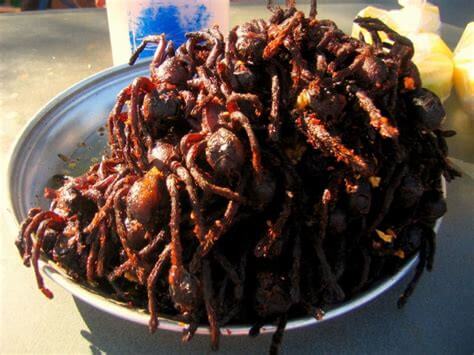 Rugby News reports that South African hooker Bongi Mbonambi will lead a side with 14 changes in their rematch against Argentina in Buenos Aires this Saturday.
The announced side:
South Africa (15-1):
Damian Willemse; Canan Moodie, Lukhanyo Am, Andre Esterhuizen, Makazole Mapimpi; Manie Libbok, Cobus Reinach; Jasper Wiese, Franco Mostert, Deon Fourie; Marvin Orie, Jean Kleyn; Thomas du Toit, Bongi Mbonambi (c), Trevor Nyakane
Potential Replacements:
Joseph Dweba, Gerhard Steenekamp, Vincent Koch, Jean-Luc du Preez, Evan Roos,Herschel Jantjies, Jesse Kriel, Kurt-Lee Arendse.
With Ian Foster making noises about resting several New Zealand players and trialling others, clearly all the sides are looking at these matches as RWC trials. The ongoing devaluation of the test matches, particularly in a RWC year, is the most disappointing aspect of the World Cup.
Rugby Pass reports that Justin Marshall wants New Zealand to start the same side but doesn't expect much from the Wallabies
"… Australia are beaten up, no doubt about it," Marshall told The Platform. "They've got injury problems, they're struggling again to find the way that they want to play. You don't expect them to come with too much firepower given the evidence of what we saw on the weekend."
It's true that losing the two best tightheads is a hit, but I'm more optimistic about the Wallabies' direction and anticipate seeing more progression on Saturday. Hopefully, like Marshall, the Kiwi team has erased the first 30 minutes of last week from their memory, as I have the last.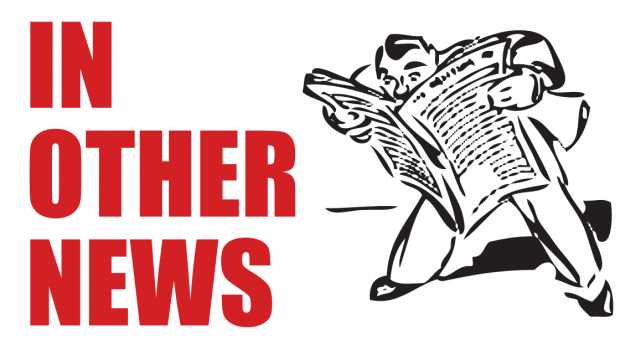 Trans Pacific Development
Americas Rugby News report that a surprising 45 players who took part in the (US) Major Rugby League 2023 season will be playing in New Zealand's NPC this year. These aren't all returning Kiwis and it augers well for the further development of the game in the US that we would all like to see.
Spain Promoted to U20 Championship
The Spanish U20 side defeated Uruguay 39-32 on Sunday to win the junior World Trophy.
The match report shows it was a thriller with the lead changing hands and Spain coming out on top despite losing the scrum half to a yellow car in the first minute. The win means the U20 side will be promoted to the 2024 World Rugby Junior Championship. Japan will be relegated to the trophy series in 2024.
The win is some consolation for Spanish fans following Spain's senior team being disqualified from this Rugby World Cup in France after fielding an ineligible player in two matches.
World Cup Preparation
Uruguay overcome Chile
Los Teros were 26-25 winners over Los Cóndores in their RWC warm up last weekend. The forwards were evenly matched with Uruguay's backs having an edge.
Argentina XV down Namibia
Namibia's road to Rugby World Cup 2023 began on Saturday in Montevideo. The Welwitschias* had an unfortunate loss to an Argentina XV 34-27 in a warm up game with changing leads.
* The Welwitschias plant is one of Namibia's national symbols although the team plays with an African Fish Eagle as its emblem.
Upcoming Matches
Aside from Bledisloe round two, these are this week's upcoming matches for RWC 2023 contenders:
Ireland v Italy Aviva Stadium, Ireland Sun 6 August 19:00 GMT (Mon 5:00 am AEST)
Scotland v France Murrayfield, Scotland Sun 6 August 14:15 GMT (Mon 12:15 am AEST)
Wales v England Municipality Stadium, Wales Sun 6 August 16:30 GMT (Mon 2:30 am AEST)
Romania v USA Stadionul National Arcul de Triumf, Romania Sun 6 August 17:00 GMT (Mon 3:00 am AEST)
I guess Michael Jones wouldn't get a run overseas this weekend.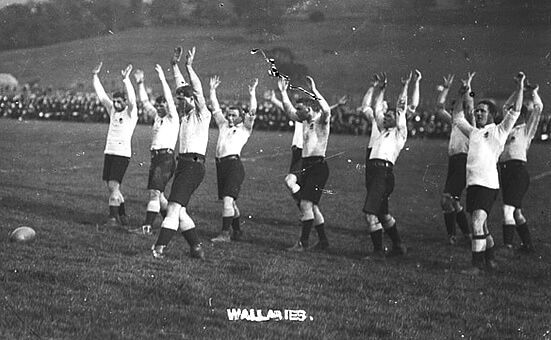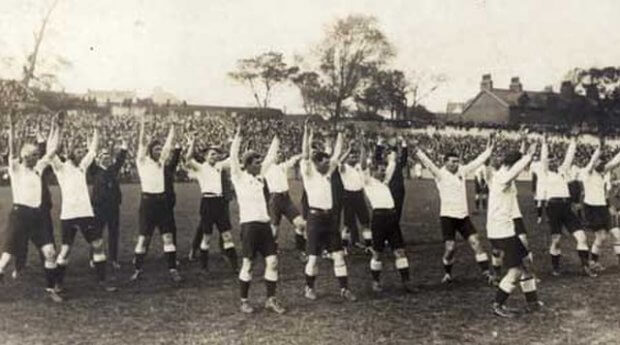 Wallabies 1908
The haka before the Bledisloe last Saturday was impressive and no doubt we'll get another serve on the weekend. Some have considered it an unfair advantage.
The New Zealand haka has motivated Kiwi national rugby teams for generations, since 1820, when the "Ka Mate" was composed by Maori chief Te Rauparaha. The haka has inspired Maoris since Tane-rore danced for his mother, Hine-raumati, a wife of his father Tama-nui-te-ra, the Sun God. Hine-raumati embodies the essence of summer and the trembling hands represent the moving air on hot summer days, signifying Tane-rore's dancing.
You could almost be envious and wish we had a haka too. But hold on, we did. In the early days of touring teams and particularly after the success of the New Zealand haka in the home countries there was an expectation that all the "colonials" had one to perform. South Africa had a Zulu inspired version and the Wallabies also had one on several tours to the UK and North America.
The souvenir (sic) programme for the test against Wales, on 12 December, 1908 has the words of the Wallabies' war cry:
Gau Gau–Wales-Gau Gau-Wales
Whir-r-r
Win nag-a-lang (Thur)
Mu-e-an-yil-ling.
Bu rang-a-lang (Yang)
Yai yai. Gun-yil-lang-yang-yah.
This war cry and accompanying dance were performed before the match with kick off at 2:45 pm, the only civilised time for a test match! It is loosely based on a First Nations language (maybe) and stolen from the Newtown club team. Possibly it's inspiring but it didn't help our boys on the day, who lost this first test of the 30 match tour.
On the subject of cultural theft, our local sporting chant "Aussie, Aussie, Aussie, Oi, Oi, Oï" is strangely reminiscent of the "Oggy, Oggy. Oggy, Oi, Oi, Oi" that used to greet our rugby teams in the UK. Then again, which club has an original song?
From many reports, the Wallabies' performance was considered comic by spectators and an embarrassment by the players. The 1908 captain hid among the players and refused to lead the performance. In 1927, when NSW adopted the name Waratahs for a tour, a war cry was explicitly banned and thankfully for the Wallabies it died a natural death.
Sean Fagan has an excellent detailed history on the Wallabies War Cry (Haka).
An interesting titbit from the programme is that the Wales players are numbered, from fullback to front row, 1 to 16. It appears players were superstitious and none of the forwards wore number 13. Australia was numbered in a reverse order 16 to 1 but with the outside centre 12 and superstitious inside centre in 14.
Cultural appropriation of the haka is unlikely to occur in future, certainly not in the UK. The "Ka Mate" was recognised as a national treasure in New Zealand Law in 2014. In October 2021 a UK-New Zealand trade deal had the unusual provision "to identify appropriate ways to advance recognition and protection of the haka 'Ka Mate'" and to recognise the leaders of the Ngati Toa tribe as its custodians.
Other than the Pacifica teams with a similar cultural heritage, responses to the haka range from respectful to deferential to downright obsequious. The boomerang "gift" last week just seemed to be a pointless grasp for meaning.
Tolerance cuts two ways, in my view. If New Zealand teams wish to perform the haka good luck to them and all due respect. If a player, say Campo, or several, want to ignore it all and warm up for the game instead, that's fine as well.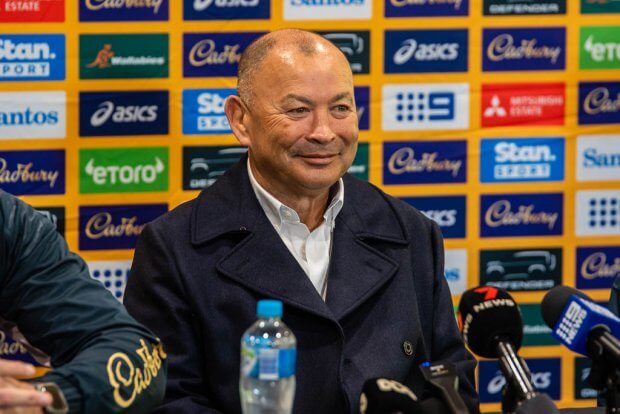 Eddie's Surprise Selections
Eddie's team should be out later today. I'd like to see this:
Angus Bell
Dave Porecki
Zane Nonggorr (can he last 80?)
Will Skelton
Nick Frost
Jed Holloway
Tom Hooper
Rob Valetini
Tate McDermott (hard to pass when you're skating on very thin ice)
Carter Gordon
Marika Koroibete
Samu Kerevi
Jordan Petaia
Suliasi Vunivalu *
Andrew Kellaway
Potential Replacements/Finishers/Reserves/Substitutes
James Slipper
Matt Faessler (Uelese was very fortunate last week not to get carded instead of Tupou)
Tom Lambert
Richie Arnold
Rob Leota
Nic White
Quade Cooper
Izaia Perese
* No, just stirring – can only be Mark Nawaqanitawase! About the only changes I'd make are the forced ones at tighthead. We need to build coordination in the team.
As far as attitude I hope the team plays to win. As far as results, I'd be happy with another improvement.
Have a good one.