Thursdays Rugby News sees North Hampton honour Horne, the Beale experiment is over, NSW sign school boys andTom Banks ready to go again.
---
[one_half last="no"]
ROB HORNE TESTIMONIAL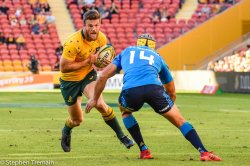 It isn't often that an Australian will receive a standing ovation at Twickenham, but as he delivers the match ball on Saturday for the match between North Hampton and Leicester, that is what will happen for former Wallaby Rob Horne.
In the same fixture in last April, Horne was involved in a massive collision in the opening moments of the match that forced the 29 year old into early retirement. Horne tried to downplay the result of his injury, as all his teammates would testify to him being one of the hardest men in rugby, but the result was more serious than expected.
All 5 of the nerves in his right arm had been detached from his spinal cord, leaving his arm paralysed and dealing with chronic pain. The injury not only ended his career but also changed the way he had to live.
"To live with paralysis is something that is very new," says Horne, (via The Guardian)
"I'm still learning ways to do things. It's funny how the body is. If one thing is taken away from you, you become pretty innovative. You work out other ways to achieve things."
Horne still has a love for the game he played for so long, and with no desire to watch the footage of the injury, he can still remember every element of it.
"I can't put myself through it"
"It was my first game leading the team out. It was a special game up at Welford Road and we'd had a big week, changing a few things up. We were pretty primed for that game and I had my family in the crowd as well.
"When the injury happened I was fully conscious the whole time. I've been told it looks like I'm trying to get up and I just can't. Like any player, you don't think anything's that wrong. Initially, when I couldn't move my right foot it was obviously an issue but I kicked and kicked and got that moving. I said to the medics: 'I think I'm all good, I just think my shoulder's dislocated.'"
It didn't take Horne long to notice a difference in the behaviour of the medical staff around him.
"I was lying there thinking: 'Why are they approaching me like this?' That was probably the moment I thought that possibly something more serious has happened."
It was not until he was under the knife that the extent of his injury was understood, and subsequent surgeries have attempted to replace nerves in an effort to reduce the pain.
Saturday's fixture between North Hampton and Leicester will raise money to help aid Rob in his journey to recovery.
[/one_half]
[one_half last="yes"]
BEALE EXPERIMENT OVER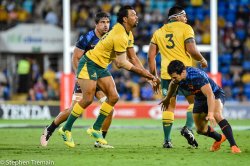 Rugby.com.au are reporting that Kurtley Beale will not be wearing the 10 jersey for the Wallabies match against the Pumas.
The Insanity of trying something that does work again and again appears to wear off, with the news that Matt Toomua and Bernard Foley have been training as fly half this week in Buenos Aires.
There is no confirmation yet to where Beale will be playing, though considering he has played most of his recent rugby at inside centre it is likely that he will wear the 12 jersey once more. Given how well he performed after his shift to full back against the Spring Boks it could be an option to put him out the back with plenty of room to run and make some magic.
Foley was a permanent fixture at 10 for the Wallabies until last month when Michael Cheika pushed him to the bench in favour of trying the Beale-Toomua combination.
Matt Toomua, who plays some of his best Rugby at inside centre, spent plenty of time recently playing five eight for English club Leicester in the Premiership League.
When Toomua returned to Australian Rugby, Cheika stated he believed that Toomua was a contender for playing fly half for the Wallabies.
"I think he can play 10, where he's been playing at Leicester, and he can play 12 as well but he's a 10, I think," Cheika said back in August.
"He's been shifted to 12 often here in Australia because different players have been around and that combination might occur again but with the intention there to have a look at him in that position."
When speaking to the media, Toomua stated he believed the pair was improving and that the Spring Boks match was their best yet.
"I thought that was probably one of the better games that we've linked up in attack and we've got to keep building that," he said.
"Unfortunately we all wish it was an overnight thing but it's not, these things take time and it's something we're consistently working on so hopefully we can get a breakthrough, one with a result, and two with a good performance as well."
[/one_half]
[one_half last="no"]
AUSSIE SCHOOL BOYS SIGN WITH TAHS OVER NRL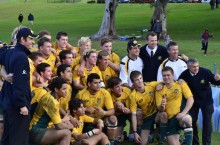 Despite being approached by multiple NRL clubs, Aussie School boys players Angus Bell and Will Harris have ignored the offers and signed contracts with the Waratahs.
The Melbourne Storm and the South Sydney Rabbitohs approached Harris, a lock out of Scots College in Sydney, who decided he wanted to follow fellow Scots Alum, Jack Maddocks to Super Rugby and then Wallaby Gold.
"They were both really great both those clubs but I am really happy to be staying in rugby," Harris told RUGBY.com.au.
"It's the right decision for me.
"It's a game that I love to play and I've been given a great opportunity to stay here and play it.
"Hopefully I can play for my country one day at the highest level."
Angus Bell, who will lead out the Aussie School boys this weekend at Ballymore, was also the captain of Newington's 1stXV as well as NSW Schools 1 this year.
"I did get approached by clubs but my rugby is what I'm keen on and I really wanted to stay in Australia and stay in Sydney," he said.
"The coaching and the development through the U20s program seems like an extremely good pathway for me.
"Not only to grow as a player but as a person.
"It's a good platform and a good basis to build on rugby in Sydney and NSW."
The NRL have a history of signing talent out of the Aussie School boys program, so this signing is a positive sign for players coming up in Rugby development pathways.
Rugby Union 1 – Rugby League, well we have lost count, but you get the picture.
[/one_half]
[one_half last="yes"]
 BANKS KEEN FOR ANOTHER SHOT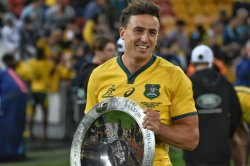 With a thumb injury putting an end to Jack Maddocks Rugby Championship, the door has opened for another bolter in Tom Banks, who could be in like for his 4thtest appearance if named on the bench, or even his first start if Marika Koroibete isn't pick due to concussion.
The later seems unlikely since Koroibete has trained this week, but there is every chance the Brumbies speedster could be unleashed against the Puma's in Salta on Saturday night (Sunday morning for the Australian based).
Banks knows that at the international level you only get a handful of shots to show your worth and this could be his.  Nothing has been confirmed when Banks was interviewed, but the fullback is keen to put his best foot forward.
He spoke about the team understanding the impact of their losses, but knowing that they are building to something bigger and better.
In other selection news, it appears that Cheika's other experiment of two locks on the bench wont happen again this week with the head coach opting for a true back rower to come into the 23.
This move would open the door for a potential debut for Melbourne Rebels back rower Angus Cottrell, who has played all across the back row and even dabbled in the second row for the Rising in the NRC. If Cottrell is not the pick Reds big man Caleb Timu will get another shot in the Gold jersey for the first time since the Irish tour.
The Wallbies did not use a spare loose forward, instead opting to keep the three starters, Pocock, Hooper and Hannigan on for the full 80.
[/one_half]