Thursday's top rugby news has Finegan backing Smith, McCabe out for the season, two Wallabies out on the town and a ban for a Rebels winger.
---
[one_half last="no"]
Finegan wants Smith to start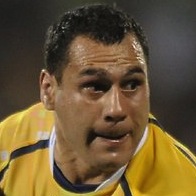 Fox Sports have done the rounds of former Wallabies flankers, and Owen Finegan believes that George Smith should be starting on Saturday night. He is alone though with David Wilson, Simon Poidevin and David Croft all backing incumbent Michael Hooper to start with Smith on the bench. Finegan likened the impact of a Smith starting berth to the explosive influence that Israel Folau's x-factor and big game experience had in the first Test saying "George has those same traits and he'll play like a genius". Despite backing Hooper to start, Croft definitely wants to see plenty of Smith saying "I'd have George on even before half-time from the bench. He's so confrontational and the nuisance who can really frustrate the Lions because they hate it when they don't get an easy flow of ball."
What do you guys think, should Smith start or come off the bench?
[/one_half]
[one_half last="yes"]
McCabe ruled out for the season

The neck injury Pat McCabe suffered in the Wallabies' first Test against the Lions will see him miss the rest of the season. McCabe met with specialists in Sydney earlier this week who confirmed the injury was a reoccurrence of the first neck injury he suffered last year. Unfortunately for him, the fracture in his neck has partially opened up, but will heal itself in time. McCabe, who will need to wear a neck brace for the next six weeks, was relatively optimistic yesterday, saying "it's human nature to think the worst but I'm in good hands medically. We'll see how the rehabilitation goes and take it from there. I'd obviously like to get back into it, but I'll be taking no chances with my health either".
Whatever you think about McCabe as a player, it is never nice to see someone suffer a reoccurrence of such a serious injury.
[/one_half]
[one_half last="no"]
Wallabies spotted out on the town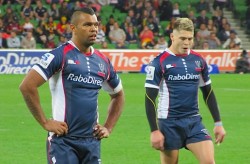 Doing their best impression of Rugby League players, James O'Connor and Kurtley Beale were spotted out on the town til 4am on Wednesday morning after catching the tour match between the Rebels and Lions. They were even polite enough to pose for a photo in Hungry Jacks with a Lions fan. However the ARU has investigated the incident and confirmed that there are no issues at all. A number of witnesses have confirmed the two players were not drinking and there was no curfew in place for them to break.
I wonder how two of their young teammates being out until 4am will sit with some of the more senior players in the Wallabies ranks. Plus I'm not so sure that eating whatever makes it into a Whopper is ideal for peak athletic performance.
[/one_half]
[one_half last="yes"]
Rebels winger cops ban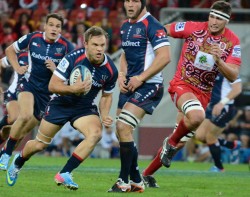 Following his side's 35-0 loss to the Lions on Tuesday evening, Melbourne Rebels winger Lachlan Mitchell was cited for a lifting tackle on opposition winger Simon Zebo. The Judicial Officer in charge, Nigel Hampton QC, found Mitchell guilty of breaking Law 10.4(j) in lifting and dropping Zebo in the tackle.
Hampton stressed the offence was at the lower end of the spectrum. The usual penalty for even a low level offence of this nature is four weeks. However Hampton slashed the ban to a single week pinpointing Mitchell's good record and that any longer ban would have been "disproportionate to the level and type of offence that has occurred."
[/one_half]