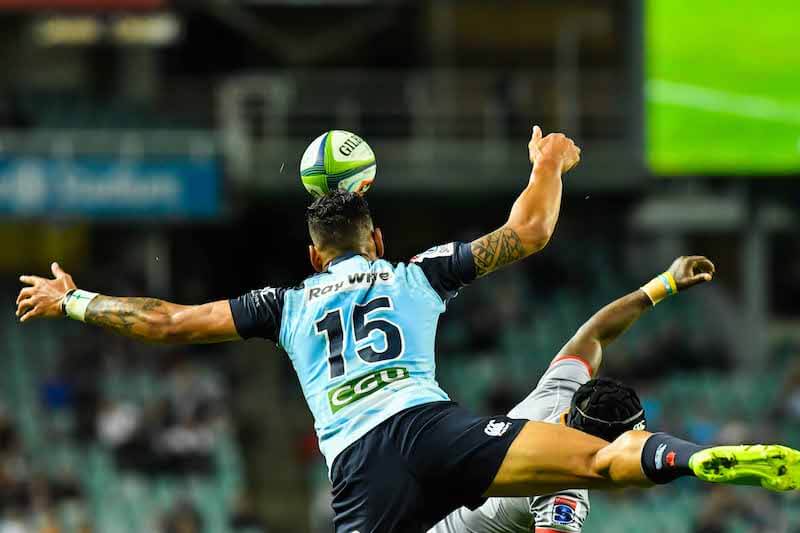 This week in the Top 5 we cast an eye over the teams performances, get in some good, bad and ugly, talk yellow cards and high tackles and get a little … well distracted.
Report Card
Brumbies D: The Brumbies had a purple patch late in the first half where they piled on 21 points in around 10 minutes. They stifled the Canes attack, denying them any ball and they threw it around like mad. During this period, they looked like a champion team. Unfortunately, this was the only period of the match where they were competitive. Lack of possession in the second half killed them. You can't win if you don't have the ball.
Waratahs E+: I don't really know what to say that hasn't already been said. Everyone has been pretty vocal in how terrible they were. But on watching parts of the match again, they showed some good play in Cam Clarke's try and the length of the field effort that Rob Horne finished off. There were some glimpses of good, however the result has overshadowed those moments.
Force B-: While they didn't get the win, the Force really took it to the Chiefs and played some good rugby. They looked good on attack and forced the Chiefs into errors, keeping the match tight. They are showing consistently that they can maintain pressure the whole 80 minutes now.
Rebels C: The Rebels can consider themselves a bit lucky to get the draw, a penalty shot after the siren preventing the loss. There was nothing outstanding about the way they played, and they should have been able to take better advantage of a poor Sharks team and a man advantage for a large chunk of the game.
The Good, Bad and the Ugly
Good This try from the Brumbies was outstanding. It shows us what they are capable of … imagine how dangerous they would be if they actually played like this for the whole 80? Surely that has to give us all a little hope about skills in Australia and ability to play unstructured rugby.
Bad The Waratahs. Need I say more?
Ugly The Sharks v Rebels match was simply horrendous for spectators. Well done to the Rebels for getting the draw, but a game that is 6 all until the 78th minute can't be classed as anything but ugly viewing.
Cards, Cards and More Cards
At the half way point of the season, I decided to take a look at the number of Cards that have been handed out, and what they have been for. If, like me, you had been thinking that there seemed to be more cards handed out than previously, you'd be right. So far this season a whopping 78 yellow cards have been handed out*. That's an average of over 8 yellow cards per round. 8!!! At this rate we are heading for over 130 yellow cards for the season.
So what is it the players are being carded for?
In one of the early Top 5's this year I wrote "On that note, don't be surprised to see more red cards this year, as a high tackle that is deemed to be deliberate and with intent will be an automatic red card. Last year there was a lot of confusion about why some were red, some were yellow and some were penalties. This year they will be going hard to eliminate the high tackles."  So have the referees followed through on that threat? Is that what a lot of the yellow cards are for? (For more on the High Tackle and how it is being handled, keep reading below)
Well, let's take a look.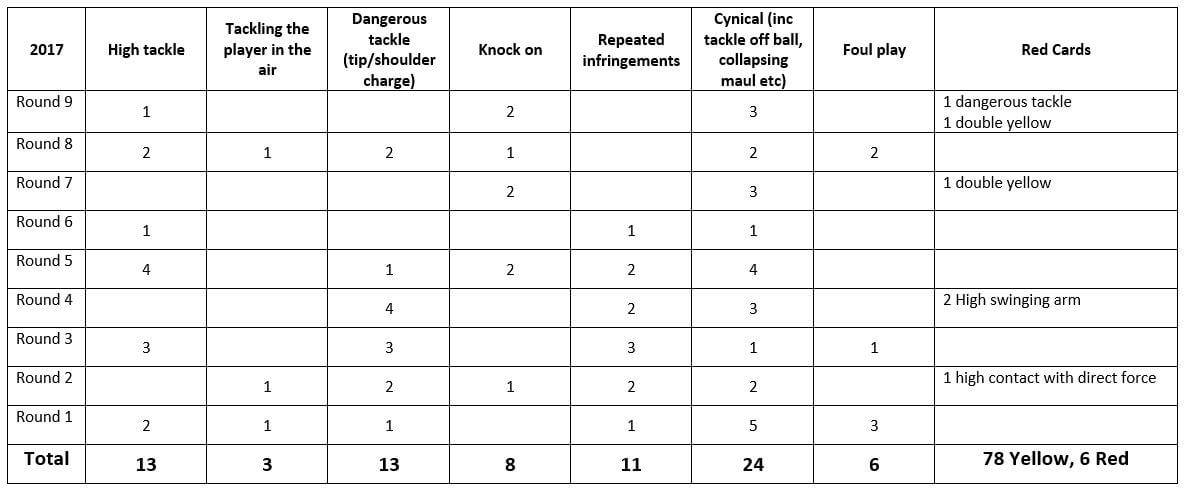 There have definitely been a number of cards awarded for high tackles. Equal 2nd most in fact. But by far the most cards are being given for cynical infringements, playing the ball on the ground, dragging down the maul, tackling off the ball etc. Does this show that players are still happy to give away penalties rather than tries? Are referees being stricter this year?
Actually, the most interesting number for me is the 8 cards handed out for deliberately knocking on. Granted, only 2 players have received 5 of the cards between them, but it's still a really high number! It could easily have been higher had Manasa Mataele not caught the ball and gone on to score the try against the Stormers. It shows how small the margin of error can be when attempting an intercept.
So let's compare this to the first 9 rounds of last year.

It looks pretty different, doesn't it? There were similar numbers of cards for repeated infringements and cynical play, but all of the others were way down. And look, ZERO deliberate knock on's!
The part I found really interesting is the overall number of cards handed out. 78 compared to 45. For the whole of last season only 85 yellow cards were handed out, we will likely eclipse that this coming weekend the way things are going. Just to make sure last year wasn't an anomaly, I looked at 2015 and there were 91 yellow cards that season. Again, we will pass that mark pretty soon.
Why are the numbers up this year? I don't have the answer but would be interested to hear any theories people might have.
* Give or take 1 or 2. One of the sources I looked at had it at 77, I didn't want to go back through every single match report from the first 9 rounds to see which one I might have doubled up on
On to this week's reflotto
So when is a law a law but it's not a law? When it's a law in rugby.
In the World Rugby laws, there is a section (10.4) that defines (explains) what a dangerous tackle is.  It's fairly straight forward. Some of the more common parts are:
(e) Dangerous tackling.
A player must not tackle an opponent early, late or dangerously.
A player must not tackle (or try to tackle) an opponent above the line of the shoulders even if the tackle starts below the line of the shoulders. A tackle around the opponent's neck or head is dangerous play.
(j) Lifting a player from the ground and dropping or driving that player into the ground whilst that player's feet are still off the ground such that the player's head and/or upper body come into contact with the ground first is dangerous play.
Now I want to focus on what is meant by tackle around the neck. So, noting how complex and confusing these laws are to understand on paper, let's throw in a picture to help us understand what a tackle around the neck could look like compliments of Kane Douglas in round 1 this year. This earned Mr Douglas a yellow card as it was not accidental; his arm did not slip up, and it had all the elements of a dangerous tackle; around the neck.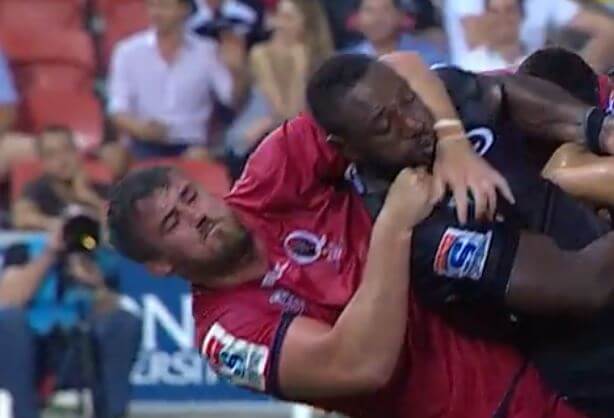 Now, before you get over confident about what a tackle around the neck is, or even what a tackle or neck individually are in rugby, you need to see one more example so you can get this law down pat.
This is an example of where a player made a tackle (or tried to tackle) and the player makes direct contact with a part of the human anatomy located above the shoulders but below the chin; but not the neck nor is it higher than the shoulders, and is not attempting to, nor actually making a tackle (we believe they were just trying to "hug it out") and fortunately that where it ends. There are no additional factors to consider like if Hooper kept going on with it pulling down or to the side when they fell over. The thing to note here is that the Hoff is a true believer, it was a genuine act, Hooper was not faking it:
"Ok, I'll tell you what I am seeing".
"I do believe the 7 here is making a genuine attempt to hold the player up in the air; it's not a tackle as such."
"If anything, it's around the head so it would be a penalty over there only." 
As I mentioned last week about the influencing comments of the TMO last week in incorrectly influencing a decision.  This is another example of reflotto. I could go on about the holding up part and draw comparisons to Pocock's well reported sleeper hold tackle (sorry holding him up in a non-tackle) but really, I think most can clearly see where the contact is and are aware of the dangers associated with the neck. Hooper appears aware of his actions during the tackle and certainly does not stop. Drawing on last week's Top 5 Rugby v UFC (MMA) rules comparison, I think it's called a rear naked choke.
Now, for the bonus round. So let's pretend Rugby laws are in real English with words that have the same meaning as in the dictionary for a moment (I know, off on a tangent now!). I want you to indulge me by imagining a tackle, a dangerous tackle that has multiple dangerous elements. To help you out let's try a mix of being tackled with the tackler gripping/holding around the head or neck, or even both simultaneously, then let's add in a tackle that takes the player off their feet making them impact the ground head first.
Can you imagine that? To do it is impressive but really, if you could do that even without injuring a player it's pretty reckless and you would have to be bloody lucky not to get a Red card.
Or not:
So how did you fare with this week's reflotto?
Distractions
It all started with socks. Yep, socks.
Something so small, yet enough to cause distraction and annoyance during a rugby match. Usually its socks up vs sock down, but this week I followed a conversation on twitter that revealed something else that has people watching the players legs instead of the game. (Thank you to the people involved for the inspiration, I blame Sucker For Red).
During the Force v Chiefs match it was noted that the Chiefs' socks don't match. One sock has red stripes, the other yellow. This is something I myself have noticed and been slightly annoyed about … I'm not a fan of things not matching. But if that wasn't distracting enough, then it was mentioned that every player had the colours on the same legs … except for one. Yep, Liam Messam had his colours on the opposite legs to the rest of the team. The search then began for any other player who had the same, I found myself staring at their legs more than I'm sure is considered normal. Nope, only Messam (late in the game I noticed Stephen Donald also had his colours on 'wrong' legs). Despite an entertaining game of rugby, it was a distraction (just watch, next time the Chiefs play you'll all be checking their socks).
That got me thinking, what are some of the other things that have caused distractions during games? Here are some that I have noticed over the past couple of seasons.
* Socks during Barbarian matches. As I said, I don't like it when things don't match and it really drives me nutty when every player wears different socks (yes, I know why they do it. Doesn't mean I like it!)
* Those boots that are different coloured on each side, making it look like the player has odd boots on. Way too much time spent trying to figure out if the player actually has on mis-matched boots.
* The Rebels shorts. They are different this year, but in previous years they have had white or red triangles on the back. They looked like pockets. Once someone mentions it to you it's all you see.
* Hair. Man buns, Hoopers hair that was for years being flicked out of his eyes, Elton Jantjies' weird off centre thing … all of it.
* The Reds shirts. When the players get sweaty the shirts look like rash vests that have just been worn in the pool. Wet and clingy.
(Yes, Mr MST thinks I'm completely batty with all of this)
Surely I'm not alone here?