It's the final postcard…. (How many of you just sang that and added the synthesized riff at the end? There is no need to deny it. We all did.)
So we arrived at the final games of Rugby World Cup 2019.   As I sit here in the QANTAS lounge waiting for my flight,  it seems like both weeks and only days ago that this adventure started. I always end up with the feeling that time has flown by, but also thinking "Thank god I am going home". (That might just be my liver talking….)
Now to the finals. The game that every team is working towards, and the one that, well, a lot of people are just not interested in.
Bronze Final – New Zealand v Wales
A lot of people think that this game is a waste of time. That nothing ever comes of it.  That neither of the teams want to play in it. So why bother going to watch?
Well, I will tell you why. Because these two teams are playing for pride. They came to the biggest rugby stage in the world and missed it by that much. Although, you could be forgiven for thinking that the All Blacks weren't taking it seriously when they made seven changes to their team. The Welsh also made nine changes but some of those were forced through injury.
The crowd was getting into the prematch entertainment and the countdown to the kick-off. The "vibe" seemed much better than what was reported the previous week. There was large sections of the crowd donned in black, which was good to see as those particular supporters sometimes give up and go home as soon as their team loses.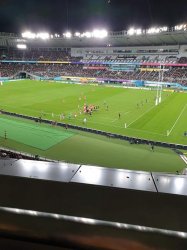 There was no funny business at the haka and the All Blacks showed some respect when they chose to try for a penalty goal at their first opportunity. Wales was playing with intent so this might have turned out to be a good game.
Other random thoughts :
If Wales could get their slow ball sorted, they would be dangerous. Having said that, it they had played like they did tonight last week,  they would probably have rolled the Bokke.
I have worked out why Bauden Barrett is so fast.  He has legs up to the wahzoo! One of his strides is about three times the length of a normal persons.
By the time we got into the second half,  the Welsh pack was starting to struggle. New Zealand gave them a good working over at times. Wales were learning that if you give the ABs an inch they will generally take seven points.
Wales gave it a crack, but in the end met an immovable force. So, although it was not the most polished performance I have see from our friends from across the ditch,  they did enough to get a different coloured bit of bling for the cabinet.
For those that missed the game despite having tickets, you actually missed a good game.
Final – England v South Africa.
The hotel was buzzing this morning with groups of English and South African supporters doing their best to stay calm.  The English were finding it extra hard as the team were staying at the same hotel.  Did you know that the English Rugby Union team travel with their own chef?  Things you learn when you strike up a conversation with a random stranger in the foyer. (I was chatting to his Dad.)
This buzz carried on to the ground with large amounts of white in the crowd. It was hard to tell just how much support the Springbok had as the dark green blended into the black of the New Zealanders who had stuck around. The remaining Welsh tended stand out in their red just as much as the Aussies in our gold.


Once the game kicked off and the first casualty of the game left the field before the three minute mark I suddenly realized that I was just as highly strung as those supporters who's teams were playing.  Who was I backing? Not quite sure….. that is just the vibe of a Rubgy World Cup Final.
So, the random thoughts I had:
England was intent on running the ball. But, the Springbok defence was up to it and once Kyle Sinkler went off the pommie pack started to struggle.
Can anyone tell me why Eddie Jones had a great big red target in the middle of his chest?  I know there was talk about his job being under the pump, but I would have thought that making the final would have been some protection.  (Yes, I know it was part of the comms system. Just where my mind went.)
Now, the next few comments may or may not be related:
I think I have had to many chu-hais.
Kitsoft is a much better scrumager than than the Beast.
The chariots struggling to make it around the ground.
Some random ramblings that are difficult to read.
Now, for the uninitiated, chu-hais are a fruit based cocktail, lemon being my choice, made with the Japanese spirit shochu. These are powerful (10% abv), but being the only alternative to Heineken, are generally a drink of choice if you are not really a confirmed beer drinker. They were also cheaper than the beer. Go figure. Please can we have a better beer sponsor! I am sure the only reason Heineken is still in business is that every four years a couple of million people are forced to drink it for six weeks.
Anyhow, all's well that ends well, and despite my misgivings, part of me is pleased that Bill again resides in the southern hemisphere. Well done South Africa and the Springbok. This just means that the Wallabies had better win in 2023 so that proper balance is restored.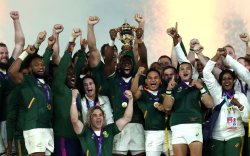 I started this on my way home from Japan, and am only how finishing it two days later. Sorry for being tardy, but this is what world cup campaigns are like. They take a bit of recovery, followed by a review, and the rebuilding begins.
I need, as usual, to say some thanks. Firstly, thanks to the the Japanese people for putting on a great show. Even though it didn't all run smoothly, the general public were supportive and put up with all the strange visitors mangling their language with good humor. And some of them have had more than their fair share to deal with curtersy of Typhoon Hagibis. Here's hoping they recover and are able to maintain their outstanding attitude to rugby and life in general.
For the pool games I was capably supported by two friends, Mel and Nick. They helped with logistics, helped review my random thoughts on the games, and made sure I at least lived to the quarter finals. Let's see if they will front up in 2023.
For the finals series I again placed myself in the hands of  We Love Rugby. As their name suggests, they facilitate a group of like minded people touring and watching rugby and generally having fun. The people on the ground do a great job in herding cats to keep us all on the same path. Thanks to Ryan and Ben from WLR and to Morgan Turinui and Drew Mitchell for their insight and assistance.
Finally, special thanks go to Benn Robinson. Being my tour leader for most of the last two weeks, he was responsible for making sure I (and others) made it to the end. In particular assisting me down way to many odd shaped stairs. I will launch my "Benn for Tour Leader of the year" soon. I assume you will all be supportive.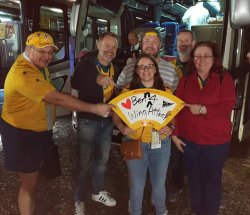 So. Good bye, and good luck. I file the postcards until the next world cup.