Gudday Cobbers,
Hello from Covid isolation! This thing's a bugger, isn't it? Ah well. Ce sera sera.
On the weekend just passed I happened to be out and about in country NSW, and by mix of design and accident I found myself at yet another rugby oval where they had a commemorative day, a bit of a reunion for an 80s premiership side and a ladies day all at once. As such the day's proceedings between Wagga Waratahs and Wagga Ag College at the Charles Sturt University campus for the COL Cup (commemorating Andy "Col" Stanham) was a fantastic day out. In the day's proceedings, so many country rugby themes showed through: the crowd was a raucous healthy few hundred, the beers were cold, the BBQ was stacked while the salad was short, the sun was out and all was good in the world. In fact it was all so good-naturedly 'rugby' that, when the Waratahs 3rds were looking to be a little short on numbers, a few of the Aggies who otherwise may not've got a game 'did the rugby thing' and joined the Waratahs lads to make up the numbers. And thus, while the play especially in the lower grades may have lacked a little finesse, it was certainly a full display of all that is grand about country rugby. It was rawboned and more than 'direct' enough to be good value. And there was no malice and only the occasional bit of expected 'gamesmanship' to keep the referees on their toes.
For the sake of the ledger, the lower grades of 3rds and 2nds saw the chocolates go to Aggies. 3rds was 2 tries to 1 to Aggies if I recall (with no conversions, as 3rd grade should be) while 2nds was a close finish at 31-27, also to the green and gold of Ag College. Frankly, the College youth and numbers shone through. However the women's was 29-12 to the Waratahs and ultimately 1st Grade went 22-21 to Waratahs as well. And so Waratahs retained the COL cup for another year.
However, with Mother's Day pending, my thoughts were attuned to matters of family. And to that point, on the field in the titanic 3rd grade struggle, Waratahs had three members from the same family. With their mother watching on the sideline, two brothers and a nephew made up the 3rd grade Waratah front row with the elder brother being now well into his 60s, the younger being closer to 50 than any other number and the nephew rating as a comparative pup being in his mid 20s. Against the Ag Students who would rank anyone the other side of 25 as a 'pensioner', they certainly made for an incongruous sight. However, I'd quietly suggest their age belied their nous and sheer hard-headed belligerence as these old boys weren't wearing coloured shorts.   
And so while the occasional chipper young Agricultural student sought to make some sort of semi-intelligent wisecrack about the 'geriatrics', it was interesting to note such comments certainly didn't come from the opposing Aggies front row who had to contend with the 'old buggers', nor subsequently anyone else after they had the good fortune (or otherwise) to get an up close and personal with the old fellas at any point. For those two brothers have been charging about together on fields in NSW and the ACT, in a manner that has been variously described as 'vigorous', 'enthusiastic' and 'robust' since the early 1990s. So it was great to see those lads out there, charging about, especially as one day it'll happen no more.
But that little byline of siblings and families charging about rugby paddocks near and far is not unique. It is repeated on rugby grounds all over the planet. And to that end, I thought to try and dredge up some to mention. Now, I'm going to acknowledge, but then stay away from the big names. We've all heard of them. Today, I'm going to try and find a few more obscure instances of where mother would have stood by, proud of her brood.
With that in mind, I acknowledge the following well-known gaggles of siblings:
Firstly, we have the Samoan Tuilagi Collective of Alesana, Anitelea, Freddie, Henry, Sanele, and Manu Tuilagi. They are simply awesome.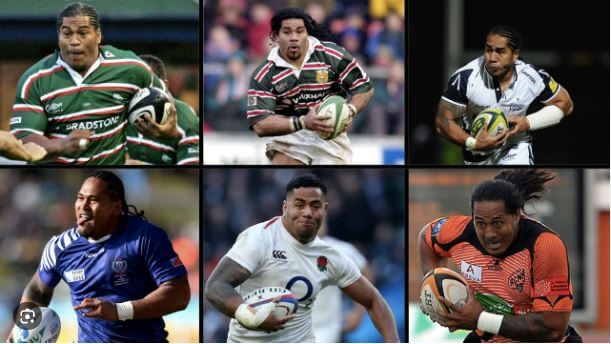 In terms of Australia's most known gaggles of brothers:
Obviously the Ella brothers of Mark, Glen and Gary.
Anthony and Daniel Herbert
Saia, Anthony and Colby Fainga'a
And a special mention goes to the McLean family: Doug McLean, Sr. was the father of Doug McLean, Jr., Bill McLean, and Jack McLean. These three were all uncles of Jeff McLean and Paul McLean. Bill's son Peter McLean has also represented Australia.
And as I'm here, I'll give a nod to our cuzzy bros from over the ditch:
Beauden, Kane, Blake, Scott, and Jordie Barrett
Robin and Zinzan Brooke
Ben and Owen Franks
Hosea and Rico Gear
Colin and Stanley Meads
Alan and Gary Whetton
Julian and Ardie Savea
George, Luke, and Sam Whitelock with a fourth brother Adam representing New Zealand at rugby sevens
But I'm always interested in the more obscure than the famous, so here's a small collection of those you may never have heard of:
On 12 April 2014 there were five brothers who all played for Slovenia against Bulgaria in the European Nations Cup Division Two match. Archie, Jack, Frank, George and Max Skofic hold the world record for the most brothers onfield for an international with the brothers capping the day with a 43-17 win. George snagged himself a pie while Frank kicked a conversion.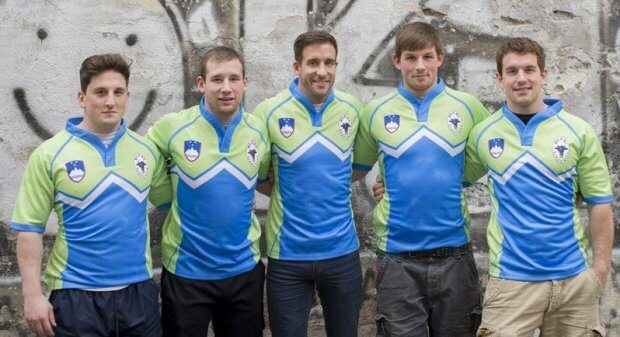 Matching that count are the five Tapea sisters who turned out for Papakura women's side in April of this year. Shannon, Queenie, Jodi, Atawhai and Kelly were pretty much the side's back line as they played (and lost) to North Shore in the Coleman Shield opener.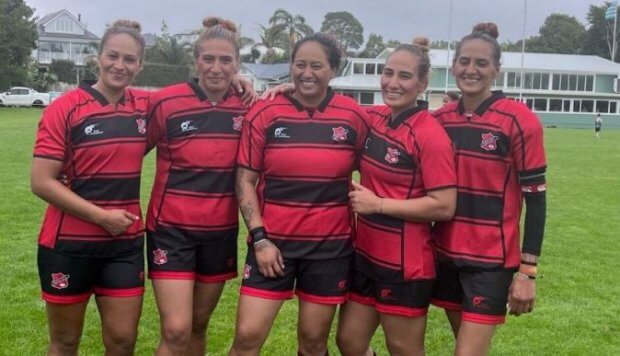 In June 2019, there were six Rees brothers (including one who made the trip over from the US for the event) who turned out for Crawley RFC versus Seaford in the London 3 South East competition.
But I think the cake has been taken by the Ireland family of Heaton Moor in the Stockport area of north west England (see the banner/headline pic). On 30 May 2022, the Heaton Moor 3rd XV saw dad of 15 Mike Ireland play his retirement match accompanied by seven sons Luke, Sam, Dan, Stephen, Joel, Matthew and Tom. On the sidelines, quietly bursting with pride, was the remaining daughters and wife Donna (mum to the veritable army of 15) who, when prodded for what she thought she may be doing next Saturday now that Mike's retirement had come, she only replied "I'll be burning some boots."
Nutta's Super Selection:
Usual rules. But it was nice to see some fresh faces put themselves forward.
James Slipper – dominant, creative and reliable.
Connal McInerney – OK, he's in a dominant pack, but Connal played a cracker.
Allan Alaalatoa – just keeps truckin'.
Josh Canham – had a monster game and was in everything.
Trevor Hosea – good to see him back and finding form.
Liam Wright – a proper backrow silent assassin. Great to see him back
Richard Hardwick – played an absolute ripper of a game. Was the Scum best player I thought.
Pete Samu – just all class.
Jake Gordon – had an outstanding match.
Carter Gordon – was I the only one who gasped at his leg injury?
Corey Toole – a tough one given some defensive lapses. But there's no substitute for speed. And that chip & chase try…
Lalakai Foketi – was playing really effectively until his premature exit.
Len Ikitau – just keeps getting better.
Mark Nawaqanitawase – big, strong, scores, what's NOT to like?
Tom Wright – starting to own the jersey.
Matt Faessler – steadied the Qld ship effectively. We now have options at 2 beside Fainga'a.
Matt Gibbon – he reminds me of Toby Smith; you won't miss him until he's not there.
Rhys van Nek – developing into a proper props' prop.
Jed Holloway – like Liam Wright, a proper graft assassin.
Seru Uru – someone bottle that guys work-rate.
Tate McDermott – had a blinder.
James O'Conner – some really astute touches. Turning into fine wine.
Andrew Kellaway – he's just so smart in his play.
I feel a bit embarrassed I haven't selected a single Force player in that group. But while some had good games such as Michael Wells and Manasa Mataele was playing very well before his early exit, and Max Burey having another good game in his second straight run, none of them were so strong as to dislodge the others I thought. But tell me if you think I'm wrong.
Player of the Week:
The Australian Steelers Wheelchair Rugby team will contest the 2023 Asia Oceania Wheelchair Rugby Championships next month in Tokyo, where victory will secure direct qualification to the Paris 2024 Paralympic Games. They all get a nod in my book.
And certainly a nod must go to Victorian Rugby Referees Association – VRRA Green Shirt Referees, Theo and Caleb from Moorabbin Rams Rugby Football Club, who after debuting only some 2 weeks ago were on the hallowed turf of AAMI Park on Sunday to officiate the half-time activities. We need refs.
But for this week, the gong goes to Wallaroos captain Shannon Parry who only today has announced that she'll retire from international rugby following next Saturday's test match against Fijiana. In what can only be described as an exceptional career, the flanker has starred in both the 7s and 15s game since making her debut in 2010 Women's Rugby World Cup match against Wales. Among a raft of other accolades, she'll retire with an Olympic gold medal from Rio, a Commonwealth silver from Brisbane and, including the Fijiana match, 20 caps to her name.
So there you have it from Covid isolation. Have a think and tell us about the collections of brothers or similar that you have played with or against in the comments below.