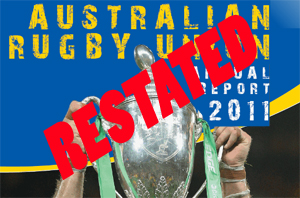 I thought that the revelation in my article on Friday that the ARU's reported 'Corporate' expenditure had almost doubled between 2010 and 2012 was bad enough, but prodded by some insightful questioning on that article I've looked deeper into the ARU's 2012 annual report and found something which I believe is far more troubling – that the awful truth about 'Corporate' expenditure actually gets worse.
Expenditure that the ARU now classifies as 'Corporate' expenditure was previously not disclosed as expenditure at all but instead had been deducted from revenue – in effect giving the appearance that 'Corporate' expenditure was almost half what it really was. Accordingly, until the restatement last week fo the 2011 accoutns, the public could not have been aware of this expenditure. We now know from a 'restatement' of the 2011 results revealed last week in the ARU's 2012 annual report that $7.1 million of expenditure was treated this way in 2011. We cannot confirm if this practice occurred in previous years.
The restatement of the 2011 results is not in itself the issue – obviously it would be better not to have to amend what was reported previously but it does happen in the corporate world as well – it is what has now been disclosed that is the issue.
To get to the bottom of it all there's a lot of detail to get through, so below is a quick summary – read on for details and more revelations.
Until the publication of the 2012 annual report last week the ARU has been disclosing that 'Corporate' expenditure had been running at an average of $8.3 million annually between 2009 and 2011;
Specifically the ARU previously reported 'Corporate' expenditure in 2011 of $7.611 million but last week it revealed that in 2011 it was actually $14.707 million – 93% higher than previously disclosed;
'Corporate' expenditure increased again in 2012 to $16.911 million – 95% above the level of expenditure in this area the ARU disclosed in 2010;
The extra $7.1 million in 'Corporate' expenditure in 2011 was undisclosed expenditure that was deducted from revenue and neither the amount or the treatment of this expenditure was previously disclosed;
The ARU have provided nothing more than a line or two commenting on this situation that don't really provide any explanation, just a clue as to what happened
There is much more to this story than just the increase in costs and accordingly, what was originally planned to be part two of this report  – a comparison with the financials of the NZRFU – will become part three and be published tomorrow.
Read on now though for more detail behind this intriguing situation or click here to see the questions this raises for the ARU.