I do not want to be seen as a rock-spider now coming out to have a dig at New Zealand while they are lying down. In fact I will start presenting this analysis with a graphic that shows New Zealand still doing the basics so well: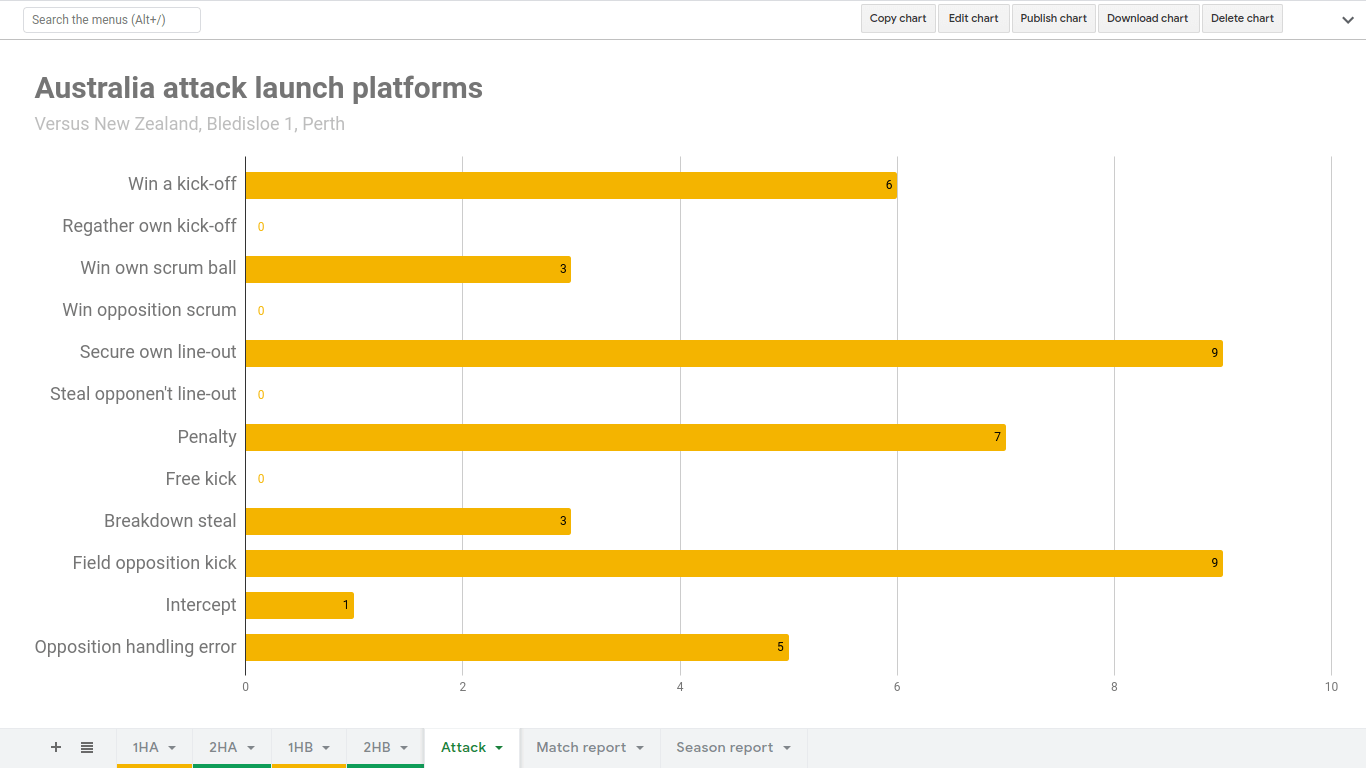 The above shows how Australia launched their 43 attack raids. While New Zealand conceded too many handling errors, turnovers and even an intercept, they did not give away a single controllable set-piece. They are still ruthless and still get those basics right!
Now cast your eye to the 'Field opposition kick' – a statistic which illustrates how happy New Zealand was to 'surrender' possession in return for territory/pressure. But to understand this strategy, let's also look at where they kicked to:
New Zealand kicked 5 times to our 50m area, and twice to our 22, while 2 of their scramble kicks awarded us an attack platform in their own 50. Again , the kiwis did not offer Australia any 'freeby' attack platforms in their own 22.
Australia would have only 2 line-outs, 2 penalties and 1 scrum set in New Zealand's 22. Amount of points scored from those platforms? 11 (2 penalty kicks and a try that was not converted.) This point to how ruthless Australia (finally) decided to be.
The scary part
So here comes the bad news for NZ fans. You often wonder if a team's attack is great or if the opponent's defence is shoddy. Considering that Australia lost the ball 12 times while on attack, or 26% of all the times they tried, their attack was not as accurate as many want to believe. So, this leaves only one explanation: New Zealand's defense was a bit Spongebobby.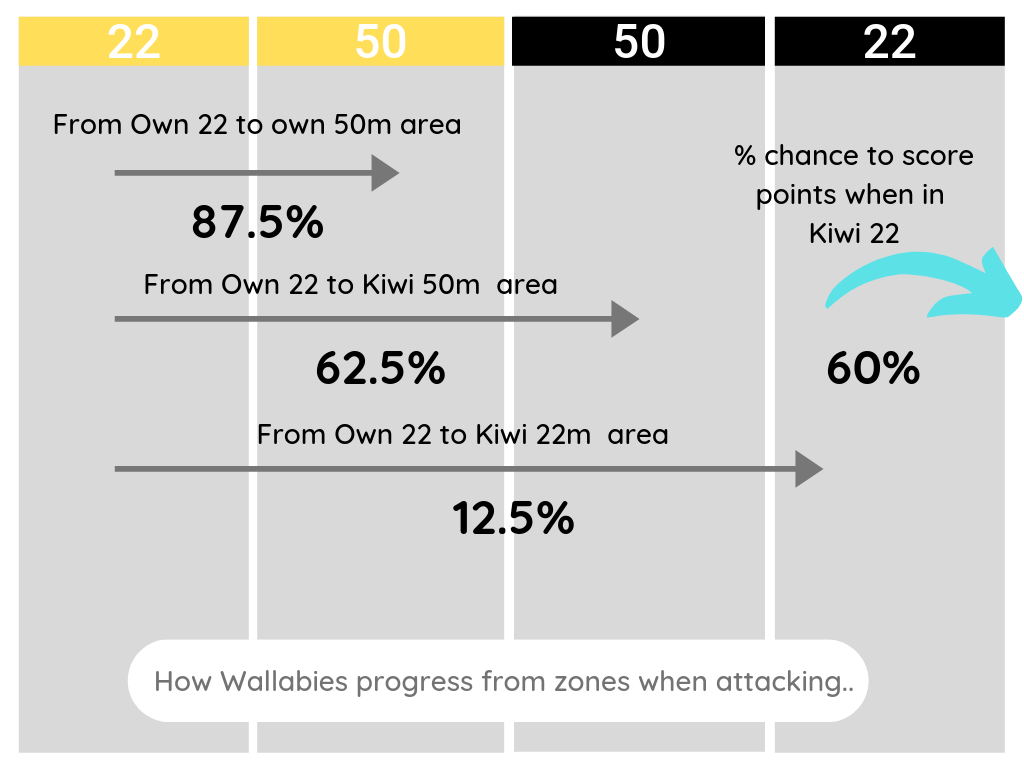 Australia escaped their own 22 a massive 87.5% of all times they had the opportunity to. A crazy 62 off percent they progressed into New Zealand's 50m area, and even made it into New Zealand's 22 once (12.5%)
Now consider this: You play the Kiwis and they force you to attack from your own 22 on 8 occasions. However 5 of the 8 times you get to motor all the way up to their own 50? This would be standard if Australia were playing Georgia or Romania, but New Zealand?
Eden park wont let Ozzie take a stroll in it.
Be it a tackling or a defense issue, we can expect the Kiwi's to improve the above stats in Auckland. So will Australia have the nous and the drive to crack the nut again? Data will tell.
Want to learn to generate analytics and help Brendon cover World Cup games alongside other aspiring analysts? Want to learn a new skills and start covering games for your state,club or schools team? Pop Brendon a mail: bren@rugbycology.com to find out more!