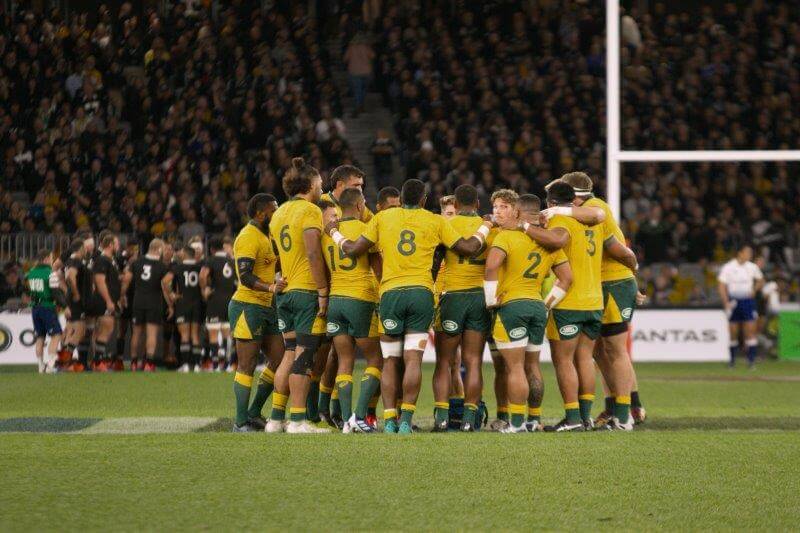 Wednesday's Rugby News reveals the punishment for Scott Barrett, examines how Shaun Berne has re-sparked the Wallaby backline, tracks David Pocock's race to be fit and explores the quest for the next Sevens superstar.
---
Barrett Banned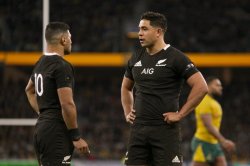 All Blacks lock Scott Barrett has been suspended for three weeks after his shoulder charge on Wallabies captain Michael Hooper during the All Blacks loss last Saturday at Optus Stadium.
Barrett pleaded guilty to the offence under Law 9:16, which states that a player must not charge or knock down an opponent without attempting to grasp the player.
"Having conducted a detailed review of all the available evidence, including all camera angles and additional evidence, including submissions from his legal representative, Stephen Cottrell, the Foul Play Review Committee upheld the Red Card," Foul Play Review Committee Chairman Adam Casselden said.
The committee deemed that the action warranted a six-week suspension, however, it was reduced in half due to good behaviour and his immediate admittance of guilt.
"With respect to sanction the Foul Play Review Committee deemed the act of foul play merited a mid-range entry point of 6 weeks due to World Rugby instructions that dictate any incident of foul play which results in contact with the head and/or neck must start at a mid-range level," Casselden said.
"However, taking into account mitigating factors including the Player's exemplary judicial record, his expressed remorse and the fact the Player has pleaded guilty at the first available opportunity, the Foul Play Review Committee reduced the suspension to 3 weeks."
The nature of the international schedule will mean that Barrett will only miss Saturday clash at Eden Park, serving the rest of the sentence in the Mitre Ten Cup.
"The Foul Play Review Committee adjourned the hearing to seek more evidence regarding the Player's proposed schedule of matches. Upon reconvening the Foul Play Review Committee was presented with extensive evidence demonstrating the Player's intended playing schedule," he said.
"The player is therefore suspended for 3 weeks, up to and including Sunday 1 September 2019."
His suspension has raised questions regarding his tackling technique, with teammate Dane Coles admitting that he needs to shake the habit of leading with his shoulder.
"Nothing against Scooter, but he's got a little bit of a habit of using that shoulder," Coles said.
"We know if you're going to hit their head, you're going to get done.
"We need to develop a technique to make sure we don't hit them in the head and then we'll be sweet."
Burne-ing Bealeive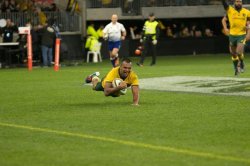 Wallabies fullback Kurtley Beale has praised the influence that new attack coach Shaun Berne has had over the Wallaby backline.
Despite being in the role for a brief period, Beale believes that Burne has created a flexible structure that encourages players to back their instincts and play what they see in front of them.
"Shaun Berne…just allows everyone to bring their own little spice to the attack," Beale said.
"It's great to have players with that type of ammunition, the creativity, it's very important at Test-match level and it's great to be able to keep linking with different guys, whoever's been swapped in and out at training."
The new combination of playmakers of Beale, Lealiifano and O'Connor (AKA the new-ish kids on the BLOC) allowed the side to play with a different approach and express their flair.
"Berney's been great for us as a backline and for the side in attack, he's brought a new edge to the game, a different approach, which is always refreshing," Beale revealed.
"And he's just allowing the guys to go out there and just be themselves and providing a structure that allows us to do that."
This was especially seen with the inclusion of O'Connor, with the inclusion of a third playmaker providing a different threat and more unpredicatbility, according to Beale.
"It just brought a few different dynamics to how we want to play the game," he said.
"(O'Connor and Lealiifano are) two players (with) a lot of unpredictability about their game and they certainly brought that on the weekend.
"It just gives the defence a different threat whenever you see them around the park."
With a date with Eden Park looming (where rugby dreams for those not in black go to die), Beale admitted that they still had a mountain to climb if they wished to reclaim the Bledisloe, however, he was optimistic about their chances.
"It's always a huge challenge for any team going to Auckland. For the Wallabies, it's the pinnacle of Test matches, I think," Beale reaffirmed.
"It's one of the toughest environments to play at but there's a lot of guys who have experienced that and we understand that we've got to go to an extra level going into the weekend and it's an exciting challenge for everyone."
Touch and Po(cock)
Wallabies flanker David Pocock has continued increasing his output at training as he continues to present his case for a recall.
However, it has been revealed that the selection panel will only consider Pocock if he is deemed capable of playing the full 80 minutes.
Whilst it's unlikely that he would be rushed back into the starting line-up considering his extensive lay-off and the positive showing from the likes of Hooper, Naisarani and Salakaia Loto, a spot on the bench replacing Rebels forward Luke Jones seems to be his likely pathway for return.
However, Director of Rugby Scott Johnson has emphatically declared that he will only be considered if they have full confidence that he could enter the match in the early stages in case of an injury/card.
"The coaching team and selectors are taking advice from the medical staff," Johnson told the Fox Rugby Podcast.
"He's trained the last week or so and has improved, he's doing more running.
"He's out on the paddock in the next hour or so and after that we, as selectors, will meet and determine his fitness and availability for this weekend.
"So he's integral to what we're trying to achieve and he's important to the makeup of the squad.
"At the same time it's not worth…he will be picked when we think he's fit to play 80 minutes of rugby."
The discussion around where it fits into the line-up has seemed to be spoiled by Johnson, who seemed to reject the reunion of 'Pooper' as their style of play continues to shift towards the set-pieces.
"We haven't had to get there yet," Johnson said regarding where he fits into the side.
"We're looking at combinations in the back row, it's an integral part of the game.
"There are more lineouts these days so it's important that we have a competitive lineout."
Lock and Brumbies team-mate Rory Arnold backed his return to the Wallaby fold, believing that it would be hard to leave him out if he was ruled fit.
"I'm not a coach or anything and I'm not too sure how far away he is, but to have someone like him around the team – he's world-class," Arnold said.
Dreaming big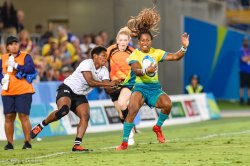 After months of scouting the country for Australia's best young First Nations athletes, 133 budding Rugby Sevens hopes have been selected for a national talent camp with the hopes of finding the next big thing in rugby union.
Founded by former assistant coach Jarred Hodges, the Dream Big Time project has scouted some of the most remote parts of Australia in order to give them a shot at representing their country at the biggest stage of them all: the Olympics.
Hodges admits that the last three months of scouting and testing has been full of 'blood, sweat and tears', however, he reaffirmed that it was the best thing that he has ever undertaken.
"The best part for me was phoning 133 individuals to let them know they made the cut. They were so overwhelmed with happiness…some cried, others were speechless, and a few put the phone on loudspeaker so their family could hear the news," Hodges said.
"If you lift enough rocks, you'll find gold…It's about providing choice for our people who haven't always had a choice.
"What we've tried to do from the onset is increasing access and opportunity. Why should someone from Mutitjulu not have as much access and choice around sports as you do in Melbourne and Sydney?"
The chosen 46 women and 87 men will take part in the three-day camp in Sydney this month alongside coaches such as Glen Ella and Andrew Walker and established sevens players.
It will test their physical skills and decision-making ability, along with teaching lessons centring around the importance of leadership, recovery and nutrition.
Following the camp, two First Nations Sevens squads will be chosen to compete around the country, with Hodges hoping that multiple players will be picked up on full-time sevens contract with the goal of the 2024 Paris Olympics in mind.
However, Hodges believes that the program's purpose runs deeper than simply winning rugby matches, with the hopes that it can promote healthy and active lifestyles with their community.
"The selected players will work within their communities using rugby to increase health and fitness," he said.