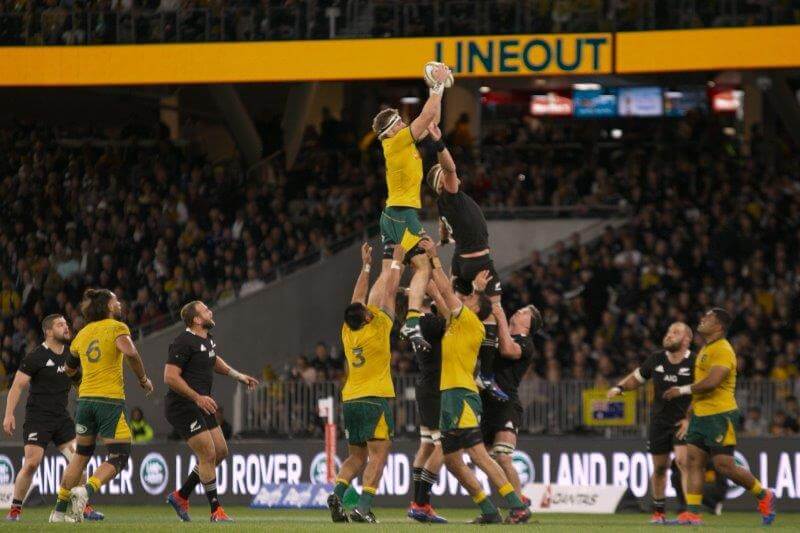 Thursday's Rugby News looks at an injury to a key Wallaby forward, SBW getting ready to take on Kerevi, a push for consistency at selection time from a pair of ex-Wallabies and the Melbourne Rising's side for the upcoming NRC season.
---
Bledisloe Blow
The Wallabies have been hit with an injury blow, with lock Rory Arnold in grave danger of missing Saturday's clash with the All Blacks at Eden Park.
Arnold hurt his hand during the 47-26 win last Saturday and had to be substituted after 55 minutes of the contest.
He did not train with the squad in Melbourne on Monday or Tuesday, with his hand still noticeable strapped and bandaged as they flew back from Perth.
With the World Cup just five weeks away, coach Michael Cheika and the selection panel are unlikely to risk further injury to the towering lock, who was one of Australia's best during the Rugby Championship.
Former Wallaby centre Morgan Turinui believes that Rebels lock Adam Coleman is the right man to step up and fill his big shoes.
"I didn't like the look of Rory Arnold's injury, I think his hand's not crash hot," Turinui said on the Rugby Ruckus podcast on Monday.
"I was actually on their flight yesterday (Sunday) back from Perth and he had it pretty heavily strapped and iced.
"Rory might be in trouble this week so they might need a second-rower…Coleman actually needs a run.
"Hopefully that's not too bad for Rory Arnold, but it might be the rest he needs.
"So that might actually work out OK. He is that good, you wouldn't mind putting him in a bit of cotton wool for the Wallabies at the moment anyway."
Coleman has been a mainstay of the Wallaby set-up over the past three years and he was eager to replicate the form that made him a regular starter last year.
"Seeing the boys perform last week [against Argentina in Brisbane] really gave me that itch to get back in the squad and fight for a gold jersey again," Coleman said.
Arnold is set to be joined on the sideline by flanker David Pocock, who is not expected to be risked for the contest, with the selectors still having concerns regarding his fragile body.
SBW ready for Samu
All Blacks centre Sonny Bill Williams is preparing to fight for his World Cup dream as he gets set to line up against the Wallabies and Samu Kerevi on Saturday night.
Williams is expected to replace injured outside centre Jack Goodhue, with the dual international looking to stamp his case after he was dropped for the initial All Blacks squad for the Bledisloe Cup series.
"You're always on trial and if you don't think you are, then you'll be slipping," said Williams.
"For myself, I need to be where my feet are and play my best footy because we've got four other world-class midfielders in the team. They want the same thing."
To earn his spot to Japan for his third World Cup campaign, he must tame the prodigious Samu Kerevi, who he described as one of the best in the world after his dominant Super Rugby and international season.
"Any team that plays a side that has a player like Samu in it (has to)," he believes.
"Just the way he's played all year, leading line breaks and tackle breaks throughout Super Rugby…he's one that we have to watch out for this weekend."
SBW has spent the last few weeks in provincial rugby for Counties, with the stint helping to re-calibrate his love for the sport.
"When you come into an environment like this; there's a lot of pressure and it's high stakes footy," Williams said.
"To go back there [to Counties], you can just enjoy being around the boys and playing with your mates.
"Obviously the [All Black] boys are hurting [after loss last weekend]…but we have to perk ourselves up and smile. For myself, that's what I'm about because I have got in that place where everything's serious – it's footy, footy, footy. And you lose the enjoyment aspect."
Going all in
Wallabies legends George Gregan and Andrew Slack have urged the selectors to reject the temptation to experiment and pick the best possible side for the second Bledisloe Cup match on Saturday.
Whilst he admits that the World Cup should be firmly on the radar, Gregan believes that the side must live in the moment and put everything into reclaiming the Bledisloe Cup.
"Of course you do – because it's now," he said.
"It's a very important match which you want to be trying to do your best in – which they will do. But you want to get the right result, which is a win.
"The World Cup is (important) too, there's no doubting that, but the World up's not this Saturday,
"(The Bledisloe) is a good one because it's hard to win. And they don't like to give it up and we don't want to give it up either.
"It's a big trophy and it means a lot to both countries. It's a special one to have but you've got to work really, really hard to get it."
Gregan has been working as an advisor with the halves, with the most-capped Wallaby halfback helping them get back to basics and work on their fundamentals.
"It's just fundamentals really, it's with halves, so it's 9s, 10s and playmakers and is just complementary to what we're doing with Shaun Berne and the coaching group," Gregan said.
"It's just a philosophy around nailing the fundamentals and everyone understanding what they're trying to do.
"It's not complicated but it's just reinforcing all those really important things that you do."
Slack agreed with Gregan's assessment, with the former Australian captain believing that selecting the same 23 would be crucial towards building confidence in the side.
"I think part of the good performance last week was that everybody who was selected earned their place and deserved to be there and I'm not sure that's always been the case," Slack said.
"I think when you've got a team where everybody can say, 'He deserves to be there', it builds confidence within the team.
"You know the bloke beside you is going to do their job so if we start fiddling and mucking around with selections again just to experiment, I think it's a backward step."
Arise Melbourne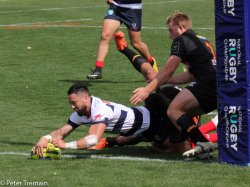 The first of the NRC squads have been named, with the Melbourne Rising announcing a 45-man squad for the upcoming competition.
The side is filled with local talent, with 23 players currently plying their trade in the Dewar Shield.
For those familiar with the competition, it will come as no surprise that the top three teams dominate the squad, with Melbourne Unicorns, Harlequins and Box Hill all having six players each.
The injection of local talent is complemented by a host of Rebel/Wallaby experiences, with players such as Matt Philip and Anaru Rangi boosting their aspirations for a maiden title.
Rebels GM of Professional Rugby Nick Ryan believes that the competition will provide players with a perfect opportunity to test themselves and put their hand up for a Super Rugby spot.
"One of the key aims of the NRC is to help bridge the pathway gap for players looking to make that jump from Club competitions to Super Rugby in Australia," Ryan said.
"Having this amount of Club players in our side will be a wonderful opportunity for not only the players but also for us, as we'll be in a great position to see who can mix it and match it against Super Rugby talent.
"It's also a wonderful opportunity for Rebels contracted players to maintain match-fitness in the Super Rugby offseason, so the whole competition is a real bonus for us."
The squad is as followed: Rodney Iona (Moorabbin), Taylor Acheson (Harlequins), Navarre Haisila (Power House), William Lewesi (Melbourne Unicorns), Justin Marsters (Harlequins), Ahmu Tuimalealiifano (Harlequins), Angus Cottrell, Richard Hardwick (Harlequins), Robert Leota (Melbourne Uni), Ola Tauelangi (Melbourne Uni), Katinali Tai (Harlequins), Pat Morrey (UQ), Joseva Tamani (Box Hill), Semisi Tupou, James So'oialo (Melbourne Unicorns), Isaiah Leota (Harlequins), Delai Moto (Box Hill), Reece Fuller (Melbourne Unicorns), Theo Strang (Sydney Uni), Anaru Rangi, Mahe Vailanu (Harlequins), Moli Sooaemalelagi (Sunnybank/Northern), Tetera Faulkner (Moorabbin), Matt Gibbon, Fereti Sa'aga, Esei Haangana (Melbourne Unicorns), Ross Haylett-Petty, Trevor Hosea (Harlequins ), Matthew Philip, Junior Uelese (Melbourne Uni), Vaauli Faamausili, Angus Arundel (Harlequins), Will Clift (Melbourne University), Noa Noa (Melbourne Unicorns ), George Noa (Melbourne Unicorns), Nailati Ukalele (Box Hill), Michael Moloney (Box Hill), Jermaine Ainsley, Lolohea Loco (Box Hill), Lloyd Johansson (Harlequins), Boyd Killingworth (Warringah), Matai Nairavu (Melbourne Unicorns), JP Sauni (Endeavour Hills), Ikapote Tupou (Unicorns ), Harry Potter (Sydney Uni/Hogwarts)