PENGUINS OUTLAST GUTSY ROOSTERS
Taroona Penguins were forced to the limit in posting an unconvincing 18-0 win over Eastern Suburbs Roosters at Rugby Park in Hobart on Saturday.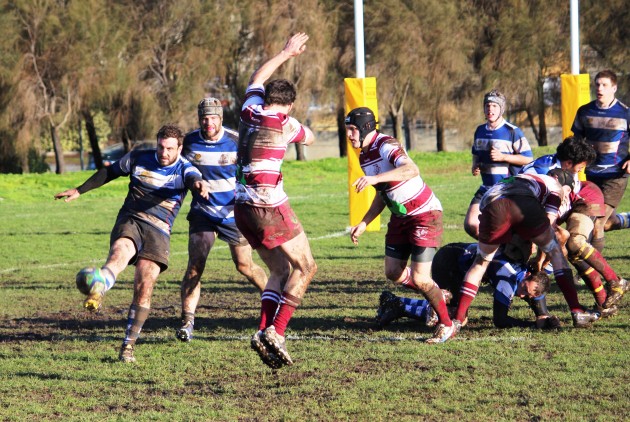 'Easts showed today that they really are a much improved outfit, both in belief and structure', said Taroona coach David Whyte, who recommended some changes in approach at half-time, when his side looked fortunate to lead 6-0. The Penguins showed their maturity by varying the point of attack and trusting the physical toll that the scrum had invested would bring dividends.
The Roosters were undoubtedly hampered by the loss of Daniel Reid and Ben Carrick in the first 10 minutes, the latter injury forcing a change of field but their feisty defence close to the breakdowns forced Taroona to kick for goal twice and limited any build-up in Easts' defensive zone. However 10 minutes into the second half, good scrum ball run down the blind by Brendan Adams produced the overlap and brought a 40 metre try to Rob Holmes.
The 11-0 lead seemed to be Taroona's lot as the Roosters responded with heavy attacking raids with big contribution from Phil Barry, Marc Whitfield and Chris Munns, but the final touch eluded them and shaky set-play focus ultimately relieved pressure on Taroona's line. Taroona's props Pat Garnham and Matt Brocklehurst relished inflicting scrum pressure that resulted from the ground conditions and Jeremy Climie executed telling tackles and attacking runs. The Penguins slipped the leash in the dying moments, being awarded a penalty try to complete the scoring after a fine break by Christo Le Grange.
Earlier at Rugby Park Burnie Emus were unlucky to be shaded 22-19 by a listless and fractured Hobart Harlequins. The Emus were limited to 13 at the start and 14 at the finish after a sojourn with 15 as latecomers arrived. Michael Grace, Brett Bentley, Rhys Weber and Travis Hill paid Quins scant respect all day and nearly engineered a victory against the odds as low body height in the collisions and willingness to run the ball from deep positions kept Harlequins under siege.
Quins welcomed solid contributions from newcomers Chris Newton and Peter Coney and good pressure from wing Michael Frost which saw them post a four-try winning effort. 'We were too soft up front', summed up Quins scrum-half Fale Atileo.
Launceston Bees pipped University Red Men 19-17 in an error-riddled match in fine but heavy conditions at Royal Park in Launceston, where the visitors conceded to a late try after leading 17-14. Dwayne Fox, Peter Campbell and Sam Rice led the way for Launceston. Saul Lopa, Duncan Watson and Luke Topfer showed out for University. 'The referee was pretty keen on yellow cards', commented University coach Rob Darcy.
Glenorchy Stags revived from trailing 10-7 at half-time to edge Australian Maritime College Vikings 26-10 in the late Royal Park match. Josh Dorahy and Dan Aualiitia were the Stags best as Glenorchy boosted second half scoring to escape with a bonus point victory to retain third standing.
The Hobart Lions were unable to muster a team to travel north to Devonport, giving the Devonport Bulls a week rest and the points to maintain their ladder position.
Round 15 results:
Taroona 18 def Eastern Suburbs 0
Harlequins 22 def Burnie 19
Launceston 19 def University 17
Glenorchy 26 def AMC Vikings 10
Hobart Lions forfeited to Devonport Bulls
Ladder after round 15:
| | | | | | | | | |
| --- | --- | --- | --- | --- | --- | --- | --- | --- |
| Team | W | D | L | F | A | BP | % | PTS |
| Harlequins | 12 | 1 | 1 | 483 | 242 | 11 | 199.59% | 65 |
| Taroona | 12 | 0 | 2 | 388 | 140 | 9 | 277.14% | 61 |
| Glenorchy | 9 | 0 | 5 | 390 | 275 | 11 | 141.82% | 51 |
| Devonport | 9 | 0 | 6 | 528 | 250 | 13 | 211.20% | 50 |
| Launceston | 7 | 0 | 7 | 302 | 251 | 9 | 120.32% | 41 |
| Eastern Suburbs | 6 | 0 | 8 | 288 | 358 | 5 | 80.45% | 29 |
| Hobart Lions | 5 | 1 | 8 | 240 | 350 | 6 | 68.57% | 28 |
| University | 4 | 0 | 10 | 301 | 434 | 8 | 69.35% | 24 |
| Burnie | 3 | 0 | 11 | 233 | 556 | 5 | 41.91% | 17 |
| AMC Vikings | 3 | 0 | 11 | 176 | 473 | 2 | 37.21% | 14 |