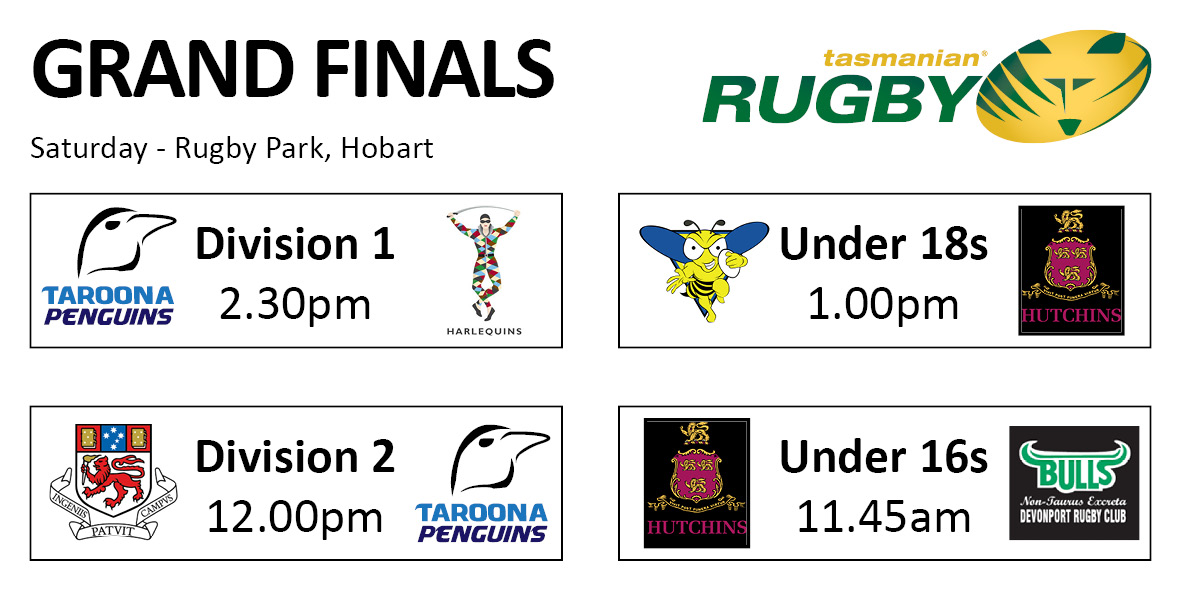 FRESH PENGUINS FAVOURED FOR REPEAT TITLE
Taroona Penguins enter Saturday's Tasmanian Rugby grand final at Rugby Park clear favourites to defend last year's premiership title at Hobart Harlequins expense, despite the teams being grouped together in the top three for most of the season.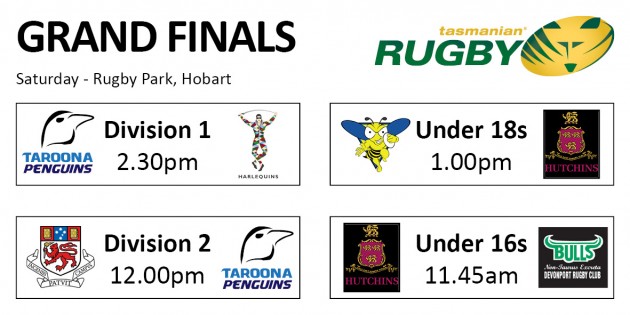 Neutral supporters will wish Quins well, not the least because of their courageous comeback to snatch last week's preliminary final and a dogged performance in last year's grand final despite being reduced to 14 players for over half the match. Harlequins will also be guaranteed to launch attacks from the merest chance, as evidenced by their 6 tries against Glenorchy and late raids in their previous encounter with the Penguins. After 100 torrid minutes against the Stags Quins had plenty of tired and bruised bodies but the focus on putting 2013 to rest was very evident.
Taroona will undoubtedly benefit from the week's rest, but have enviable depth in any event. Some players will have to deal with missing the cut to the final squad, but this will surely strengthen the resolve of those named. The set plays and patterns that underpin their strategic approach will have received plenty of attention in preparation and rustiness is not likely to feature. Flanker and skipper Rhys Watts, fly-half Christo Le Grange and centre Mikey Whyte will direct pressure on Quins by pressuring Harlequins clearing kicks, midfield defence and call on the pack to punish the opposing scrum and lineout.
Quins will stick to their free attacking style which thrives when not disrupted through conceding penalties taking shortcuts at the breakdown. They felt that the run of decisions placed them under additional pressure last week but a repeat could defy their undoubted courage. If the Quins scrum loses focus and wilts, Taroona's structure will thrive, so Jeff Altmann and skipper Sunia Ma'afu need to encourage all possible protection for Fale Atileo to set the backs away. Centre Sid Fielea finds space from turnover possession, so aggressive but onside defence can reap a dividend from any field position.
Taroona will aim to bring their more numerous supporters into the reckoning through early pressure and points – none of which will surprise Quins, who can draw satisfaction from denying any substantial lead, given their capacity to score late points. Harlequins have to focus on continuity of possession, not getting drawn into a set-piece battle and keeping their composure like they did in surviving last week. This match should be worthy of the occasion.
Earlier action features Taroona Penguins and University Red Men in Division 2 and firm favourites Launceston Bees against Hutchins School in the Under 18s. A strong Devonport Bulls squad meet Hutchins School in the Under 16s with the junior games commencing from 11.45 am.
Congratulations to Taroona Under 14s who won the Under 14 grand final earlier in the season. Their grand final was moved to accommodate the Tassie under 14 representative team participating in the nationals.
– Story credit Don Moor
Saturday 21 September
2.30 pm Taroona v Harlequins – Mens Division 1
1.00pm Launceston v Hutchins – Under 18
12.00 pm Taroona v University – Mens Division 2
11.45 am Devonport v Hutchins – Under 16