After a Wallaby win the night before and waking up to a perfect morning, the NRC in town with the Perth Spirit taking on Queensland Country – Sunday afternoon was taken care off.  The local under 17s comp final was the curtain raiser with West Scarborough beating Palmyra 26-17 – presentation was taking place while the warm-ups were starting.  By the looks of things the Spirit team were linking together and looking smooth. QLD Country was going through a number of handling drills across a wider set-up (but more of that to come).
Sitting on the hill with friends fairly close to the Fox Cameras and toward the front of 400-500 strong crowd, the teams jogged down and onto the field (which looked in perfect condition) Spirit led by young Campbell Cavanagh from the Wanneroo club.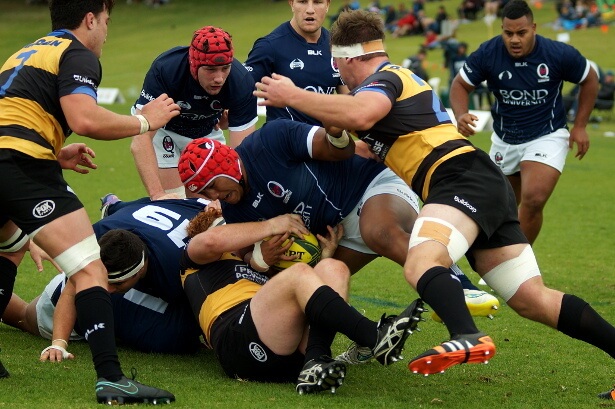 GAME SUMMARY:
Perth Spirit have added a bonus point win to their season tally by beating a more than game Queensland Country outfit, 66-36 in although high scoring, a very entertaining match.
THE MATCH:
The first passage of play had the Spirit right up in the face of the Country lads and that lasted only a couple minutes before Spirit inside centre Billy Meakes got his head badly knocked and went down very heavily ending his day very early.  QLD Country got their hands on the ball and swung the ball left and right while moving forward looking really exciting for a good 10 minutes with Issak Fines-Leleiwasa at scrum half changing the direction of play repeatedly.  A strong tackle on Duncan Paia-aua by Luke Morahan saved a certain try, with the resulting turnover being cleared up to just shy of the half way line.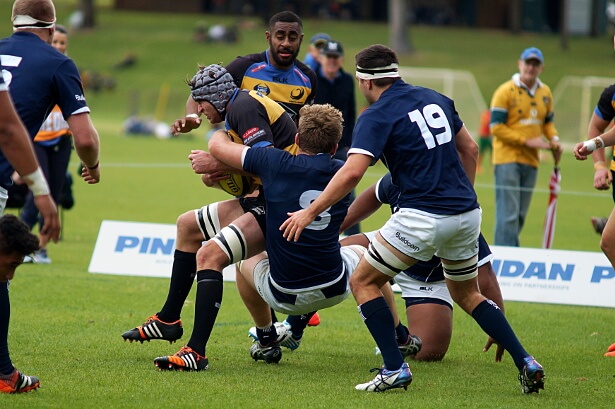 Huge attacking pressure by Country kept much of the play pinned up the Spirit end of the field – forgoing at least 2 kickable shots at the sticks to aim for corners.  After several waves of Country aiming some hard running at the line Kane Koteka, the Spirit 7, won a crucial steal. Everything was getting a bit frantic at this stage and the ball got spun wide in an attempt to run out of trouble from deep, but lost forward and Qld taking the scrum all of this within the first 15mins of the game and still 0-0.
Queensland Country having all the ball, pressing hard for the opening try, with centre pairing Duncan Paia'aua and Izaia Perese looking very dangerous themselves and getting the right wing Tyrone Lefau a fair amount of ball. Both Spirit wingers, Eric Vasukicakau from Cottesloe and Marcel Brache having to work very hard to stall the attack in the wider channels.
The forwards not wanting to be left out the opening paragraphs where giving each other a good hammering in broken play with both Izack Rodda and Phil Potgeiter putting in carries in the tight for Qld and the Spirit pack with Ross Haylett-Petty and Ben McCalman putting a good forwards defensive shift early on and Jono Lance
The opening 25 mins of the game giving Country plenty of confidence in possibly grabbing their first win for the season.
With roughly 15mins left in the first half and just in front of the Spirit 22, Ben Tapaui, who had come on for the injured Billy Meakes, put a huge kick up field, a poor return kick by the QLD full back Tom Banks put the Spirit in a strong field position for pretty much the first time in the half. A couple phases built and some last passes letting the Spirit down on their charge for the line.
A strong drive by Ben Tapaui got the Spirit to the line under the posts and Shambeckler Vui finished the try off, conversion successful 8-0 with 30mins gone in the game.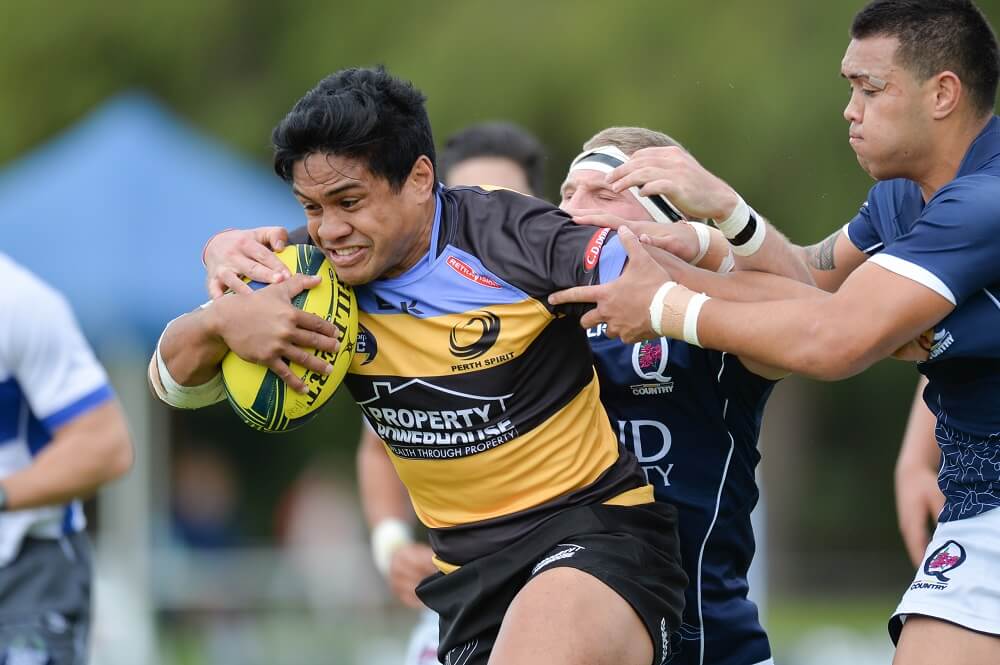 Qld Country still holding much of the possession and territory, what happened over the next 60 mins was extraordinary.
Tries from everywhere.
Luke Morahan with some individual magic, a shimmy, a chip, a chase, a great bounce and a Try 16-0.
Multiple breaks, but again some final passes letting both teams down, The Spirit absorbing the pressure with Jono Lance everywhere in defense and distributing the ball quickly in space or a huge clearing kick when needed.
This led to a lineout near the half way on the Country feed. Good defensive work got the Ben McCalman a half break and off load to Ben Tapuai who put a great kick up field himself forcing the Country player under pressure to carry the ball back over his tryline and win the Spirit a 5m scrum. The resulting try was scored by Ross Haylett-Petty his first of a brace. A wobbly conversion attempt  didn't add any extras. 22-0 with only a couple minutes to half time.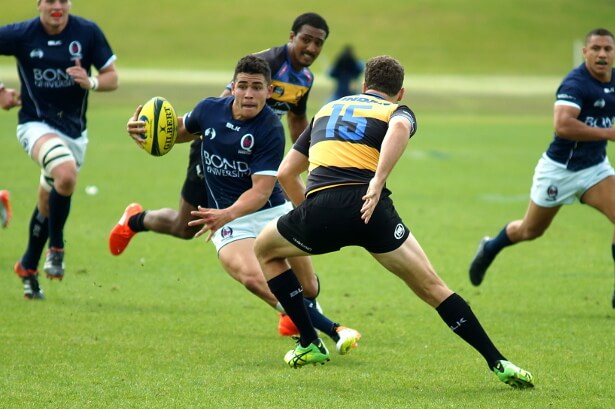 From the kick-off the gather came wide to in front of the camera, Ben Tapaui with a great gather and chip which Marcel looking for work on the other side of field caught the bounce over the Country defense, a quick flick inside to Eric Vasukicakau, an off load to Ben Tapaui, a show and go, an inside pass to a completed dive catch by Luke Morahan within metres of the line allowing the defense cover under the ball – 5m scrum to Spirit – TRY! 30-0 half time.
The air cannon came out again, and while that was going on Bill Pulver showed face on the side line for a couple minutes, and a number of Wallabies were seen in the crowd.
A number of substitutions for both sides started the second half and the game continued as it had left off with the Spirit scrum half scoring a very aware try also with a chip and chase off a penalty. 38-0 and the Perth fans loving it.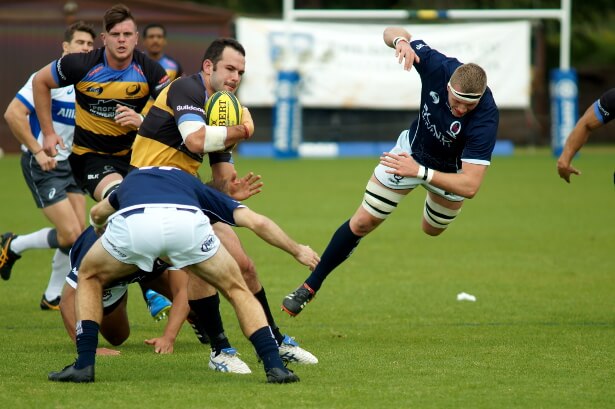 Qld Country started to look a little shellshocked as everything the Property Powerhouse Perth Spirit did worked, and worked beautifully. Fast passing, slick off loads, taking the line on – everything. A short inside ball from Jono Lance saw Marcel Brache slice through for a try a couple minutes later, duly converted 46-0. All one way traffic
But this is where Country fought back, stopping the flow of scoring and driving to the Spirit line. Repeated 1 meter drives and what seemed to be for repeated defensive infringements a Spirit Lock (Kieran Stringer) was carded.
The following 10 minutes was all QLD Country's, support running, offloads  – everything stuck, intercept picks – everything.
Replacement hooker, Feleti Kaitu'u, scored under a rumble of bodies, and intercept on the Country line by Duncan Paia'aua was a 14 point try and Tom Banks scoring off a wonderful support line which got the scores up to 46-22 – a very expensive yellow card.
It's about this stage where I got lost in the match and just enjoyed the spectacle for the next few minutes. The second half was brilliant to watch as the passing got faster, flatter and slicker, with tries a plenty, defenses still smashing the ball runners. If anything both teams a touch guilty of pushing the last passes when not needed, but it looked to be along the lines of enjoying the match and chancing the collective arms by all the players.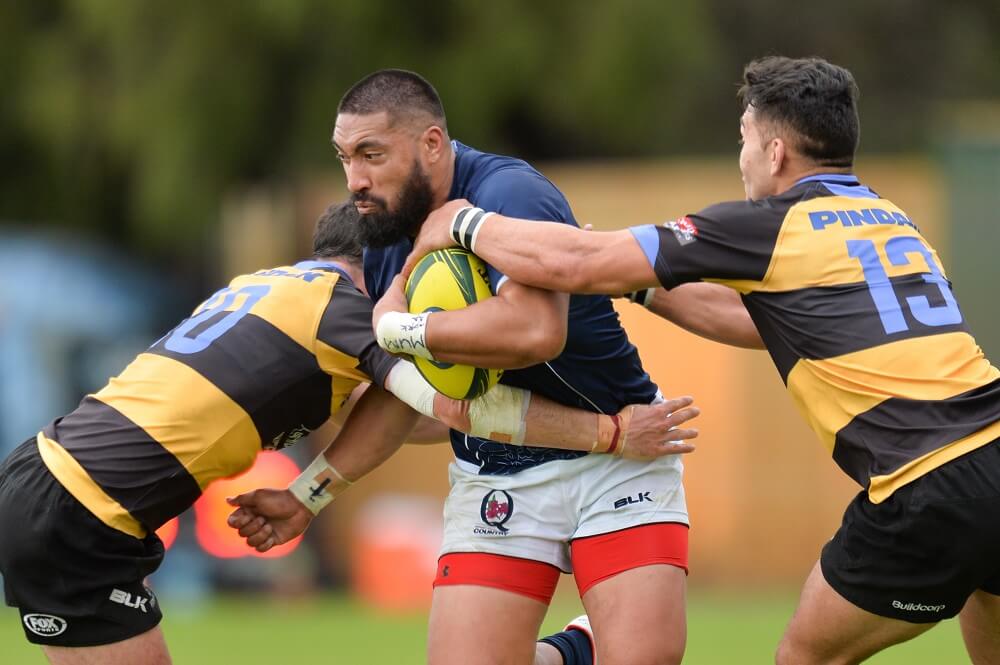 Morahan scored his second, Mack Mason scored his first and with a few minutes left on the clock Morahan scored his hatrick. An intercept by Ammon Matuato netted him a try before the final whistle, and with the clock ticking over the 80minute mark, Bond University had the last say for a final score of 66-36, with 36 points apiece being scored in the second half
The lineouts were are more evenly matched than the scrums and although Spirit winning a number of their feeds they were comprehensively bested at scrum time and is something to continually work on.
The Spirit attack clicking and taking us back to the latter half of the 2104 season with huge points tallies, slick passing, great support and fantastic tries being scored.
This was aided by several returning Force players in RHP, Ben McCalman and Marcel Brache who slotted in smoothly
If QLD Country can keep this team together they will grow into a scary prospect next season with plenty of young guys showing plenty of promise, and only for a second did the team look as if they had been stunned, but they never dropped their collective heads and the second half showed this. A great effort for the losing side.
The NRC has allowed for some brilliant games of rugby and this was no exception.
If any of the NRC key markers is to improve depth, find and display local talent and to play high paced intense game of rugby its ticking a lot of boxes
Well done All.
---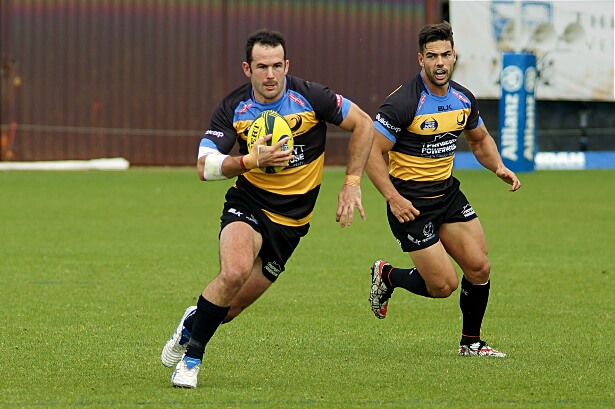 [one_third last="no"]
The Game Changer
Luke Morahan's shimmy, step, chip and chase. It opened the flood gates and the Spirit grabbed the next 25mins with both hands.[/one_third]
[one_third last="no"]
The G&GR MOTM
Again, Jono Lance on his now home track – took the ball to line, distributed smoothly, tackled superbly. – Same line as the first game of the season. If he is not taken on the spring tour there is no justice in the world. Luke Morohan was also very good with Luke Morahan, Ross Haylett-Petty, Kane Koteka, Ryan Louwrens and Ben Tapuai all having a great day at the office.  Izaia Perese was sensational for QLD Country. [/one_third]
[one_third last="yes"]
Oz Baabaa Watch
Tyone Leafu was full of running for QLD Country and dangerous at every touch.  For the Spirit, it was great to see their winger Eric Vasukicakau full of running as he has plenty of talent. [/one_third]
---
The Details
[one_half last="no"]
Perth: 66

Tries: 9
Morahan (3) 31', 70', 75'
R. Haylett-Petty (2) 38', 40'
Vui 26'
Louwrens 42'
Brache 46'
Matuauto 79'

Conv: 6
Lance (6/9) 27', 32', 40', 43', 47', 71'

Cards:
Stringer 55' – YC
[/one_half][one_half last="yes"]
Qld Country: 36

Tries: 5
Kaitu'u 56'
Paia'aua 59'
Cornelsen 62'
Mason 74'
Banks 82'


Conv: 3
Third (1/1) 57'
Mason (2/4) 63', 74'

Cards:
n/a
[/one_half]Referee: Jordan Way

Attendance: 500
Perth Spirit: 1. Laione Mulikihaamea, 2. Harry Scoble, 3. Shambeckler Vui, 4. Kieran Stringer, 5. Onehunga Havili, 6. Ross Haylett-Petty, 7. Kane Koteka, 8. Ben McCalman; 9. Ryan Louwrens, 10. Jono Lance (c), 11. Eric Vasukicakau, 12. Bill Meakes, 13. Ammon Matuauto, 14. Marcel Brache, 15. Luke Morahan. Reserves: 16. Tom Sheminant, 17. Mees Erasmus, 18. Jermaine Ainsley, 19. Russell Burgess, 20. Hadleigh May, 21. Ian Prior, 22. Ben Tapuai, 23. AJ Alatimu. Coach: Dwayne Nestor.

Queensland Country: 1. Sef Fa'agase, 2. Alex Casey, 3. Kirwan Sanday, 4. Izack Rodda, 5. Phil Potgieter, 6.Ted Postal, 7. Conor Mitchell (c), 8. Angus Scott-Young; 9. Isaak Fines-Leleiwasa, 10. Mitch Third, 11. Liam McNamara, 12. Duncan Paia'aua, 13. Izaia Perese, 14. Tyrone Lefau, 15. Tom Banks. Reserves: 16. Feleti Kaitu'u, 17. Ben Daley, 18. Taniela Tupou, 19. Maclean Jones, 20. Jack Cornelsen, 21. James Tuttle, 22. Mack Mason, 23. Tom Pincus. Coach: Toutai Kefu.