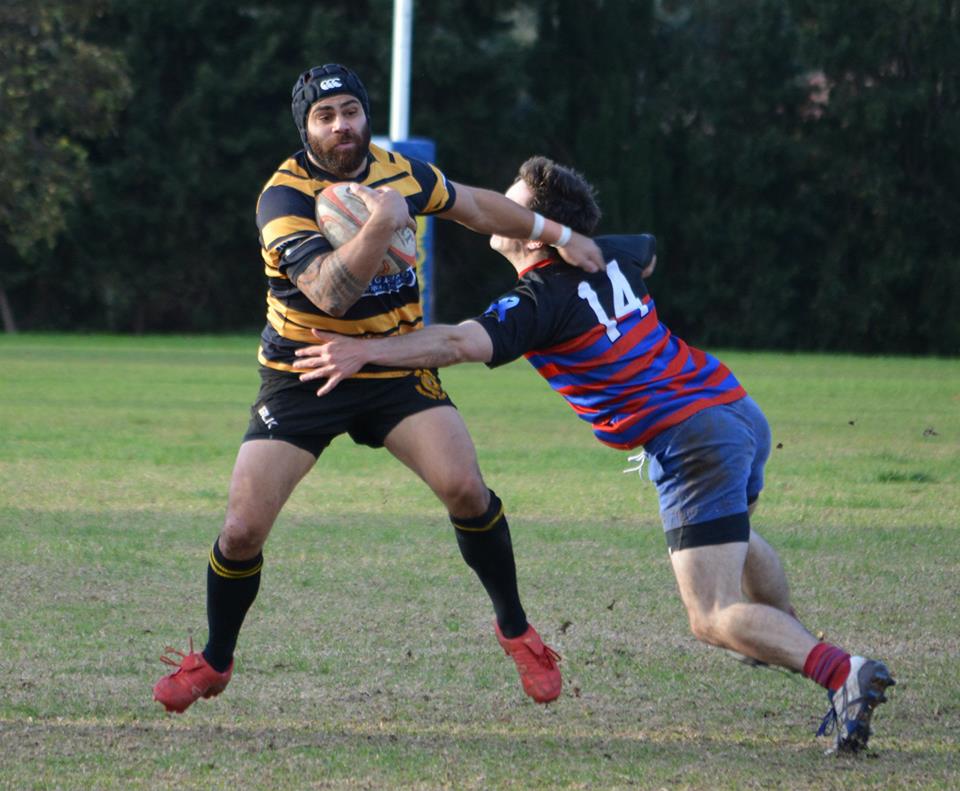 Round 10 – 29/06/2014
Match of the Week: Brighton 34 def Old Collegians 30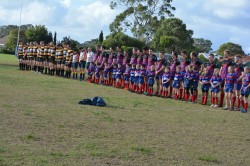 An absolute nail biter led the round this week, as Brighton snagged a desperate win against a previously undefeated, top of the table, and supremely confident Old Collegians side. To top it off, the boys from the bay won at Old Colls home ground, Tregenza Oval.
It was an awesome game for the fans of both sides, as the two teams went score for score for the majority of the match. With little to separate the clubs, this one seemed destined to go down to the wire. Teams were clinical, both were well structured and both were aggressive in what was quite a free flowing, high scoring match.
It was a massive forwards contest for much of the game, with second rower Andrew Brown leading the charge for Brighton, going head to head with Old Colls two-row George Bretag-Norris, as both big men tried to wrestle the momentum for their team. Similarly, Brighton's front-rower Jack Cook had an excellent game, with Old Colls Hooker Johnny Collins matching him step for thunderous step.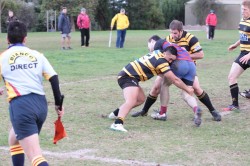 No matter how intense and entertaining the majority of the game was, it was the final ten minutes that were truly spectacular. With Brighton down to 14 men, and with Andrew Brown injured on the bench, things were looking desperate as they clung to their narrow 4-point lead.
Old Coll's continued pressure seemed sure to overwhelm the Brighton defence, but as time wore on, and College grew more desperate, Brighton showed a strong resilience reminiscent of years past as they continued to repel the Old Colls attack. Finally, inevitably, with full time past and on the games final play, Old Colls broke the Brighton line. But it was to no avail, with the ball held up and Brighton exuberant at how close they had come to defeat.
For Old Collegians, it was a stark reminder that they are not an invincible side, despite many writing off Brighton's chances before the kick. With that said, they are still the form team in the competition, and the ones to beat. With the split round next week, Old Colls will have a chance to reflect while Brighton takes on a strong Onkaparinga side.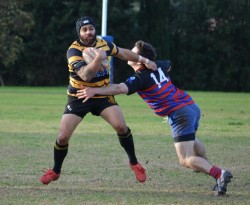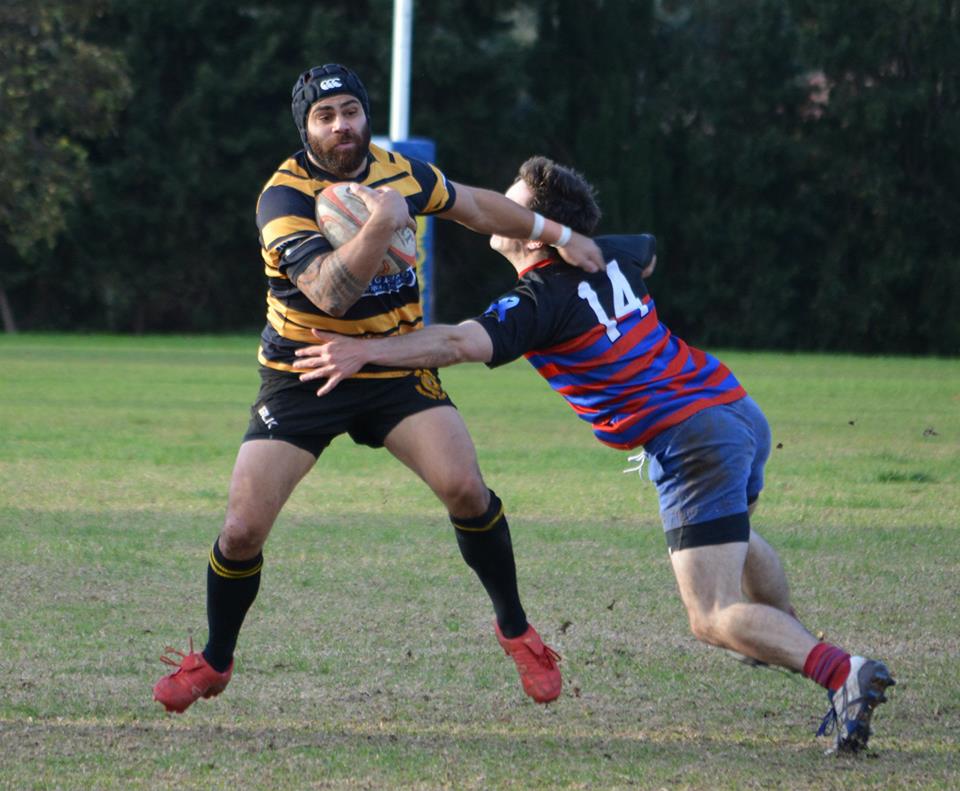 Other Matches:
Woodville 44 def Southern Suburbs 3                                            
Woodville have come away from the weekend with their first win of the season. Souths travelled to Gleneagles reserve in what ended up being quite a one sided match, despite a highly entertaining first half.
If you had only watched the first 15 minutes of the match, the end result would have been a huge surprise. Southern Suburbs were dominating both ball and possession, and were camped down by the Woodville line for much of it. Woodville on the other hand could barely touch it, with both penalties and handling errors to blame. Despite the sustained pressure however, Souths were only able to score on a penalty kick, before a runaway try to Woodville's Ryan Gatehouse broke the game open.
Fullback Ryan Gatehouse would end up with a hatrick by the end of this one, including a beautiful chip and chase at the end of a length of the field break started by John Finnie. In the second half, Woodville were able to dominate the ball, forcing countless turnover on a disjointed Souths team. Despite great effort and intent, from No9 Jayden Watene in particular, Souths weren't able to get back into this one.
Returning flanker Tim Hudson was huge for Woodville in this one, continually breaking the line and monstering the South's inside backs. Matty Connors was good, as was barnstorming prop Jason Starchenko in his return. For Souths, No9 Jayden Watene had a solid game, but a lack of ball control hurt the team overall.
Woodville will be keen to build on this, as despite this being their first game they are only two matches out of the top four in what is an increasingly tight finals race.
Onkaparinga 31 def Port Adelaide 5                            
Unfortunately I couldn't get to this game, and haven't heard any information about it.
Burnside 20 def Barossa Rams 0 (forfeit)
Second Grade
Old Collegians 38 def Brighton 7
Adelaide University 46 def Woodville 7
Onkaparinga 31 def Port Adelaide 0
Burnside 15 def Elizabeth 5
Women's Premier Grade
No games this week
Third Grade
Brighton 34 def Old Collegians 10
Southern Suburbs 40 def Adelaide University 5
Onkaparinga 38 def North Torrens7                            
Barossa Rams 27 def Burnside10            
Fourth Grade
Brighton 39 def Old Collegians   17
Onkaparinga 31 def Port Adelaide /North Torrens 5            
Elizabeth 50 def Burnside 0                                                    
Adelaide University (Bye)
Ladder
Coopers Premier Grade
  Team
P
W
D
L
F
A
Df
BP 4t
BP <7p
Pts
Old Collegians
10
9
0
1
469
117
352
9
1
46
Burnside
10
8
0
2
284
196
88
7
1
40
Onkaparinga
9
6
0
3
225
215
10
5
0
29
Brighton
9
5
0
4
222
201
21
5
1
26
Port Adelaide
10
4
0
6
193
257
-64
5
2
23
Southern Suburbs
10
4
0
6
128
272
-144
3
0
19
Woodville
10
3
0
7
186
249
-63
3
3
18
Barossa
10
0
0
10
0
200
-200
0
0
0

 P=Played   W=Wins   D=Draws   L=Losses   F=Points For   A=Points Against   Df=Points Difference   BP 4t=Four Tries   BP <7p=Close Losses   Pts=Ladder Points
Next Round's Fixtures
Next Round:  Round 11a (Split Round) – NO SENIOR & WOMENS GAMES – 5/07/2014
Home Team
v
Away Team
Location
Time
Onkaparinga
v
Brighton
Wilfred Taylor Reserve / 1
3:20pm