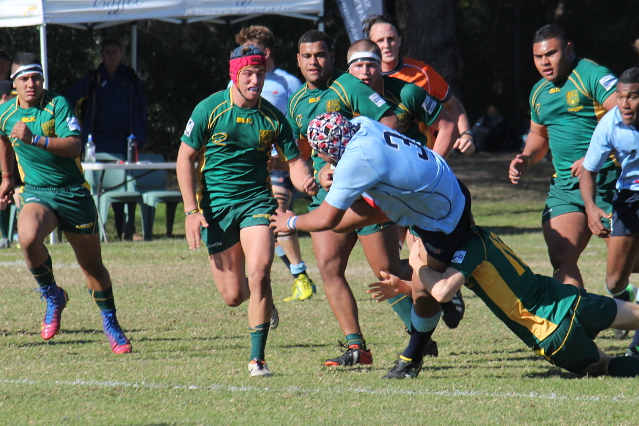 Day 2 of Division One was full of exciting rugby and the best game was a nail-biter.
The last game of the day was a cliffhanger; but even some of the other matches were interesting as the two top teams of the competition took some time to express their superiority and their opponents threatened to cause some cheek early..
NSW I  27 — Combined States  0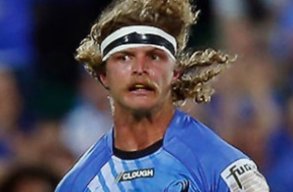 by "The Spaceman"
NSW were in an expansive frame of mind in Round 1 and scored some brilliant tries, but would they be able to duplicate that effort against a Combined States' team that lost by only two points in their first game and would be ready to rumble?
First half
The game was scrappy at the start, with handling errors from both sides halting any momentum gained. The forwards battled it out for a good portion of the first half, with neither team gaining the upper hand for any length of time. NSW's run-on flyhalf David  Smerdon  started the game well, with some zippy runs and good pill and Tom Piroddi (5), got his big tall frame through the first defender and gave good offloads on the inside and outside.
Halfback Harrison Goddard had a slow start to the game but when he got the ball off the base of the scrum around 60m out, he beat the CS outside backs, showed great pace and had his eyes set on the corner. However some great cover defence from Kirt Anthony (15) forced him to put a foot in touch to deny him a try he should've scored.
CS had a big and mobile forward pack that worked hard in the first half especially, with the ability to maintain possession through good phase play working wonders for their attack. NSW didn't seem to get in their face as much as I would've thought, however some good defence, in particular from Hugh Summerhayes (20), was good to see.
NSW seemed to lack structure, and I wasn't convinced on the pairing of Goddard and Smerdon. Henry Hutchinson (13) was screaming for the ball at stages of the match, and with big Luke Lough (12) on his inside it was clear that he might not see much pill.
It was a frustrated backline, especially when you knew the capabilities of Hutchinson, Connor Watson and Guy Porter at the back. That being said CS were doing a good job of slowing the ball down and controlling the game through big defensive sets.
George Lehman (6) for CS was everywhere in defence, especially around the ruck. When they did get the ball, CS had a bit of spark with 12 Ned Yeomans running great lines with good conviction but again, handling errors were killing both teams.
Finally, after some sustained pressure and phase play NSW finally scored to the left of the sticks.  The ball coming to Angus Crichton (8 but playing 6) who showed some good footwork to beat the first defender and then give a good pill out to no 8. Hugh Summerhayes who finished easily.
7-0 to NSW around 27 minutes in.
NSW had their tails up after that, and it didn't take long for Crichton to make an excellent linebreak (losing a boot in the process) and splitting the CS backline. Great offload to Lough who again got caught up in some good cover to offload back to Crichton. It was good interplay that eventually lead to a NSW penalty around 25 out.
At oranges NSW I had not hit their straps yet but they were in the lead 10-0.
Second half
NSW brought on the bench in the second half, as they anticipated that this might become a bit of a struggle to win. Big man Vunipola Fifita (3) and Ed Craig (2) made a difference in the  forwards.
Smerdon stayed on but not for long, after a poor kick that didn't do much he was promptly replaced by Connor O'Shea (10). Again handling was an issue for a long period of time, with the game being played mainly in the middle of the park.  There were more scrums than points at this stage.
Big Jack Bowditch came on for CS as well, beefing up their forward pack. Hutchinson made a great break down the right hand edge and followed it up with a great tackle. Crichton loomed at the back, and was dynamic on kick returns and when he came up into the line.
At times, the NSW back line crabbed across field too much, making it easy for the CS backs to shut it down. O'Shea made a difference however, straightening about 15m out and getting around a defender before offloading to Goddard who gave a good ball out to Porter who finished in the corner.
The score was 15-0 to NSW, 14 minutes into the half.
Crichton then grabbed the game by the scruff of the neck, seemingly shifting into top gear, making breaks and huge tackles left right and centre. An expansive run from the number 8 allowed an offload to Hutchinson who gave a great little pop ball to reserve lock Andrew Vatuvei who fought well in the tackle to crash over under the posts. Harry Emery (21) converted.
22-0, 22 minutes in.
Bowditch then left the field to go to the sin bin after a silly challenge on Lough who flew high for the ball off the kick off. Emery gave the game some flair in the  halfback position when he came from the bench.  Emery to O'Shea was the best halves combination of the match.
An expansive backline move that featured Emery, Hutchinson, Watson (14) and Fifita led to some good territory for NSW. Porter (15) then got the ball and seemed to simply run across field and then straighten through the defence and score an easy try.
NSW I 27-0 full time.
The Players
Combined States
Whilst it seemed that CS didn't feature all that much, they did have some good players out on the pitch.
3 Points: Ned Yeomans. (12)
Full package for an inside centre this kid: big and tall which allowed him to get through the line and offload quite easily. He ran hard and good lines all day, often making half break.
2 Points: George Lehman (6)
Contender for man of the match.  Was everywhere and worked hard for the full game. His defence was second to none, and he's a strong ball carrier. Outshone some of his NSW counterparts.
1 Point: 22, Hamish Stewart
Played flyhalf all match and had a great game, in both attack and defence. His kicking game was good and passing game was excellent. Wouldn't be surprise if he's selected higher.
Also 15, Kirt Anthony had a good game with the boot and showed some great vision and pace at times.
NSW I
3 Points: Angus Crichton (8)
What can I say—only that he was in a league of his own in the second half. The Scots boy played some explosive  footy and starting at outside centre for his school earlier in the season had obviously helped his skills.
2 Points: Henry Hutchinson (13)
Was quiet today but was influential when he got into open space. Showed class in the clutch moments and delivered with good offloads and ability to get around defenders. Frustrated in the first half as he just did not see that much ball.
1 Point: Guy Porter (15)
Nothing too special from Porter today, but then there was nothing really special about the NSW team. He was the embodiment of the team in a sense today: solid, calm and collected. Good game from the back.
Honourable mentions go to Summerhayes, Vatuvei and Fifita.
The wrap up
NSW I will have to start better in future games and especially against Queensland I should both teams progress the the finals.
Combined States had many opportunities to get into positions to score but their poor ball handling let them down repeatedly,  They have to improve in this area in their last pool game, against Victoria, or else they will get the pool wooden spoon.
See next page for another report