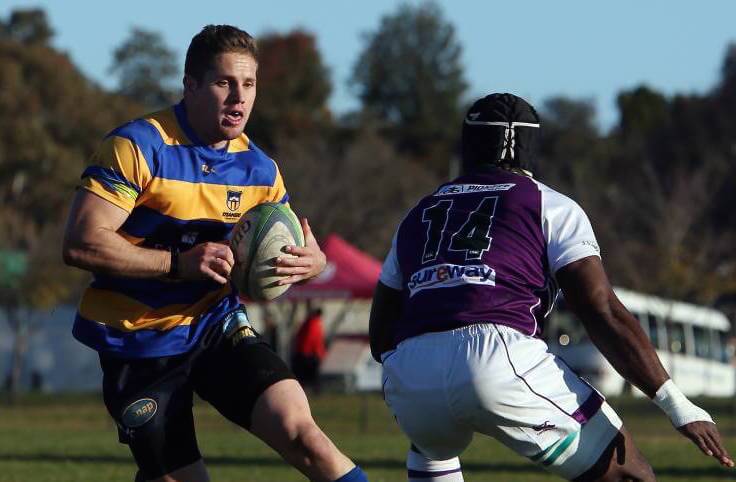 Two fierce old foes will add another chapter in their rich history in the SIRU Grand Final this year. Albury and Waratahs have been two of the stronger clubs in the zone in recent years which is evidenced by their almost constant inclusion on the big day, if it's not Waratahs playing, it's been Albury!
It's very difficult to ignore the dominance of the Albury Steamers on the SIRU Competition this season, they have finished the regular season with an average result of 52-12; only suffering the one loss to Leeton whilst their rep players (all 8 of them!) were away for the Brumbies Provincial match against NSW Country.
Waratahs have taken a different route where they kicked off the season with a first up loss to Albury followed by three wins on the trot, then suffered consecutive losses to Ag College, Leeton and Griffith which caused some crisis talks at the club. They eventually limped into the top 6 but only managed to post two wins in the top tier which was enough to finish 5th and make the finals.
Despite the impressive for and against that the Steamers possess, Waratahs did manage to get with 9 points of the Albury team in the final round of the regular season going down 32-23 and there is no doubt in their minds that Waratahs will need their defence to be rock solid against the Steamers on Grand Final Day.
Liam Krautz has been named in the starting lineup for the Steamers despite suffering a ruptured quadricep in training two weeks ago, this is a miraculous recovery if he makes the field. I wonder though if there are any mind games at play here from @CoachMickR as Krautz has been a key ingredient in the Steamers lineup for a number of seasons now and his role on GF Day may be pivotal for his team.
Waratahs have had plenty of game time recently, having taken the long way round to the GF by playing elimination football for the past three weeks. They do deserve a wrap for making the Grand Final from 5th position on the ladder as it's not an easy road to take to the big one, however will need to dig deep to get over their niggling injuries.
The strengths for Waratahs come through the likes of Dave Armstrong, Mick Gooden and Sam Palmer in the forwards providing structure and a platform for Euan Bonner, Tim Corcoran and Steve Tracey to attack from. In comparison to recent years, Waratahs are not a flashy team and they know that they need to work hard to grind out a win which could play into their favour.
Albury are undeniably strong in many aspects of their game, Richard Manion, James Olds and Lex Botha are clear standouts in the backline and are genuine attacking options from any area of the field. Their forwards are led by Ash Lefevre, Aaron MacDougall and Ryan Schischka who allow the Steamers to play to a fast recycle game plan which in turn provides space and opportunity for the Steamers backs to exploit.
There are some seasoned campaigners in both teams who obviously provide direction for their teams; however it is worth noting that the younger players in each team like Sam Allen (Steamers) and Steve Tracey (Waratahs) are both club juniors to have risen through the ranks which is a positive for both clubs. Both these guys are livewire players and really provide spark to their teams, if either of them get the chance to show a clean pair of heels, shut the gate.
Waratahs and Albury are two clubs that have definitely set the bar for the SIRU competition in recent years and there is no love lost between them, I'm looking forward to what will be a physical game of rugby which always makes for a cracking Grand Final!
#SIRU2015 Grand Final kicks off on Saturday at 3:45pm at Conolly Rugby Park, Wagga Wagga
Referee: Paul Dean
Albury Steamers: 1. Aaran MacDougall, 2. Tom Boyle, 3. Tyron Fagan 4. Dan Cottrell, 5. Dave Coyle, 6. Ryan Schischka, 7. Liam Krautz, 8. Ash Lefevre, 9. Tom Wilmore, 10. Blake Le Cornu, 11. Sam Allen, 12. Richard Manion ©, 13. Lex Botha, 14. Hugh Erwin, 15. James Olds, Coach. Mick Raynes
Wagga Waratahs: 1. Mick Gooden, 2. Jock Munro, 3. James Daley, 4. Joe Mullany, 5. Matt Meggison, 6. Hugh Palmer ©, 7. Sam Palmer, 8. Dave Armstrong, 9. Euan Bonner, 10. Matt Binks, 11. Morgan Jones, 12. Tim Corcoran, 13. Guy McAlister, 14. Richie Lamont, 15. Steve Tracey, Coach. Will Mitchell