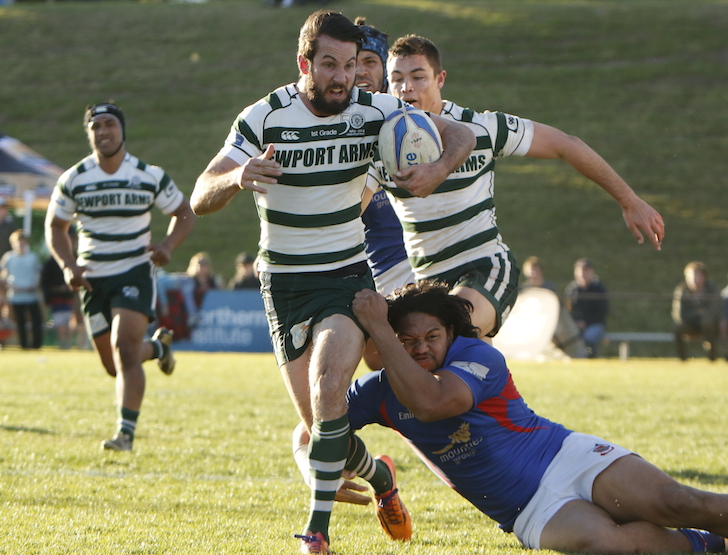 The Warringah Rats have come out on top in the battle of the beaches, turning on some of their best attacking rugby to overcome arch rival Manly by 43-34.
With the Bayfield Cup on offer and a 4000-strong home crowd behind them, the Rats yesterday inflicted the Marlins' second defeat of the season, running in five tries to secure a bonus-point win.
Steering the ship for the Rats was flyhalf Hamish Angus, who made countless tackles and contributed significantly with the boot, finishing the match with a personal tally of 18 points.
After last week's 50-18 drubbing at the hands of the Rebels, the Rats lifted their game, thriving off the strong home support and relishing the chance to take on Northern Beaches rivals the Marlins. "We knew Manly were the form team in the comp, so we knew we had to take it to them," said Angus.  "Coming off the back of last week's loss, it's so pleasing to see a big turnout and the boys really rally behind each other and rise to the occasion."
The 2012 Catchpole Medal winner, Angus believes hard work gave them the edge needed to pull off one of their best wins to date.
"Last week we really fell short at the breakdown and one-on-one tackles.  That is something we have worked really hard on this week to fix and I believe it paid dividends today."
The giant Manly pack was contained by the Rats' tactical game plan to tire them out. "They have a big pack and if we didn't play smart and run them around they would have kept coming all day. It was important for us to play to our strengths," finished Angus.
"It's so thrilling to see so many fans turn out for the Bayfield Cup," said Angus, after Rat fans turned out in their thousands to cheer their team home.  "The juniors love it and we are really trying to build a strong community here at the club. I'm absolutely stoked to get the win."
Despite being on the losing side, Manly hooker Dave Porecki was in the thick of things, producing some memorable runs and bruising tackles to help ensure his side took home a bonus point at least. "Coming to Rat Park and basically getting flogged is never a good feeling," admitted Porecki.
"Too many times we tried to play fancy instead of settling into our structures and really using our big mobile pack that we have. We need to bounce back and find our feet."
It was the Marlins who got the scoreboard ticking, with Dane Chisholm kicking a penalty goal to give his side the early advantage. But Brad Dixon fought his way through some questionable defence to hit back, with Angus' conversion taking Warringah to a 7-3 lead. A second Chisholm three-pointer was ruled out as Angus slotting one of his own to restore the lead, and with 10 minutes to play, the Marlins' ill-discipline allowed Angus to slot another six points to send the home side into the break with a comfortable lead.
Rats' centre Michael Adams showcased some classy footwork and slick ball running to squeeze through a gap and send his side further ahead, before Manly responded with two quick tries set up a cracking finish.  Soon after scoring machine Harry Bergelin notched up yet another five points, fullback Shaun Treweek's absolute thriller looked to have put his side right back in it.  But far from losing confidence, the Rats hit back with a try-of-the-season contender of their own, which finished with the awesome Adams bagging his second try of the day.
Rats coach Haig Sare got good value from him bench, with prolific try-scorer Harry Jones taking an intercept and racing 40 metres to score with his first touch. Manly skipper Greg Peterson hit back, using his giant frame to good effect to barge through the defence and touch down to close the gap to 38-27, but a clever grubber kick, followed by a spirited chase, gave rampaging back rower Sam Ward the Rats' fifth try and secured the win, whilst a late consolation try to Pete Squires ensured Manly didn't leave empty-handed.
Although the remain in third place overall, the win sees the Rats close the gap on league-leaders Manly from 13 to nine points, with second-placed Eastwood now within reach just four points ahead.
Warringah 43 (Michael Adams 2, Sam Ward, Brad Dixon, Harry Jones tries; Hamish Angus 3 cons, 4 pens) d Manly 34 (Greg Peterson, Harry Bergelin, Shaun Treweek, Pete Squires tries; Dane Chisholm 4 cons, 2 pens) at Pittwater Rugby Park.
The Students continued their run of form, recording an impressive 38-point win over Parramatta. The Two Blues showed some very positive signs but just could not hold it with last year's champions.
Sydney University 64 (S Quinn 2, H Dessens 2, J McMahon 2, T Boidin, D Hickey, H Clunies-Ross, J Stewart tries; D Kelly 7 cons) d Parramatta 26 (C Nay 3, E Olmstead tries; T Woods 3 cons) at Merrylands RSL Rugby Park.
The Rebels notched up the half century for the second time in as many weeks with a 21-point crushing over Norths. Captain Jed Holloway can be pleased with the team's performance, as the Rebels seem to be coming good as the business end of the season approaches.  With over 100 points racked up, both teams finished with bonus points.
Southern Districts 62 (A Pakalani 2, A Latunipulu 2, M Carbone, J Holloway, P Asquith, J Brown, B Connolly, J Holman tries; B Volavola 6 cons) d Northern Suburbs 41 (D Carroll 2, A Woods, S Comoni, R Woolf tries; C Tulloch 5 cons, 2 pens) at Forshaw Rugby Park.
The Pirates have impressed in their win over Eastern Suburbs, earning an 18-point win at Concord Oval. The Beasties really took it to the monstrous West Harbour pack but simply could not stop them rolling forward.
West Harbour 49 (J Brooks 3, R Sidey, U O'Sullivan, T Mua, H Seavula, C Masson tries; S Vakarau 2 cons, A Seavula con, S Vakarau pen) d Eastern Suburbs 31 (B Johnston, M Fakava, A King, A LaVin, B Willis tries; W Percival 3 cons) at Concord Oval.
Randwick finished strongly to snatch a late victory from Gordon at Coogee Oval. The Galloping Greens broke the hearts of the few travelling Gordon fans, after the Highlanders looked home and dry before having victory snatched from their grasp in the dying minutes.
Randwick 33 (T Goodbody 2, T Connor, E Ford, N Roye tries; D Horwitz con, 2 pens) d Gordon 31 (S Ala 2, J Dempsey, T Matthews, X McCoy tries; H Carmichael 2 cons) at Coogee Oval.
Eastwood showed their class with a 36-point disposal of Penrith at T.G Millner. The win sees the second-placed Woods sit just five competition points behind front runner Manly.
Eastwood 65 (Pen Try, M McDougall 2, J Gillespie, H Roach, H Perrett, J Grant, T Hill, B Batger, S Proctor tries; B Batger 6 cons, pen) d Penrith 29 (A Brown, 3 S Pusi'aki Fifita tries; R Mate 3 cons, pen) at TG Millner.
For all your live updates and team news follow us on Facebook and on Twitter. You can also get all the highlights and previews from our match of the round at our YouTube Channel.
Magners Shute Shield ladder (after 16 rounds)
  Team
P
W
D
L
F
A
Df
BP 4t
BP <7p
BP
Pts
Manly
16
14
0
2
634
276
358
13
1
14
70
Eastwood
16
13
0
3
630
390
240
12
1
13
65
Warringah
16
13
0
3
496
422
74
9
0
9
61
Sydney University
16
11
1
4
589
341
248
10
2
12
58
Southern Districts
16
9
0
7
483
448
35
8
2
10
46
Randwick
16
7
1
8
349
416
-67
4
4
8
38
West Harbour
16
7
0
9
493
492
1
9
1
10
38
Parramatta
16
6
0
10
438
533
-95
10
2
12
36
Eastern Suburbs
16
5
0
11
339
501
-162
5
2
7
27
Gordon
16
5
0
11
340
524
-184
4
1
5
25
Northern Suburbs
16
4
0
12
370
517
-147
6
3
9
25
Penrith
16
1
0
15
411
712
-301
10
2
12
16
 P=Played   W=Wins   D=Draws   L=Losses   F=Points For   A=Points Against   Df=Points Difference   BP 4t=Four Tries   BP <7p=Close Losses   BP=Total Bonus Points   Pts=Ladder Points