Queensland Premier Rugby, round six ended in some seemingly predictable results but it was exciting nevertheless.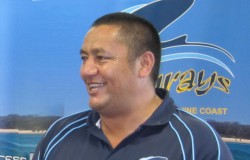 Brothers overcame muddy conditions to manage a commanding 58-12 win over the Sunshine Coast at Crosby Park. The Brethren demonstrated their attacking flair from the onset, scoring three tries in the first ten minutes of the game.
Sunshine Coast coach John Rangihuna was disappointed by his team's start to the game "we played terribly in the first twenty minutes and that basically set us up for the rest of the game".
Reacting to Brothers' strong start, the Stingrays' Mathew Macaulay scored a try off the boot of a team mate. Halfback Cameron Mead tried to follow suit by attempting a runaway try but a slight fumble was intercepted by Brothers' Damon Murphy.
The end of the first half saw an improvement in the Sunshine Coast's defence and the Brethren found it difficult to gain ground during this time.
Rangihuna said "we played our best rugby in the second part of the first half but we just couldn't maintain that.
"We have quite a few injuries and the conditions weren't great but there's no excuse for us to lose by 50 points."
The Brethren's Michael Bond had a good game by showcasing his speed work and scoring two tries.
Damon Murphy also had a characteristically good game, scoring a try and providing a chip kick to set up one of the final tries of the match.
Brothers capitalised on a lag in the Stingrays' defence in the final twenty minutes by scoring four easy tries.
Brothers coach Matt Kaye said "They proved to be tough opponents in parts but we reacted well. We've got a tough few weeks coming up so it was good to get the bonus point."
Brothers remain undefeated so far this season, although the next three weeks will prove to be challenging – they're coming up against competition heavyweights GPS, Easts and Uni.
Other Results
Sunnybank redeemed themselves after losing to Easts last week, defeating Wests 36-9.
Uni got a bonus point win after defeating Norths 60-24.
The teams from the coasts struggled this weekend the Gold Coast went down 42-0 against Easts.
After leading just 5-0 at half time, GPS beat Souths 24-14 at their annual Ladies Day and remain just one point behind Brothers on the ladder.
For a full list of results, the ladder and full match reports from the weekend's game go to Redsrugby.com.au
To all who battled the rain and mud this weekend at club rugby, good on you -it wasn't the best weekend for it but we're clearly seeing now who the heavyweights of the competition are.