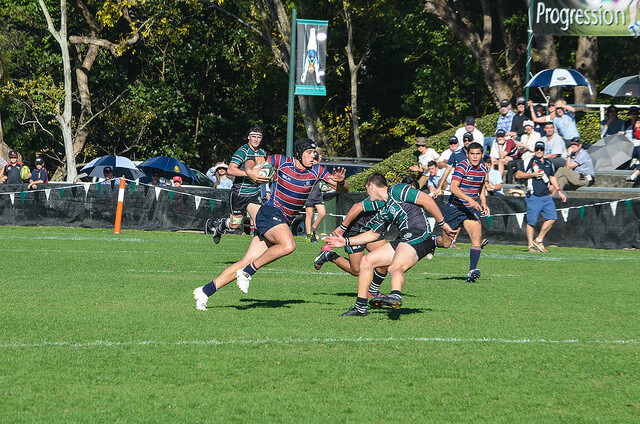 Welcome to Green and Gold Rugby's preview of round five of the Queensland GPS First XV Rugby season.
We're officially at the halfway point this, and Nudgee and Southport are right back on top of the competition – it is firmly theirs to lose. As much as things change, they always stay the same.
Sniffing at their heels are Churchie, who sit alone on one win.
In a crowded middle tier BBC, TGS, GT and BSHS have all dropped two games early in the season, effectively ruling them out of contention.
Bringing up the rear are the State's two oldest schools – Ipswich and Brisbane Grammar.
If you've missed coverage from earlier rounds, or simply want a recap to guide your thinking when looking to tip:
Click here for round one's match reports and video highlights
Click here for round two's match reports and video highlights
Click here for round three's match reports and video highlights
Click here for round four's match reports and video highlights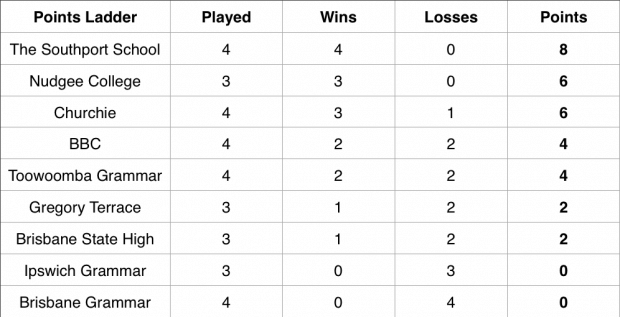 GAGR Writers
No-one saw Toowoomba Grammar coming down the range and knocking off Churchie for the first upset of the season.
However, we all saw Nudgee defending their house, Southport overwhelming Ipswich, and State High winning their first game against an undersized BGS First XV.
That is, all except TheKing.
With a last minute change of heart delivering him to BBC's camp, and blind Old Boy passion picking BGS over BSHS, TheKing ended his 12 match tipping streak with a disgraceful 1/4, dropping him to bottom place in our writers comp.
 1. WarrenWobble (14/16, 87%)
2. HJ Nelson (13/16, 81%)
 = Getwithme (13/16, 81%)
4. TheKing (12/16, 75%)*
From the Crowd
HighCutBoots and Red Black also failed to pick up on Toowoomba Grammar upsetting Churchie, dropping their first match of the season. They remain tied at the top of the table.
Congratulations to HappyToChat – the only 4/4 tipper this round, jumping up to sixth on the ladder.
Well done to SamoanNo8 for being the only other tipper to pick Toowoomba, sitting at 19th overall.
Join the official GPS Rugby First XV tipping competition here:  Official Green & Gold Rugby GPS tipping competition
To join, enter the competition number 10448, and password: greenandgoldrugby
---
Game of the Round: Churchie at Nudgee College
WarrenWobble: Nudgee were at another level last week but the question is can they keep it up and do it again?
The Blue & White supporters will be cockier than Shane Warne after 4 viagras at the strippers and the noise coming out of that timber grandstand will reach decibels not heard before if they chalk up a win on Saturday.
Churchie will want to have things sorted to be any hope and if they ride out to Boondall in their Climate Controlled Range Rovers looking for a nice little game of Rugger and a cup of tea they will get pummeled. Nudgee by 16
TheKing: Nudgee's captain Reece Hewat summed up last week to me in one phrase – "We've found our rhythm."
I'm inclined to agree. If Nudgee can produce that same level of performance Churchie are going to have no chance.
I'm looking forward to the lineout battle between Australian Schoolboy locks Reece Hewat, playing No.8 today and Harry Hockings for Churchie – the latter of whom stands at over 200 cm.
Churchie rely on their front row to do a lot of work around the pitch , and so do Nudgee – there should be plenty of big collisions out there.
Nudgee will win because of their ability to force mistakes and then ruthlessly punish them, all the while defending with accuracy and intent. Nudgee by 12
HJ Nelson: The 2013 premiers vs the 2014 premiers, in a match that will have a big bearing on the 2015 premiership. Churchie need to win to stay in the race, but I can't see it happening. NC with too many good players. NC by 14
Getwithme: 
---
Gregory Terrace at Ipswich Grammar
WarrenWobble: OK so the trip to the beach didn't quite go to plan for the Switchers last week, but they did have a nice swim between flags on the way home.
Terrace saw off the boys from the badlands and they'll be hoping that any winning momentum is good momentum.
Logic would tell you that Terrace have the smarts to win this, but Ippy really do have some talent in their team and I can see this going down to the wire.
Both teams were belted by TSS and coupled with the fact that the Red Black are making the trip to the coal mine this could be tighter than a nuns nasty. Ipswich by 2
TheKing: Toss of a coin here. I'm going to back Terrace with the knowledge they get back starting halves Reuben Wall and Isaac Lucas (the fourth of those Lucas brothers), but Ipswich should start as favourites today, especially at home. I'm still taking GT by 8
HJ Nelson: Evenly matched. Both had similar performances against TSS. Very competitive in the first half, didn't tackle in the second. GT showed more in attack, should get the win away from home. GT by 7
Getwithme: 
---
Brisbane State High at BBC
WarrenWobble: Both ends of the roller coaster here. BBC recovering from a 20 plus pounding by the Boondall Bears and State High coming from the dizzy heights of a win over the Blue Light Blue last week.
BBC will be more pissed off than Mark Geyer with a bull ant bite on his left nut. With premiership aspirations well and truly ditched – another loss this season and the kilt supporters will be asking serious questions of each other.
High will have a crack early but I think Ngamanu and friends might just have too much hole-finding firepower in the end. BBC by 19
TheKing: BBC will be on the rebound and come out with the fury of a thousand suns after blowing their best chance at a Premiership in years.
State High won't be able to match that. BBC by 28
HJ Nelson: According to eye-witness reports BBC were dreadful last week. And BSHS got the monkey off the back with a win against BGS. However, I think this will motivate BBC to bounce back at home, and they should be too good. BBC by 10
Getwithme: 
---
Brisbane Grammar at Toowoomba Grammar
WarrenWobble: This is not going to end well for the boys in the Blue I'm afraid. Toowoomba will be fired up and choco-block full of angry pills on the red dirt.
They are a very good team and have real shot at third place if Churchie and BBC fall over.
That will be enough to motivate the mountain men to get a big score here.
Grammar will have to wait another year to chalk up a win, but I'm sure the bus will stop at the Gatton Maccas for a soft serve on the way back home, that'll make the trip worth it. Toowoomba by 26
TheKing: Toowoomba's team this year is probably their best since 2012 when Marcus Vanzati (Brisbane City), Phil Potgieter (Queensland Country), Jordan Drew (Brisbane Broncos) and Jonah Placid (Melbourne Rebels) were running around for the school.
Brisbane Grammar have always struggled against Toowoomba as the two sides are almost polar-opposites. Toowoomba are brawny, Brisbane are brainy.
BGS will score a try or maybe two, miss a conversion and kick two penalties, and concede five. Toowoomba's 10-12 combination will score a try each, at least.
Toowoomba will be 23-points too brawny. 
HJ Nelson: Toowoomba with be full of confidence after a good win over Churchie. BGS will be dreading the trip up the range. Stewart (10) will take control of this match, after the big forwards do their thing. TGS by 20+
Getwithme: 
---
To join the GPS 2014 tipping comp, please follow this link to http://mysportstips.net/. It's not too late!
Comp Number – 10403
Comp Password – rugby
Skip ahead for our Match Reports of last weekends fixtures. Enjoy!