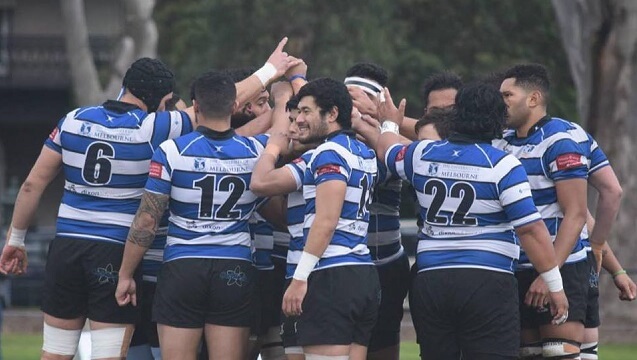 On Saturday the Victorian Premier Grade will find its champion
The defending champions Harlequin are looking for their third Dewar Shield in a row, but the surprise package Melbourne Uni will fight for their first title since 1967.
The 2015 Grand Final of the Direct Connect Dewar Shield will not figure the minor premiers, Box Hill, which, after a dominating season, came home with wet sails. The Broncos lost the major semi-final against Harlequin and the preliminary final against Uni. To add insult to injury it will be played at their ground.
Behind Box Hill all season, both Harlequin and Melbourne Uni showed an equally exciting game, based more on solid structures in the set pieces than on pure attacking speed as the Broncos have done.
Harlequin has several players with experience at higher levels of rugby: Gus Hamilton, Sione Taufa and Pom Simona have played for the Melbourne Rising last year and will bring the experience from the national competition into the game.
Fly-half Lloyd Johansson is a former wallaby and full back Justin Marsters has played at international level with the Cook Islands.
The students will also display their talented players like Australian U20s representative prop Fereti Sa'aga and centre Taiso Leaana, both selected for the 2015 NRC, along with fullback Stacey Ili.
The task for the students is very hard given the better set up of the opponents, but they have proved to be able to beat them this year and in a final some players are able to tap into additional stamina and resources.
After a drought of 38 years, many supporters and past players will make their way to the Hill wishfully to see the students raising the Dewar Shield. Their support may prove crucial for the XV on the field.
The form
Both team come to this game firing: Harlequin, after a slow start of the tournament, which saw them go down against Uni and Box Hill in the first two games of the season, reverted back to their winning form. THe Qiuns dropped only another game to finish second overall.
Melbourne Uni contested the second place to Harlequin the whole season but came just short of the double chance. They have beaten twice Box Hill in the last month and their last loss was the 4th of July, when they went down 10 – 34 against the Quins.
The key players
The Harlequin forwards will have to set up the base for the attacking game, Sione Taufa and Pom Simona will have to shine.
For Melburne Uni we are expecting a good game from the front row, expecially  props Fereti Sa'ga and Matt Onesemo.
Prediction
It will be a close game, but the dual reigning champions have a better structure and have more experience to deal with the nerves of a grand final. They've proved it twice, they should win again. Additionally they have had a week rest when the Students were battling in the preliminary final against the Broncos
Harlequin by 5
Teams
Harlequin
1 Albert Tokahere, 2 Charles Paese, 3 Angus Arundel, 4 Angus Hamilton, 5 Murray Douglas, 6 Paul Graham, 7 Sione Taufa, 8 Pom Simona, 9 Maradona Farao, 10 Lloyd Johansson, 11 Majokah Schuster, 12 Leo Taliu, 13 Oliva Sialau, 14 Anipaterce Vaele, 15 Justin Marsters
Reserves: 16 William Ta'ufo'ou, 17 Jack Fitzgerald, 18 Zachary Dixon, 19 Simei Kolio, 20 Steve Cummins, 21 Joshua Meads, 22 Taylor Acheson, 23 Leo Owade
Melbourne uni
1 Fereti Sa'ga, 2 John Aho, 3 Matthew Onesemo, 4 Hughie Forbes, 5 Aaron Kelly, 6 Sunave Washburn, 7 Sam Bindon, 8 Netani Qicatabua, 9 Jack Jenkins, 10 Pena Iloa, 11 Josh Cocker-Valu, 12 Nuia Puaka, 13 Taiso Leanna, 14 Junior Nu'u, 15 Stacey Ili,
Reserves: 16 Lachie McRae, 17 A J Utopo, 18 Ioane Sefo, 19 Mike Lau Leong, 20 Jack Porritt, 21 TJ Taisi, 22 Silonga Leota, 23 Fala Sakaria
Referee: Oliver Kellet
Assistants: Beau Dean Gopser, Andrew Schwilk
Kick off  –  3:00 p.m. AEST Saturday 15 August at RHL Sparks Reserve, Canterbury Road Box Hill Victoria