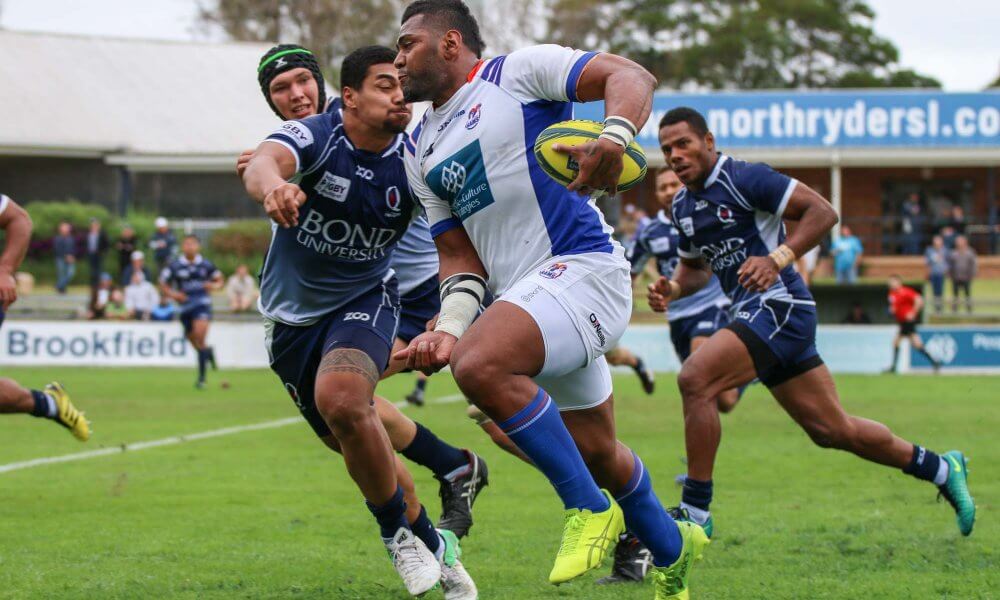 It was a try-scoring bonanza at TG Millner Field on a dreary Saturday afternoon in Sydney, but it was Queensland Country who ran away with the chocolates to effectively end the Rams play off hopes for 2017.
A crowd of around 500 turned out to TG Millner for an exciting day, and while Country were hot favourites to win, the Rams have proven to be far from easybeats this year, with many players including Wallaby halfback Nick Phipps and Super rugby stars Jed Holloway, Mack Mason, John Grant and Taqele Naiyaravoro returning for the men from the west.
Things got off to the worst possible start for the home team, with Phipps throwing a pass in the second minute that was picked off by Queensland Country winger Filipo Daugunu, who scooted away to open Country's account. Daugunu was elated to score, but his afternoon was only just beginning. Five minutes later Country scored again through their skipper Duncan Paia'aua making mince meat of the Rams line defence, and James Tuttle converted to see the visitors up 0-14 inside of ten minutes.
The Rams finally woke up after this second try, beginning to string together some phases work their way into Country's territory. Their pressure was rewarded with Taniela Topou received the cheese for a shoulder charge and was sent to the bin. It was Phipps who finally got the homeside on the board, making use of some lazy Country defence. Mason converted and the margin was back to seven. While the matchup was a thrilling encounter in the forwards, it took the backs to break the deadlock.
The match looked to be evening up, until the Rams momentum was stunted with a yellow card to Taqele Naiyaravoro in the 21st minute for a knock down. Country immediately took full advantage, with Chris Feaui-Sautia bumping off a couple of tackles to score in the corner. Five minutes later, with the Tongan Thor back on the field, Paia'aua once again tore up the Rams defensive line, and handed the ball of to Izaia Perese who proceeded to humiliate a couple of Rams before going over the line to score. Queensland had opened up a nineteen point lead, and were looking dangerous.
But it would be the Rams who would have the last laugh of the first half, courtesy of their ever outstanding forward pack. And it was some great build-up work from the Rams boys that led to a much needed try to Hugh Roach, and the hosts went into the break only twelve points behind Country.
Halftime Score: Greater Sydney Rams 12 – 26 Queensland Country 
The Rams looked to start the second half in flying fashion, with Jed Holloway breaking through a couple of tackles but unable to find support. Immediately, Feaui-Sautia picked up the ball and did brillantly on the counter attack to put Filipo Daugunu away for his second. It was a crucial moment in the game, as the Rams, after so much great build-up work, made one mistake and found themselves back down their end of the field.
Seven minutes later, Duncan Paia'aua ripped the ball brilliantly off the Rams and Country brilliantly counter attacked to put Daugunu away for his hattrick. The score was now really starting to look ugly for the home side, until Mack Mason was finally able to link up with John Grant to give the hosts some hope of a fightback. Mason converted and the score was 19-40 in favour of Country.
If there was any indication of a fightback, it was confirmed when Mason combined brilliantly to put Dennis Pili-Gaitau over under the sticks. The Rams outside centre has been a revelation all season, and was good to see him get some reward for his work today. With Filipo Daugunu being sent to the bin for Country in the 57th minute, the Rams began to string together phases, and some outstanding passing saw Kotoni Ale grab another meat pie in the 67th minute. Suddenly, the margin was down to nine with just over ten minutes to play. Game on.
But, from the kick off only seconds later,  Jed Gillespie threw a risky pass that was picked off by the intercept king, Filipo Daugunu, who strolled away for his fourth try that effectively sealed the deal for Country. And, if that wasn't enough to finish off the match, it was another Phipps pass that was intercepted by Country lock Harry Hockings that really rubbed the hosts face in it in the 73rd minute, before replacement Jock Campbell capped off a dominating performance by the Country backline to score the final try of the game after the 80th minute for the visitors.
Full Time: Greater Sydney Rams 31 – 57 Queensland Country 
It was a bizarre match for the Rams. They had a flurry of returning names. They had 67 percent possession. Yet, they still lost. It turned out to be a real case of doing the little things right. So often, the Rams would build pressure, only to make one small mistake that would see all their work undone by Country's outstanding counter attack.
While their forward pack more than held their own against an strong Country pack, the Rams backline defence had a tough afternoon against an opposite backline this strong, and in the end, it was where the game was effectively lost for the home side. With upcoming matches against a fast-finishing Brisbane City side and the Canberra Vikings, I think this match may prove to have killed the Rams chances of a maiden finals berth dead. They head to Ballymore next week.
As for Country, they put on an outstanding all-round team display, and with it, stretched their winning margin to five games on the trot. It's great to see Country finally enjoy some success in their history, particularly with the incoming Reds coach managing them.
However, their last two matches may prove to be their toughest: an away game in Fiji against the Drua next will effectively serve as a litmus test of their premiership-winning credentials,  particularly with the Horan-Little Shield on the line. They then follow this up with a match against a determined Perth Spirit side at home to finish off the regular season. Regardless of those results, I think it is fair to say that we will see Country make their maiden finals berth in 2017.
---
The Game Changer
It was not a specific moment that lost the Rams this game, but multiple moments where they had the momentum in their favour, only to force a mistake and see a turnover. It's a tough game, rugby is.  But credit to Country, that counter-attack was something else, and when their chances came, they took them in emphatic fashion.
The GAGR MOTM
While it was tempted to give the MOTM to Country skipper Duncan Paia'aua for his outstanding work in Country's backline, it has to go to the winger who bagged four tries in one game: Filipo Daugunu.
OZ Baabaa Watch
I say it before and I say it again, Denis Pili-Gaitau has been on fire this NRC season, and it's awesome to see him grow as a player. He has an outstanding attacking style, and one that really lends to running rugby. Special mention must also go to Kotoni Ale at the Rams too, who has also really flown under the radar as a great attack forward player.
---
The Details
Crowd: 500
Score & Scorers
Greater Sydney Rams 31
Tries: N. Phipps, H. Roach, J. Grant, D. Pili-Gaitau, K. Ale
Cons: M. Mason 3
Queensland Country 57
Tries: F. Daugunu 4, D. Paia'aua, C. Feauai-Sautia, I. Perese, H. Hockings, J. Campbell
Cons: J. Tuttle 6
Cards & Citings
T. Tupou (Country – 15'), T. Naiyaravoro (Rams – 21'), F. Daugunu (Country – 57')