Quade Cooper is done sitting on the sidelines.
The mercurial flyhalf paid the price for a reckless high-tackle in Johannesburg with a three-week suspension but returned to steer Queensland to a flashy win over the Southern Kings in Round Nine.
Despite cooling his heels with a frustrating bye since then, Cooper is confident that the Waratahs are ripe for leapfrogging at Suncorp Stadium on Saturday night.
"You only have to speak to guys around the team like (Former State of Origin representatives) Karmichael [Hunt] and Brad Thorn to feel the energy coming off them in the lead-up to a game like this," Cooper said.
"The New South Wales vs Queensland clashes in the past have always been hotly contested and having a win in our last game makes us hungry for more victories.
"There's a very good opportunity to leapfrog some teams and climb our way back up the ladder."
The Brumbies second-half capitulation in Wellington leaves Queensland only fractionally off the pace on the all-important Australian conference leaderboard.
A win over the embattled Waratahs could open up a two-horse race between the Reds and the conference-topping Brumbies for a guaranteed finals match at home.
While the Waratahs 26-24 loss to the lowly Kings in Sydney last week shocked the rugby public, Cooper says his side couldn't care less.
"There's no complacency in this group and we can't afford to be [complacent against the Waratahs].
"We're focusing on training hard this week and leaving no stone unturned to go into this clash ready to go and hopefully get a victory."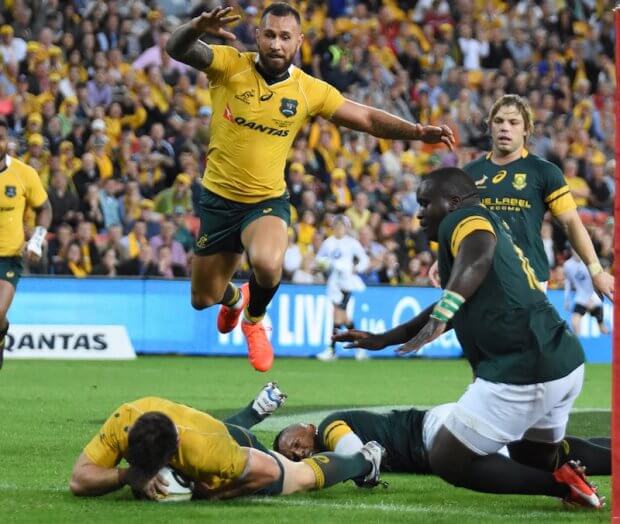 Cooper's words ring true as the fixture pits a significant number of Michael Cheika's Wallabies against one other.
No match-up will have more influence on Australian Rugby's blockbuster grudge-match then that of Cooper and New South Wales' Wallaby flyhalf Bernard Foley.
Cooper played down the influence of a personal duel but admitted their rivalry was still burning in the back of his mind.
"[Foley] and I have played alongside each other for a long time now so there's always going to be a healthy rivalry.
"He's been the cornerstone of [the Waratahs] attack for a long period and I think a little more responsibility is falling on 'Nard's shoulders (without the presence of Kurtley Beale).
"He's a great threat in terms of his running game and he's a good communicator," Cooper said. "If we stop the ball at him then Izzy Folau doesn't get the ball and he's probably their best attacking weapon," Cooper said.
Queensland take on New South Wales for the 305th time since 1882 on Saturday night at Suncorp Stadium in Brisbane.