Monday's Rugby News has Bob Dwyer slamming the Tahs, the female sevens team snagging bronze, Nick Stirzaker not banned and an Indigenous jersey.
---
[one_half last="no"]
Dwyer Dishes The Dirt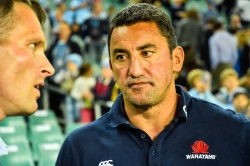 GAGR's pal Bob Dwyer has put the boot in the Waratahs, saying their performance against the Kings was less than Shute Shield level.
"It was the worst game I've seen for a long while," Dwyer told SMH. "The standard of club games is higher. If you compare it to last year's grand final between Sydney University and Norths, that was way better than it in standard.
"There is no doubt the Waratahs have a very large number of players who are not up to Super Rugby standard.
"Who is an elite-level performer at Super Rugby level in the Waratahs team? You could come to maybe three or four people and you could come to one or maximum two who you think could get there.
"It doesn't make for a happy weekend. The Waratahs staff are dreadfully depressed and players are unhappy, but their fans are, too. I watched the game with great enthusiasm, thinking a good performance would lift them up the ladder and they could kick on, but it was diabolical.
"They were just totally poor. I can't think of one part of their game that was satisfactory. It was low standard. I thought the highlight of the evening was the way the commentary team stayed positive. The only thing you could say is these poor blokes here have to stay positive here watching this drivel."
Bob wasn't finished there. When asked about *that* night, when the Waratahs were pumped by the Crusaders 96-19 in 2002, Dwyer – who was coach then – shrugged it off.
"We played much better that night than the Tahs did," Dwyer said. "We scored three good tries and could have easily scored a fourth. We had a half a team out, but so did they. The Kings game was terrible, very low standard.
"It was a shocker. The Kings won only because their scrum was so superior. How NSW can have a team of four props and none of them can scrummage is beyond me. They missed Sekope.
"And the amount of time the ball was dropped. And the amount of times a player overran a pass. How can you finish up in a defensive situation where you leave them with a three-man overlap?"
[/one_half][one_half last="yes"]
Bronze In Nippon
The Australian females sevens team were awarded a bronze medal for their efforts in the Japanese sevens over the weekend. Tim Walsh's charges took out Fiji 19-17 in the bronze playoff, after being smashed 33-0 by the Canadians in the semi-final.
The lasses had to deal with a bit of the rough stuff, having only 2 on the bench for the game against Fiji, with Ellia Green, Evanie Pelite and Emilee Cherry all suffering from various ailments.
"To win world series and medals you've got to have a balanced squad and depth. And then when you get injuries you've got to have the capacity to play a different style of game to get the result that you want.
"To come from behind and beat Fiji the way we did was a credit to the character of the team and how much they wanted the win.
"Our younger players really stood up but they still have a long way to go. There is just some technical things they need to do under pressure; the signs are good moving forward.
"On Day Two though the reality is that we weren't good enough, especially against Canada."
Meanwhile, Canada lost to the Kiwis 17-14. The dastardly New Zealanders are currently winning the Women's World Series, 10 and 12 points ahead of Australia and Canada, respectively.
[/one_half][one_half last="no"]
Stirzaker Off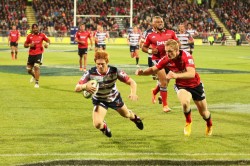 Nick Stirzaker has gotten any ban associated with his red card on the weekend, after he pleaded guilty to any and all charges (including that of being a filthy ranga).
This means Strizaker will be available for his sides clash with world beaters the Kings next weekend.
"The SANZAAR Foul Play Review Committee has accepted a guilty plea from Stirzaker for contravening Law 10.2(a) Intentionally Offending after he received 2 Yellow Cards for deliberate knockdowns and was subsequently issued with a Red Card during a Super Rugby match at the weekend," reads a statement on the Rebels website.
"No further sanction has been imposed on the Player.
"Stirzaker received two Yellow Cards after he contravened Law 10.4(a) Intentionally Offending, on two seperate occasions during the match between the Sharks v Rebels at Growthpoint Kings Park, Durban on 22 April 2017."
[/one_half][one_half last="yes"]
Indigenous Jersey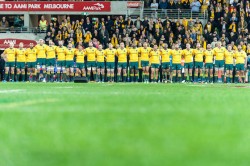 Payto and/or Panda report that the Wallabies will wear a special indigenous jersey for a game in the Rugby Championship.
With the ARU torn being doing the right thing, the best thing, and the thing will make them and their mates the most money, this will probably mean the jersey will be worn for the home game against Argentina.
"The artwork on the jersey commemorates the role of indigenous people who have made a contribution to Australian rugby.
"ARU chief executive Bill Pulver unveiled the top secret jersey at the Lloyd McDermott rugby dinner last week and received a standing ovation, before it was purchased for $5000 in an off-the-cuff auction.
"While only a roomful of guests and some ARU heavyweights have seen the design, we can tell you that it was specifically drawn to incorporate the 14 indigenous men who have represented the Wallabies: Cecil Ramalli, Lloyd McDermott, Mark Ella, Gary Ella, Glen Ella, Lloyd Walker, Andrew Walker, Jim Williams, Wendell Sailor, Timana Tahu, Saia Faingaa, Anthony Faingaa, Kurtley Beale and Matt Hodgson."
The jersey will be unveiled during NAIDOC week, which means sometime in late July.
[/one_half]