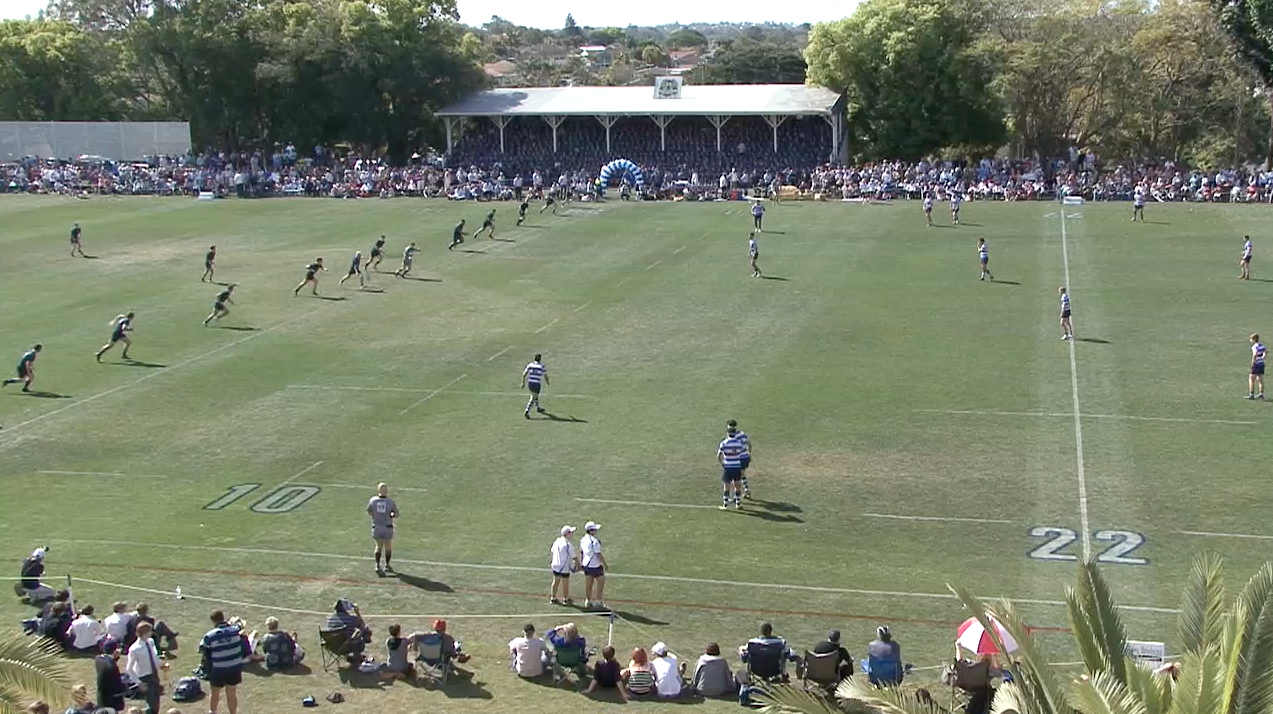 Brisbane Grammar School capped off a fantastic year with an inspirational win away from home in front of an enormous crowd at Jack Ross Oval, beating Nudgee College in the premiership decider 37-24. Supporters turned up in force from both sides and some great conditions had everyone raring to go for a great game of schoolboy rugby.
Grammar set the tone early — as they have all year — with a penalty awarded 30 metres out and directly in front immediately following the kick-off. Captain 10. Sam Greene pointed to the posts and Grammar took the lead early, 3-0.
This was one of the few highlights for Grammar in the first half as Nudgee really put their foot down, with the Paddy James (10) and Jack Tuttle (12) show rolling on, the pair making a number of breaks between them. They really pushed the Grammar defence with every opportunity. It didn't take long for Nudgee to enter the attacking 22 and a fantastic cut-out ball from Tuttle put Nudgee in for their first try. Tuttle kicked the conversion from the sideline and the score was 7-3.
The Nudgee forwards were competing well. 7. Henry Fitzgerald was a nuisance at the breakdown, helped in his cause by some ferocious defence from his teammates. A missed 40-metre penalty shot from Greene allowed Paddy James to clear downfield, only for Grammar 12. Lakehm Aiono to be crunched in a huge hit by Nudgee 8. Dylan Sikimeti right in front of the Nudgee supporters' stand. The coming together of maybe the two biggest men on the park was shuddering.
The ensuing scrum saw Nudgee throw the ball wide and a nice break put crowd favourite 11. Charles Tenakanai in for Nudgee's second try. The try was converted and Nudgee had opened up an early lead, 14-3.
Straight back at it again, and after a few big forward runs from the restart Nudgee immediately got on the front foot once more. Tuttle showed some fantastic footwork to break the line and dish a great pass through contact to put fleet-footed winger 14. Tyrone Hussey in for Nudgee's third try. The score was 19-3 and some ominous signs were ahead for Grammar — they were being outplayed in most facets of the game.
Nudgee had been simply ruthless, and Grammar well below their best. Parity in the forwards meant that the game was far from gone; defence in the middle channels had been Grammar's Achilles heel. Nudgee were doing well to punch the ball up effectively, and consistently, around the fringes for phase upon phase. This putting the Grammar defence on its heels, 10. James and 12. Tuttle had the space they needed to wreak havoc.
What's more, Grammar did not adapt to Nudgee's dogged forward play, leaving their heads down and not watching their opposite men. Consistently 10. James would call for the ball with a straight-up numbers advantage on either side; Grammar had failed to number-up and fold around in defence.
It seemed that if Grammar could only cut this space and number-up properly, Nudgee would struggle to have anywhere near the same penetration.
Nonetheless, the next kick-off again saw 10. James slicing through, only for some miscommunication to negate his good work with a pass flying into touch.
The lineout saw one of Grammar's first real chances with ball in hand. A fantastic chip kick from 10. Greene followed by a crafty tap down to second rower 4. Benjamin Muller nearly came off to make Grammar's first try, only for Nudgee 11. Tenakanai to save the day with a great tackle. Negating this good work however, Nudgee's ill-discipline immediately cost them as a penalty allowed Greene to narrow the gap, with an easy kick making it 19-6.
Play soon tightened up. Grammar's defence had improved and each side put boot to ball with fair regularity.
With only a few minutes remaining in the first half, Nudgee were awarded a penalty 50 metres out only for Tuttle's shot to fall short. Regathering the ball from the clearance, Tuttle immediately broke the Grammar line only for the last pass to again prove costly, falling in the hands of agile Grammar winger 14. Matt Marsden.
Marsden gave the ball off to Greene who put in a great kick, forcing Nudgee 10. James to put it out 30 metres from his own line. A bustling run off the line-out from 12. Aiono gave Grammar some momentum and saw an eventual pick and drive try to Grammar. Greene missed the kick and the two sides went into half-time with the score sitting at 19-11.
With the battle up front at a stalemate, the difference had been the quality of Nudgee's work around the 10–12 channel. Conversely Grammar, wherever they had built or sustained any substantial degree of pressure, opted for shots on goal (not a poor option given Greene's prodigious boot) or lapsed with some silly errors — twice they were pinged for playing on after being held in a tackle.
The huge crowd, stirred by a runaway bovine during Nudgee's half-time show, had no reason to settle after a nervous opening to the second half. Sloppy play came from both sides, creating plenty of excitement. A high number of turnovers (both sides) created a number of chances.
Shunning an opportunity to tone things down, Nudgee 10. Tuttle elected to tap the ball rather than take points from directly in front. Losing the ball off the following phase, Nudgee gifted Greene a chance to make something out of nothing. A brilliant chip, chase and regather combo from Greene was followed by fullback Hugo Starr-Thomas, covering at fly-half, shuffling a great ball to a surging 8. Jack Cornelsen to put him over the line beside the posts. Grammar having gone end to end, the Nudgee lead was cut to one point – 19-18.
Soon after, a spilled ball by 11. Tenakanai saw Greene again scoop up the loose ball. Another perfectly placed kick (and helped by some poor positional decision-making from Nudgee fullback James Tuttle) saw Grammar winger 11. Zac Laud grab a high ball. A swan dive later, Grammar lead for only the second time in the match, 25-19.
Nudgee looked rattled and they responded well, with some great work by 10. Paddy James putting 2. Alex Mafi through a hole on a strong run. He fended off 3 or 4 players before giving the last pass to a flying 14. Hussey, who scored in the corner to cut the lead to one point, 25-24.
Not long after however, another Nudgee handling error gifted Grammar the ball in prime territory. A fantastic cut-out ball from that man Sam Greene put 11. Laud over in the exact same spot out wide. Greene missed the kick and Nudgee were still within striking distance, 30-24.
In what really was the tone of the second half, another dropped ball from Nudgee prop Francois Postale gave Cornelson some room to move and make a crucial pass to winger Marsden. The quick-footed flyer stepped three defenders and swan-dived under the posts, taking the score to 37-24.
Needing two converted tries in the closing five minutes, a reinvigorated Nudgee surged for the line. After a long and patient buildup, Nudgee 5. Aran Spelderwinde thought he had a try for Nudgee only to be denied, having been deemed to have run into his own man. Soon after, Nudgee's final roll of the dice again saw the last pass fly into touch.
Knowing it was the final play, Grammar had a scrum in their own territory. His forwards having done enough to provide clean ball and with a crisp pass from 9. Sam Burke, Greene made sure of the touch finder, in so doing giving Grammar their first taste of premiership glory in 20 years, and their first outright in 40. Having come back from behind for the umpteenth time this season, Grammar got the points when it mattered.
Full-time, 37-24.
Match DVDs are available for sale. Click here for more.
Other Fixtures
Wrapping up the season around the grounds, Toowoomba finished a strong season over a never-say-die BBC outfit 24-20, Churchie finally put some good points on the board at the wrong end of the season, knocking over State High 32-10, and TSS got up over a late-improving Terrace side 24-14.
Words by Sam Phillips and Robert Matthews.