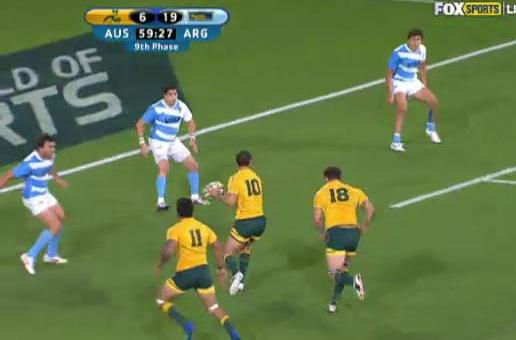 In my view, this Argentinean side would beat most if not all of the Six Nations teams. They're no mugs, as they've shown throughout The Rugby Championship.
That's why I think the Wallabies' effort against them on Saturday was more positive than negative. We played well against them, especially in that last quarter, and looked the better side for 60 of the 80 minutes.
I mean, we made a lot of the play in this match. An example of that is in the tackle stats — the Wallabies made 63 tackles, the Argies 160. So it's no surprise that a few holes opened up later in the game.
Argentina employ an aggressive defence and we just couldn't break through them until we wore them down, notwithstanding the two tries that went begging in-goal.
Sure, our mistake rate was high and sadly, at pivot, we had a player who is out of sorts and was unable to cope with the pressure put on him. That 10-minute period between 50th and 60th minutes when we let those two Argentinean tries in was poor — we took our eye off the ball, so to speak.
Sharpie said after the match that the result showed the character of the team and he's dead right. To win both this game and the recent Springbok Test after being seriously behind (6-19 at one stage on Saturday) is a credit to this team, especially when you look at the injury count.
It was pleasing to see Nick Phipps step up at halfback and, although no Will Genia, he gave a good account of himself. Kane Douglas made a promising debut at lock.
We need to go to another level to win both remaining matches and I think the Rosario Test may potentially give the Pumas their first win of the tournament.
| Player | Comment | Score |
| --- | --- | --- |
| Benn Robinson | Fairly anonymous first stanza and pulled after 30 minutes, returning at the end. The Wallaby scrum held up in the main against the Argies but Robbo remains only half the player he used to be. What's missing? | 5 |
| Tatafu Polota-Nau | Played the full 80 minutes with a solid effort. A few typical defensive hits but his lineout throwing again let him down a couple of times and his workrate is not in the same league as Squeaky Moore. | 6 |
| Ben Alexander | Had a very good second half, especially in that last crucial 20 minutes. Trucked the ball up for some go-forward and, despite a couple of scrum penalties, held it together at tighthead against the experienced Roncero. | 7 |
| Kane Douglas | Promising debut especially with ball in hand. Physical player - looks streets ahead of Simmons in this aspect. Workrate needs to lift but did the basics well. | 7 |
| Nathan Sharpe | Sharpie held the team together when under pressure and inspired them to lift when it counted. He worked hard in the tight and we'd be in the doo doo if he had retired when originally planned. | 7 |
| Dave Dennis | Starting to get the hang of international rugby and the tight/loose forward role seems to suit him. Bit of an unsung hero actually. Good under the high ball at restarts. Worked hard. | 6 |
| Michael Hooper | Carried on from last week. He's skilful, fast, impressive in both attack and defence but had fewer opportunities to pilfer this week. Sort of looks like we don't miss David Pocock that much, eh? | 7 |
| Radike Samo | Back to top form, DK was a handful for the Argies on the charge. Seemed to play it a bit tighter too. Had 53 minutes and looked the goods. Great advert for the over 40s... | 7 |
| Nick Phipps | Excellent substitute for Will Genia and proved the doubters wrong. I've never been completely convinced that he was going to be the answer but he sure as hell looked up to it on the day. His passing was crisp, he was quick to the breakdown and it's good to see the dive-pass is back in vogue. His break led to Digger's try. Only downside was a few dodgy kicks. | 7 |
| Quade Cooper | Crap day for QC. Whether it was too much Argy pressure, too casual an attitude or just trying too much, the mistake rate was just way too high in this crucial position. He also topped the missed tackle count, but made a few on the way. Some of his passes did hit the mark though. I'm not sure what's going on but his confidence seems way down and he really is looking like Carlos at his worst. | 4 |
| Digby Ioane | Quite the opposite for Diggers. He featured in more rucks than 7 of the 8 forwards! Always looking for work and always getting over the advantage line. Wouldn't you just love to bottle those thighs? Had a dozen or so runs and scored the winning try. Only made one tackle, but what a beauty! He's the GAGR MOTM. | 8 |
| Pat McCabe | Came into his own in that last quarter making multiple breaks and scoring the first Wallaby try. Not forgetting the try-saving tackle on Camacho (but being yellow carded in the process). It's good to have him back straightening the attack and I actually saw him pass the ball once or twice... | 7 |
| Adam Ashley-Cooper | Consistently made plenty of metres (up there with Diggers) and looked as classy and reliable as ever. They just need to leave him in that position for a season or two. One of the first guys chosen, you'd imagine. | 7 |
| Dom Shipperley | Didn't see much of the ball and was off for a while with his hand injury, which sounded (and looked) a little nasty. Had a few runs. | 5 |
| Berrick Barnes | Berrick had a top game at fullback. His positional play was excellent, he was very safe under the high ball (unlike KB for instance - just saying), kicked well, was involved in the attack and doesn't miss tackles etc etc. Accomplished display. Whether he stays there or not? | 7 |
| Reserves | | |
| Saia Fainga'a | DNR | 0 |
| James Slipper | He had 40 minutes game time off the bench and involved himself in everything. I'm not sure why he isn't starting at loosehead? Gets over the gain line and works hard around the field. Good scrummaging effort too. | 7 |
| Scott Higginbotham | Made a few tackles in his 25 minutes but didn't really stand out this week. | 5 |
| Liam Gill | DNR | 0 |
| Brett Sheehan | No game time | 0 |
| Anthony Fainga'a | DNR | 0 |
| Kurtley Beale | Replaced Shipperley during blood bin and later in the match. Didn't get many opportunities. | 5 |
| Robbie Deans | Survived another week. | Not rated |
G&GR Patented Player ratings scale
10 – A legendary performance to go down in the history books
9 – Outstanding performance: Man of the match shoo-in
8 – Excellent all-round game
7 – Good game with a few sparkles
6 – Solid performance
5 – Average – ho hum
4 – Below par
3 – Had a bad game
2 – Tell your story walking pal
1 – A complete joke